Binoculars are a must-have for any RVer. Here are the best lightweight binoculars for travel…
Are you looking for the best travel binoculars? Perhaps you want a high-quality pair for wildlife viewing. Or maybe a small size or price point is at the top of your list.
No matter what you are looking for, the following list is sure to have a pair that fits the bill. I have compared the best lightweight binoculars and compiled a detailed list outlining their pros and cons.
9 of the Best Lightweight Binoculars for Travel
What are you after in your search for a great pair of travel binoculars? Do you want a compact design with rubber armor? Or, high contrast images with a durable neck strap?
My list is sure to have something that is just right for you!
We use affiliate links and may receive a small commission on purchases at no added cost to you. Thank you for your support. You can read our full affiliate disclosure here.
This brand of binoculars offers large views with great low light vision. Overall, they provide an excellent viewing experience.
Bird watchers will love the higher magnification to enjoy on their outdoor activities. This model also offers a multi-layered lens coating with HD and a large eyepiece for excellent precision.
As a good choice for birdwatching, you can see feathers and beaks up close and personal!
These waterproof binoculars come complete with an anti-slip grip, making them a great choice for sports events, hiking, and hunting.
The only downside to this pair is a limited night sky viewing experience.
These lightweight binoculars offer 8x magnification power with a 22m lens diameter. Their light weight makes them excellent for travel. You won't even feel them in your hiking backpack!
If you are most concerned with prism types, these come complete with BK-7, fully multi-coated lenses. With a 367 field of view, you can see so much more than you can with the naked eye.
These binoculars are perfect for a number of different activities. They make great compact binoculars for camping, hiking, bird watching, sporting events, concerts, and other outdoor adventures.
The best news? You can purchase them for an affordable price!
Get clear images and even sharper images with the Bushnell h2 0 compact travel binoculars.
These roof prism binoculars are waterproof and offer high-contrast images. They come standard with 10x magnification and a 42mm lens size.
These high-powered binoculars have high magnification at 12x! Their 25 mm objective lenses offer a large field of view at 273 feet. That means you will be able to see farther and wider on your adventures.
Lens coating is an FMC broadband coating and offers a premium BAK4 prism.
If you wear glasses, these pair nicely. The adjustable eye cups fit over your glasses and work well for non-glasses wearers. The large eyepiece and long eye relief will provide you comfortable viewing with both regular glasses and sunglasses.
The occer's compact design is great for throwing these into a day pack. Or, use them at night with low-light conditions. However, please note that they are not usable in completely dark situations.
---
---
These are some of the best compact binoculars you can find. Offering 8x magnification and a 21 mm lens diameter, these are some of the best small binoculars you can find!
Not only are these lightweight. They fold up for compact storage! They are some of the best pocket binoculars you can find!
They also come complete with non-slip grips. That comes in handy on sweaty hikes or icy mornings!
Bushnell products are known for their durable construction. They also offer a case for safe storage, and a neck strap for an added layer of protection when outside in the elements.
Made from durable, rubber construction, the Nikon ProStaff is great for outdoor use. While you will want to handle any equipment wisely, they will be able to withstand a few drops or shocks.
Feel good about this model's high-quality optics created from arsenic- and lead-free Eco-Glass lenses. They offer 8x magnification and a full field of view.
They also come complete with turn-and-slide rubber eye-cups. Adjust the eye-cups for your fit and comfort.
Here are a few more of the best lightweight binoculars for travel
And if the reason you need new binoculars is you enjoying birdwatching – we have a few posts on that, too.
Enjoy excellent image quality with lenses that have 10x magnification and a 25mm objective lens.
This model offers a large field of vision and includes fully multi-coated lenses.
They are shockproof and skid-proof, offering protection against clumsy hands.
The high-powered, compact binoculars work well for many different outdoor activities. Go bird watching, catch your favorite sporting event, or see up-close, onstage at the concert!
These powerful binoculars offer a 26mm lens diameter, as well as 50mm objective lens diameter. That means they deliver brighter and clearer images than some of their competitors.
Sleekly made from waterproof construction, the rubber finish is shock resistant. It offers a firm, comfortable grip to stay firmly in your hand.
This model is also fog proof for those chilly morning hikes!
Vanguard's lightweight model is especially effective for low light conditions.
Another great detail of this model is that it comes with attached lens covers. Protect your binoculars automatically!
They are both waterproof and fog proof. That means they will stay in great shape with excellent viewing capacity in cold, slightly rainy situations.
They are easy to use, providing easy to adjust focusing. You can get a nice, crisp and brighter image without hassle.
This model comes complete with a neck strap and carrying case.
Made from durable construction which can withstand some drops and falls. That is good news for those that like to be active. Or can be a little clumsy.
This bundle is our popular Upper Peninsula RV Adventure Guide PLUS our newest Adventure Guide – The Great Lakes Shoreline Tour! Both ebooks will give you plenty of ideas and resources to enjoy this part of the US.
The Great Lakes Shoreline Tour — One of our favorite RV trips has been driving the United States side of the five Great Lakes. It is a trip of over 4,000 miles and takes you to 8 states! And it's filled with beautiful vistas, welcoming towns and villages, and fabulous places to camp, hike, and explore.
Upper Peninsula RV Adventure Guide — Whenever someone asks us, "Where is one of your favorite places in the US for RVing?" Our answer is unquestionably, in unison, "The UP of Michigan." The "UP" means Upper Peninsula, of course.
---
---
---
---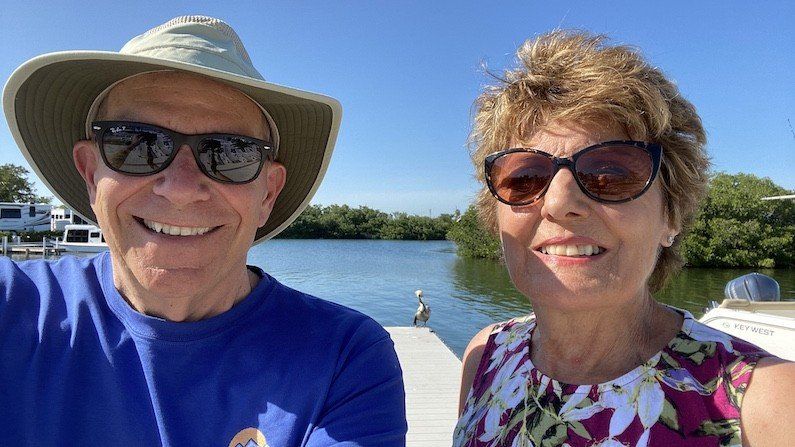 Curious about the gear, gadgets, accessories, and RV products Mike & Jennifer use and recommend?
On this RV Lifestyle Travel blog, our RV Podcast and our RV Lifestyle YouTube Channel, we mention all sorts of RV-related products and gear that we use, So we created a special page that links to them. We update this all the time.  CLICK HERE to go to it directly.
---