This list of the best campgrounds in California is divided into Northern California and Southern California, taking you from cool mountains to warm beaches to hot desserts.
You can always find a beautiful place with Pacific Ocean views or quiet mountain lakes when traveling through the great state of California. This diverse state has it all: mountains, deserts, cities, and, of course, beaches.
In one single day you can hike trails through pine trees and mountain views before enjoying a seaside meal, with your feet in the sand.
California offers some of the best campsites in the nation!
California is the perfect place to travel in your RV. Stay in redwood forests before camping in the natural beauty of the desert.
Here is my list of the 21 best places to stay that I have broken down into northern and southern California regions. Since I know you'll dig deeper into the ones that interest you the most, I have provided an overview of each with a link. That way, you can easily skim the list to find the region and setting you to want, and then look into it further.
15 Best Campgrounds in Northern California
Northern California is known for cultural hubs like San Francisco with its breathtaking Golden Gate Bridge. Or travel inland to marvel at the wonders in Yosemite Valley. The following outlines the best campgrounds in California from Fresno to the Oregon border.
Shaver Lake, Northeast of Fresno
This California campground offers lake access to one of the state's many gorgeous lakes in the Sierra Nevada region.
There are 252 campsites at Camp Edison offering electricity and cable TV. Offers excellent lake access, and endless mountain views.
North of Boulder Creek, Big Basin Redwoods State Park, Santa Cruz Mountains
One of the prettiest old-growth forests in the golden state also boasts breathtaking waterfalls to enjoy. There are four to choose from, and roller coaster trails to hike to each.
Northeast of Crescent City
This is the only campground in Redwood National Park where you can set up camp underneath one of the gorgeous goliaths. However, it is limited to RVs up to 25 feet.
Situated next to Smith River, the campground is home to lush fern growth and towering Redwoods. While camping, enjoy a walk to gaze at the magnificent 340-foot-tall Stout Tree.
South Lake Tahoe
If you are able to snag a spot on Lake Tahoe's west shore, you can enjoy swimming and sunbathing at Lester Beach or take in Balancing Rock. Or, grab a chair and book and enjoy reading alongside Tahoe's glimmering, deep-blue waters.
This campground has a tight limit on RV length, at a max of 18′. However, there are other RV campgrounds nearby that accommodate larger rigs. One great example is Meeks Bay Campground with most sites accommodating 18-25 ft and a few that can accept longer RVs.
Big Sur, Los Padres National Forest
Situated along an ocean bluff, these campsites are open to the night sky, which is perfect for stargazing. You can listen to ocean sounds as you drift off to sleep next to the sea.
Mammoth Lakes, Inyo National Forest, North of Devil's Postpile National Monument
Camp alongside the San Joaquin River, before taking in Minaret Falls. Then enjoy a short hike to a national treasure, the Devil's Postpile National Monument. This lava formation is well worth the short hike!
Mammoth Lakes is also one of the most popular destinations for skiing and snowboarding in California.
West of Bishop, Inyo National Forest
Camp at this excellent access spot to the John Muir Wilderness. Trout fish along the shores of Sabrina lake, before accessing the many other mountain lakes along the Sierra crest. Maximum RV/trailer length is 30 feet.
East of Yosemite National Park, Inyo National Forest
Welcome to the highest drive-to campground in California! At 10,000 feet, and above the treeline, this dramatic campground even feels high.
Then, take a short drive from the campground and hop aboard a water taxi that goes across the lake, allowing you to access the 20 Lakes Basin.
---
Mike and Jennifer's Summer T-Shirts for your next adventure

---
North of Mendocino
This beauty is located in Mendocino, along the rugged northern California coastline. Do not miss Devil's Punch Bowl or Russian Gulch Falls. Maximum trailer and RV length is 24 feet.
Shasta County, Lassen Volcanic National Park
This campground is located in the center of the park, and along the southern edge of a gorgeous little lake, Summit Lake.
Big Bar
This RV park is nestled along the scenic Trinity River. It has spacious, shaded RV sites and family fun activities, like mini-golf, disc golf, and a music stage. It's perfect for those looking for a great fishing destination or to get away from it all with their families.
Sonoma County, Salt Point State Park
Enjoy ocean view camping in Salt Point State Park. Enjoy a pygmy forest of pine trees, while also exploring tide pools.
Sonoma County is also one of the most popular wine regions in California.
This place is reminiscent of the Grand Canyon, featuring enormous rock formations and rugged, craggy cliff lines. If you love checking out caves, there is a lot for you to explore!
Big Sur, Monterey County
Enjoy this stunning state park located in Monterey County. There are over 1,000 acres to explore. Then enjoy nearby hiking to take in a great view.
The famous Monterey Bay Aquarium is about an hour north of the campground.
Point Reyes National Seashore
Only tent camping is permitted at Point Reyes National Seashore's Coastal Campground. However, this great family RV resort is nearby in Olema.
This beautiful expanse of protected coastline has grassland, pine forests, and a great hike to the peak of Mount Wittenberg.
Speaking of all of these amazing parks, Jennifer and I made a video of the 5 Top California National Parks for Your Bucket List.
16 Best Campgrounds in Southern California
Let's continue our list of best campgrounds in California by heading South. Southern California is known for its beaches, sunny summer days and roller coaster rides in Santa Monica. But it is also home to some excellent California state parks and camping.
Malibu
Located along the California coast, this park encompasses the Santa Monica Mountains National Recreation Area. Walk the 1.5 miles of beach, before enjoying everything else Los Angeles County has to offer.
Northwest of Santa Barbara
Enjoy fishing, snorkeling, and swimming in a crescent-shaped cove at this southern California campground, about 20 miles northwest of Santa Barbara.
Northeast of San Diego, Palomar Mountain State Park
It is hard to believe this slice of heaven is located in southern California. It has a Sierra Nevada feel, complete with dense conifer forests and grassy meadows. There's a great little fishing spot at Doane Pond!
Oxnard
McGrath State Beach is one of the best bird-watching areas in California. Enjoy the sand dunes at this 2-mile-long beach situated near the lush riverbanks of the Santa Clara River.
Northeast of Mojave, Red Rock Canyon State Park
Colorful, sandstone rock formations rise out of the desert floor at this incredible state park. Enjoy a unique experience
Pismo Beach
Get the best of both worlds at this coastal campground: pine trees and the beach! Walk along the sandy beach, then do a little bird watching. You can even observe monarch butterfly clusters in a nearby eucalyptus grove.
Your Vote on Best Campgrounds in California
Let us know if you've stayed at any of the places on our list of the best campgrounds in California. Or, tell us if we're missing one! Share in the comments below.
Mike and Jennifer's Southern Utah RV Adventure Guide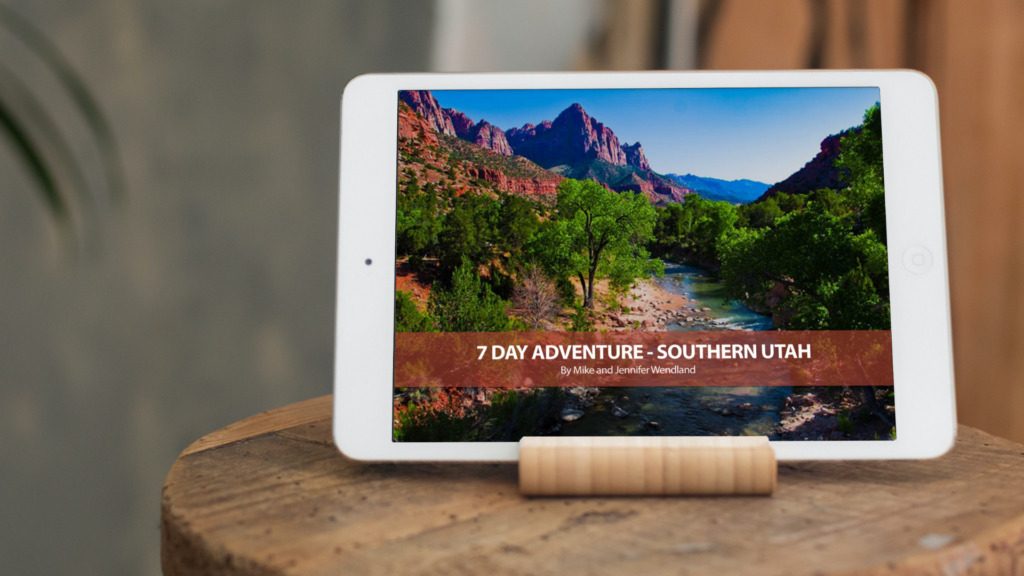 Utah, Utah, Utah. What more is there to be said? In very few places across the United States is there such a tremendous area with breathtaking vistas and diversity of terrain.
The sheer size of the National Parks, the canyons, the desert. Combined with the amount of history written in the red rocks that rise like towers jutting out of the ground and the delicate hoodoos washed away by erosion.
It is a place that, if you've never been, you need to go, at least once in your life.
This ebook is a seven day guided exploration of the State and National Parks in Southern Utah. We provide a suggested route and itinerary, links to multiple campgrounds and boondocking spots, and the best spots to see along the way. Don't plan your trip to Southern Utah without it!
You can hit everything in seven days, do a whirlwind weekend tour, or you can take your time and explore the area over a few weeks.
---
---
---