A tragic robbery-gone-wrong murder in an Alabama national forest last week, many wonder: Are off grid robbers hiding out on public lands?
We talk at length about this unbelievable story out of the Talladega National Forest that claimed the life of a 22-year-old college student who stopped to help what he thought were two women stranded in the wilderness when their car broke down.
It was a setup from the start and although police have the alleged perpetrators in custody, the case has many who boondock on public lands wondering if the many homeless encampments hidden in the woods throughout the country are also harboring dangerous criminals.
You can hear this story for yourself in Episode 410 of the RV Podcast, in which we also report a grisly mystery has rangers at Yellowstone National Park wondering about a human foot – in a shoe – found floating in a dangerous hot spring at the park.
Also this week, we preview of the upcoming Hershey RV Show – known as America's Largest RV Show – with an interview with the show director. This is a must-attended event if you're looking for a new RV. Plus, we answer your RV Lifestyle questions and share RV tips.
You can watch the video version of the podcast in its entirety by clicking the player below.
If you prefer an audio version, you can listen on your favorite podcast app or click the player below.
Podcast: Play in new window | Download (Duration: 41:57 — 24.6MB) | Embed
Subscribe: Google Podcasts | Spotify | Stitcher | Email | TuneIn | RSS
First, an RV Lifestyle Tip
From Bob H, who saw last week's article on 15 Pool Noodle Hacks for RVers.
Bob has a 16th tip: "I just saw your article on pool noodles, and you missed one. I have been using one for a while now in the microwave in my Thor Tellaro. I cut one long enough to put inside the microwave and put pressure between the roof of the microwave and glass turntable to keep the turntable from bouncing out of place while driving. Now I don't have to put the turntable back in place before using it at a campsite.
Robbers Hiding out on Public Lands

The most sensational and disturbing story of the college student murdered in a national forest last week was our main podcast topic.

The victim, driving through the forest with his girlfriend on the way to a hike, was flagged down by a couple of robbers – both women – posing as disabled motorists.

The long-time couple, both students at the University of Central Florida, made an impulsive decision to visit the forest and were driving on their way for a hike when they were flagged down by the women who said they needed help getting their car started.

The couple stopped, and the young man, 22, tried to assist when one of the women he was trying to help pulled a gun on him and his 20-year-old girlfriend and started marching them through the woods to rob them. The 22-year-old had a gun also, and he shot the robber, who then shot and killed him.

Police found the wounded robber and her associate, and a 5-year-old boy, who was holding a shotgun when police arrived, and a hidden encampment deep in the woods about a half mile from the scene of the robbery. To read more of the story, including an interview with the young woman who witnessed her boyfriend's death, click here.
Jennifer and I discussed this case at length. We both have very strong feelings. You can listen yourself in the podcast.
But the larger and ongoing question many RVers who like to boondock on public lands are asking themselves is how safe is it out there? A couple of years ago, we were warned by locals to stay away from certain areas of the Ocala National Forest where similar long-term encampments are well known.
And across the country, officials have been closing off many areas because of problems caused by those who stay over the normal 21-day time limit for dispersed camping.
A Grisly Mystery in Yellowstone
A human foot in a shoe was found floating in Abyss Pool in the West Thumb Geyser Basin at Yellowstone National Park last week.

The ghastly discovery was made by a park employee. While park officials do not know whose foot it is, they do believe there may have been a death in July at the pool. They do not expect foul play.

The Abyss Pool in the southern part of the park is one of the deepest, estimated to be 50 feet. Its temperature is 140 degrees.

Yellowstone has many geysers and thermal areas (see our story here) with delicate ground areas making it crucial for visitors to stay on the boardwalks. To learn more about the foot discovery, click here.
Before July, the most recent death was in 2016, when a 23-year-old man walked off a boardwalk and fell into Norris Geyser Basin, the hottest thermal region in the park. In 2000, a person died after falling into a hot spring in Lower Geyser Basin.
There also have been at least eight people injured in the past six years, including a 3-year-old child who in 2020 ran off a trail, slipped and fell into a thermal feature. Last year, a woman was burned from her shoulders to her feet after she entered Maiden's Grave Spring to rescue her dog, who had jumped in.
Get Ready for America's Largest RV Show – Sept. 14-18 at Hershey, PA
In the podcast this week, we interview Heather Leach, the executive director of the Pennsylvania Recreational Vehicle and Camping Association, the show sponsor.
More than 1,300 new RVs will be on display this year, she said, from 40 different manufacturers. She gives a complete rundown of the show, including admission costs and show hours.
Complete details on the show – which offers first-come, first-served dry camping for attendees nearby, can be found at https://www.largestrvshow.com/.
Mike & Jen's Meet and Greet Schedule at Hershey
Look for us Wednesday, Sept. 14 at 2PM at the Battleborn Batteries display at Booth 539-540.

And on Friday, Sept. 16, and Saturday, Sept. 17, we'll be meeting folks at 10 AM at the Keystone RV display near the 2023 Arcadia Fifth Wheels.
There may be other times and locations, too, and we'll post the final schedule before the show. We look forward to meeting everyone.
Planning your next RV adventure?
Check out this Southwest Adventure Guide Bundle (Arizona, Utah, & Colorado)
When Jennifer and I travel to the southwest, we are continually amazed at the majesty and beauty this country has to offer. And it's really hard to stay in just one state! So we created this Bundle for you in case you like to travel as we do.
We put together our Southern Utah Guide, Colorado Guide, and our NEW Arizona Guide into this 3-State Bundle at a very reduced price!
Each of these RV travel guides is a seven-day guided exploration of some amazing places to explore in these states. And each stop is a curated view of the best things that we've enjoyed on these trips and want you to experience.
All together these guides are over 300 pages of content!
---
---
---
---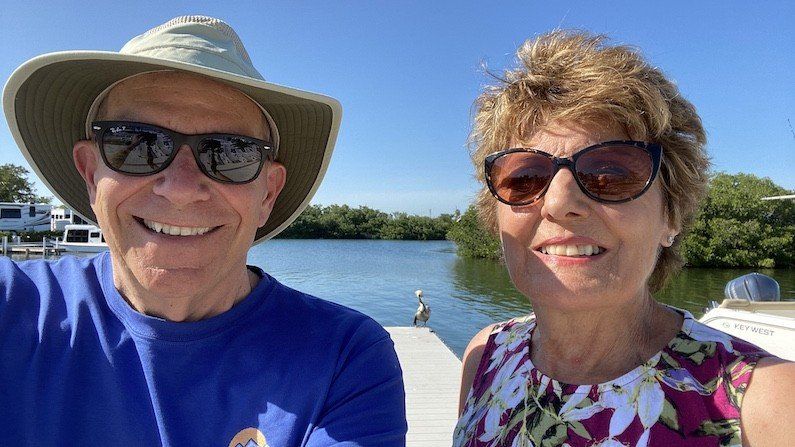 Curious about the gear, gadgets, accessories, and RV products Mike & Jennifer use and recommend?
On this RV Lifestyle Travel blog, our RV Podcast and our RV Lifestyle YouTube Channel, we mention all sorts of RV-related products and gear that we use, So we created a special page that links to them. We update this all the time.  CLICK HERE to go to it directly.
---