Half the fun of owning an RV is customizing it and we just did 7 Keystone Arcadia Fifth Wheel Mods that add convenience, stability, and security.
We have owned many different RVs over the years and have done a lot of mods to them. So it was no surprise that we would do the same with our brand new Arcadia 3250 Fifth Wheel.
The best way to appreciate what we did is to watch the special accompanying video on our RV Lifestyle Channel You can see it right now by clicking the player below.
Like what you see in these videos? We'd appreciate it if you would Subscribe to our YouTube Channel (easy to do right here) and consider "ringing the bell icon" to be notified of any new video from us. 🙂 Thanks!
What's an RV Mod?
For the newbies out there, an RV Mod is a Modification, an extra, an add-on, a special hack or tweak or customization.
It can be major or minor, and while it may enhance the owner's enjoyment of the RV, it isn't necessarily an essential or critical change.
It's a bit of a luxury, really. But in every RV we've had over the years, we've made mods. So when we started getting used to the Arcadia Fifth Wheel in April 2022, we knew we'd be doing some mods.
For one thing, we had never owned a Fifth Wheel before. All our other RVs have been motorhomes. And while we still have a Class C Motorhome, we knew there were some challenges in switching from a motorhome to a fifth wheel that would probably involve us doing some mods.
We already did some by adding more solar panels in July. In August, we did the 7 Arcadia Fifth Wheel Mods we share here. And I'm sure that there will be more. Making RV mods is a never-ending task… almost a hobby, really.
But let's start by showing you what we just did. Most of the mods come from an RV aftermarket firm called MORryde. We met up with them during an RV gathering we hosted in Elkhart, Indiana, where company rep Jack Enfield was a seminar participant. I was very impressed with some of the products he demonstrated and was delighted when he offered to put some of them on our Arcadia.
Below, we'll highlight each of them and include pricing and links.
We use affiliate links and may receive a small commission on purchases at no added cost to you. Thank you for your support. You can read our full affiliate disclosure here.
Here are the 7 Arcadia Fifth Wheels we just made.
When we saw Jack demonstrate this $229 mod, we knew we had to have it. Even though we have four stabilizers for our RV, there was some noticeable shaking in the back.
This device has a center part that goes into the rear hitch receiver on the Arcadia and two adjustable supports that are connected by a strap that is cinched with a latch tightener.
The video shows the before and after effectiveness.
With the back end of the Arcadia rock solid, we turned our attention to the front, the overhang part of the Fifth Wheel that ends with the king, or hitch pin.
This $183 mod consists of two bars mounted between the front landing gear supports.
You twist each bar until hand-tight and then maybe half a turn more.
When it's time to leave, twist in the opposite direction to loosen them. They are permanently mounted. When loosened, just stow the landing gear as normal before taking off.
Maybe it was overkill but since we were going for maximum stability, we ordered this tripod stabilized from Amazon for $110. It fits under the hitch pin and gives one more level of support to our 32.5-foot RV.
I'm not really sure how much this helps. Jack and the MORryde team felt it wasn't necessary. But I added it anyway. We'll see. Other RVers have told me they find it helpful. But they didn't have that X-Brace Fifth Wheel Stabilizer between the front landing gears.
For now, since I have it, I'll use the tripod.
For $85, this was a major convenience item. There are four steps leading up to the entrance to the Arcadia. To open the door, you had to walk up two, pull the door latch, and then step down two steps to open the door.
Up two steps – down two steps. Doable but kind of annoying.
The latch extender is a vertical bar that attaches to the door latch and lets you open the door from the ground. No more up and down the steps.
Ingenious.
The Arcadia came with a short handrail that was perfectly functional. It just wasn't long enough.
The support is magnetically attached to the side of the Arcadia when not in use but extends down and out on the left side of the steps, giving you something to hang on to when going in and out.
Entering and exiting our RV is now easier and safer.
At $240, this is expensive. But we had this on one of our Class C motorhomes and added it to the Arcadia. It allows keyless unlocking and locking of the front door.
The RV Lock comes in several different styles and has both left and right hand configurations. Match up the look of your existing lock with one of the RV Lock models and you should be good to go.
Installation is a matter of taking the old lock out and putting the new one in its place. There are excellent hand-holding instructions so even the most DIY-challenged among us should be able to handle this easy replacement mod.
This is the most expensive of all the mods we did. $700. Super expensive, as a matter of fact.
The pass-through cargo area on our Arcadia is massive. But to remove things from the middle required me to half crawl inside and to take out everything that was in front of it, only to replace it after getting whatever it was I was after.
So this is pure convenience. The tray slides out from either side of the RV.
It comes in different sizes to fit different RVs. The one we got was the largest size available.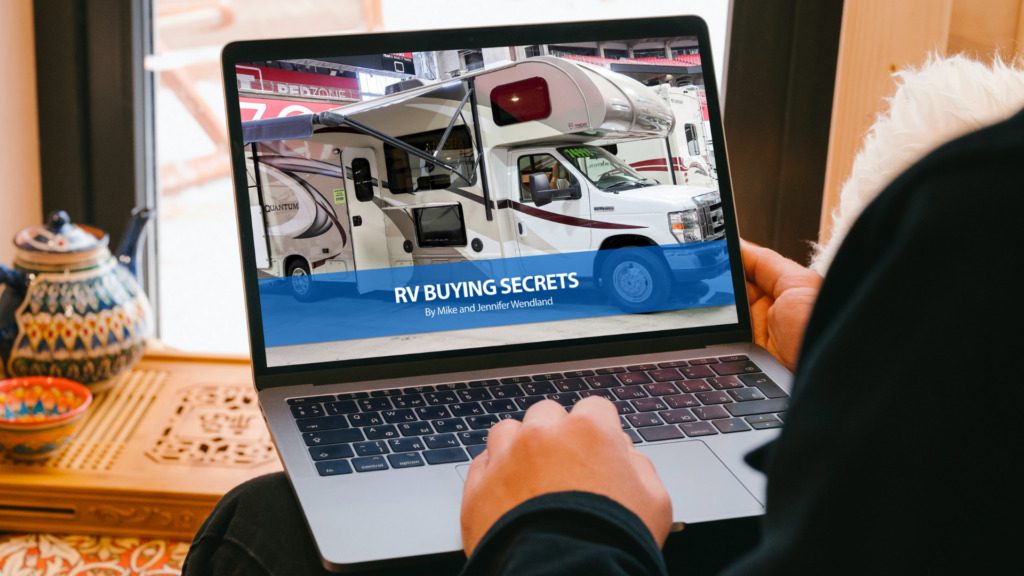 Next to your home, an RV is most likely the 2nd most expensive thing you'll ever purchase.
We get questions every day of other RVers wondering. "How do you buy a new or used RV?"
So we created a 75+-page downloadable digital guide to help you understand the nuances that come with purchasing an RV, where you can save thousands of dollars in the buying process, what the right questions are to ask dealers, what things to look out for, how to select the right unit, amenities, warranties, and so much more!
We created this guide to help you understand the nuances that come with purchasing an RV including:
Where to save thousands of dollars in the buying process
What questions to ask dealers
How to select the right unit
How to narrow down RV amenities
Understanding your warranty and what it covers
This ebook is designed to help make your purchase process as smooth as possible. And to teach you step-by-step exactly what to do so you can start your RV Lifestyle today!
---
---
---
---
Looking for exciting RV trip ideas and travel suggestions?
We've written a library of RV Travel books that lay out guided RV explorations of scenic areas of the US that we''ve explored and think would make an excellent RV trip for you.
In each location, we provide a suggested route and itinerary (7 stops in each guide, one for each day of a week trip!) as well as links to multiple campgrounds and boondocking spots, local tips, and interesting things to do at each location.
You can hit everything in seven days, do a whirlwind weekend tour, or you can take your time and explore the area over a 2+ week period.
Planning an RV trip can be very time-consuming so that's why we've done the research for you! Just take our guides and use them. We're sure you'll have an RV trip for the ages! Instant download. CLICK HERE for information on our RV Travel Guides