Planning for future RV travel? Need to know where it doesn't snow? Here are the top 6 states with the least snow to get you started on your plans.
#6 of states with the least snow – Georgia
When it comes to Georgia and snow, it's all about what area you visit. For example, parts of northern Georgia can see up to as much as three inches of snow each year. If you want to avoid snow altogether, stick to central and southern Georgia, where less than an inch of snow a year is the norm. By the way, the higher snow totals in northern Georgia are due to the Northeastern mountain region.
#5 of states with the least snow – Mississippi
If you hate snow and want to avoid it at all costs, many areas of Mississippi are bound to deliver. The Gulf Coast and southern regions of Mississippi see an average of half an inch of snow or less each year. Central Mississippi usually gets less than an inch of snow, but northern Mississippi can get up to two inches, though it's infrequent.
It's worth noting that the Gulf Coast of Mississippi is a popular vacation destination. Winter months offer high temperatures in the 60s. Cities throughout the Gulf Coast, like Biloxi and Gulfport, offer a variety of holiday events throughout the winter months.
Another great winter event in coastal Mississippi is, of course, Mardi Gras. Though more commonly associated with Louisiana, Mardi Gras has a 300-year history on the Gulf Coast. Numerous Mardi Gras events take place beginning in January and into February.
#4 of states with the least snow – Alabama
The Alabama Gulf Coast and southern Alabama are a great escape from the white stuff. Most cities in these regions average .2 inches or less of snow a year – not exactly the best destination for cross-country skiers. That isn't to say snow is completely out of question. Some cities in Alabama have seen record snowfall amounts of more than 13 inches.
You might want to read through this post to pick out the best place – 15 Alabama RV Parks for Snowbirds (Florida Alternatives).
# 3 of states with the least snow – Louisiana
Average snowfall throughout Louisiana is an inch or less, making the state a consistently snow-free destination. Winter highs are likely to be in the mid-60s. In addition to its temperate climate, Louisiana has one impressive draw for winter traveling: Mardi Gras!
Mardi Gras has been openly celebrated in New Orleans since the 1730s. The Mardi Gras traditions began in France and then spread to French colonies. It was brought to New Orleans by a French–Canadian explorer in 1702. The traditions and celebrations have slowly grown over time to become what New Orleanians call the "Greatest Free Show on Earth."
The Carnival season begins on January 6, or King's Day, kicking off a long stretch of celebrations and events. The date of Fat Tuesday changes every year and is always the day before Ash Wednesday. Bacchus and Endymion are two of the biggest parades of the season and happen the weekend before Fat Tuesday.
#2 of states with the least snow – Florida
Summing up the average snowfall in Florida is easy: none. Don't believe it? It snowed in Florida 16 times in the entire 21st century. Simply put, temperatures don't drop low enough.
The average high is in the mid-60s. The consistent weather and lack of winter precipitation make Florida a great destination for vacationing. In fact, Florida is the number one destination in the United States for Canadian transplants, and one in four residents in Florida are seniors.
As our RV Lifestyle Fellow Travelers know from previous reports, Florida is home to a number of attractions that make it a desirable vacation destination. One of the most well-known is Disney World (check out our video below), and some of the winter months are the least busy at the park.
Consider planning a trip in early to mid-December or January to mid-February. If you are looking for something a bit different, consider a visit to the Kennedy Space Center or Everglades National Park.
# 1 of states with the least snow – Hawaii
Yes, Hawaii DOES get snow!
Just not very much 🙂 But how practical is it to get your RV there? So Florida could be in this number 1 spot.
Are you really surprised? Of course not! Much like Florida, Hawaii's average yearly snowfall is non-existent. It also boasts highs in the 80s and lows in the upper 60s.
Weather like this should certainly make you consider saying "Aloha" to Hawaii in the winter months.
The only place you are likely to see snow in Hawaii is at the top of the state's three tallest volcanoes: Mauna Kea, Mauna Loa, and Haleakala.
Ready to Plan an RV Trip? Here's the tool we use:
Planning an RV Trip has never been easier than with RV TripWizard. It is a comprehensive tool that Jennifer and I use whenever we are planning a trip. It works seamlessly with all our devices and gives us access to the info we need on where to stop, what camping is nearby and what we should do in an area.
Best of all, you can try it for free to see how it will fit into your trip planning process.
Want to REALLY connect to the RV Lifestyle?
Become a supporter of the RV Lifestyle and get inside access to exclusive tips, trip ideas, how-to RV info, private members-only campouts with Mike & Jennifer, and special perks, giveaways, and discounts. CLICK HERE for info.
---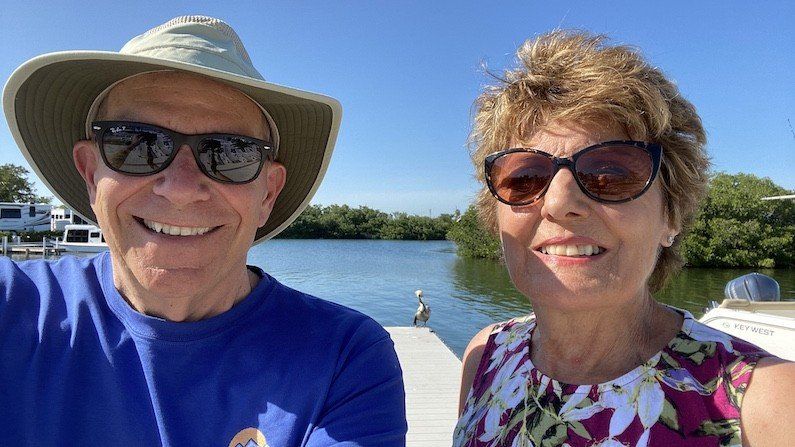 Curious about the gear, gadgets, accessories, and RV products Mike & Jennifer use and recommend?
On this RV Lifestyle Travel blog, our RV Podcast and our RV Lifestyle YouTube Channel, we mention all sorts of RV-related products and gear that we use, So we created a special page that links to them. We update this all the time.  CLICK HERE to go to it directly. Have you caught one of our Amazon LIVE events yet? Just go here and Follow us – to be notified every time we go live.
---