Discover the different types of camping reservations available and find out which one is perfect for your next outdoor adventure…
There are several types of camping reservations people need to be aware of. Some are for tents only, RVs, or in the backcountry. Some allow you to plan months in advance, while others are first come first served.
We're going to cover the different types of camping reservations so you can book the best campsite for your needs.
By the end of this article, you'll know what to look for when searching for campsites and understand the terms and abbreviations you'll encounter.
Hey, if you buy something through my links, I might get a little something-something as a thank you. No extra cost to you, promise! Read our full affiliate disclosure here.
6 Types of Camping Reservations
There are several key terms you need to know when it comes to camping reservations. These terms determine when and how you reserve a campsite and can affect how you plan for a trip.
First Come, First Served
First Come, First Served campsites cannot be booked in advance. Some campgrounds do not take reservations for any of their campsites, whereas others set aside some campsites for first come, first serve arrivals.
So, you'll need to determine if it's a first come, first serve campground that doesn't take any reservations in advance. Or a campground that only designates certain campsites as first come first served.
If the latter, you can book sites in advance based on availability. If those reservable sites are full, you can try for a first come first served campsite by showing up early the day of.
Be aware that the campgrounds that set aside first come first served campsites usually set aside the less desirable campsites. They figure (and rightfully so) that people showing up last minute aren't going to be as picky as those who plan in advance.
TIP: What Does FF Mean in Camping?
As you can probably guess at this point, FF means first come, first serve in camping. You'll often see this abbreviation on campsite maps or on booking platforms. These campsites cannot be reserved in advance and are only given on a first come first served basis the day you arrive.
Walk-Up Camping Reservations
Walk-up reservations are the same thing as first come, first served. "Walk-up" refers to reservations that are made in person on a first-come, first-served basis. This means that campsites are allocated to campers as they arrive at the campground.
Once you arrive, you can reserve multiple consecutive days based on availability. So, you do not have to keep checking in every day to keep your walk-up or FF campsite.
So, if you see FF, walk-up, or first come first served, whoever gets there first, gets the spot.
Just be sure you don't confuse walk-up with walk-in campsites…
TIP: What Are Walk-In Campsites?
A lot of people get confused by walk-up vs. walk-in campsites. Walk-up campsites are what we just described, where you can only book a campsite by "walking up" on a first-come, first-served basis. Whereas walk-in campsites mean you have to carry your gear to your site.
Walk-in campsites, as you can guess, are for tent campers. There's certainly no point in bringing an RV to a walk-in campsite you can't drive to. Walk-in campsites might only be a short walk from the parking lot, but others might require a trek to reach.
Online Reservations
Most campgrounds these days have online reservation systems. You can either book directly on their website or through a third-party platform. These reservations can be made well in advance, giving you the most control when planning your trip.
We have a guide that lists the 10 Best Sites for Campsite Reservations. These platforms are easy to use and are great planning resources.
Phone Reservations
While online reservations are often the most convenient, you can call most campgrounds to make reservations. That is, of course, if they accept advance reservations. FF and walk-up campgrounds will advise you on when to arrive.
The downside of phone reservations is you can only call during business hours or, rather, camp office hours. The upside, however, is you get to speak with a camp host that knows the park well. They can advise you on the best campsites or help you determine which is best for your needs.
Tent vs. RV Reservations
It is very important to distinguish between tent and RV campsites when booking at a campground. Oftentimes, campsites can be either or, meaning you can pitch a tent and park a car, or you can pull up an RV.
However, some campsites are specifically for tents or RVs. You don't want to book the wrong one, only to arrive and realize you can't stay there.
Tent-only sites are sometimes smaller and don't have any hookups. Although, some tent-only sites can be quite large for families and have some amenities, like electric hookup or a water spigot. It just depends on the site and campground.
RV sites are specifically designed for RV use. This might mean they are deeper so an RV can park in the site. It can also mean there are hookups, like water, sewer, and electric. Again, it depends on the site and campground, as some RV sites don't have any amenities.
It's worth noting there can be a big difference between campsites at an RV resort vs campground. Some RV reservations come with concrete pads, landscaping, and more.
Backcountry Reservations
Backcountry reservations are designed for campers who want to explore more remote areas of a park or wilderness area. These reservations typically require a permit and may have additional restrictions.
So, if you are a backpacker or boondocker who doesn't want to camp in traditional campgrounds, you need to familiarize yourself with backcountry permits. The trouble is, the permit systems are different at different parks.
Some parks only offer walk-up backcountry reservations and permits, while others can be reserved in advance. It just depends on which park you're visiting. So, you'll have to refer to the park's website for details.
It's also worth noting that permits and restrictions may limit the number of campers and length of stay.
Is Boondocking Right For You?
Like what you see in these videos? We'd appreciate it if you would Subscribe to our YouTube Channel (easy to do right here) and consider "ringing the bell icon" to be notified of any new video from us. 🙂 Thanks!
If you love the flexibility of FF camping and prefer staying in more secluded areas, you might love boondocking. Not to mention boondocking can save you a LOT of money.
Boondocking, in our opinion, is the BEST way to travel with an RV. We absolutely love getting away from the noise and crowd of life and busy campgrounds.
It's sometimes a challenge, and it's certainly not for everybody. But, we do have an article that will help you determine if RV boondocking is right for you. Click here to read the full article or check out our Beginner's Guide to Boondocking…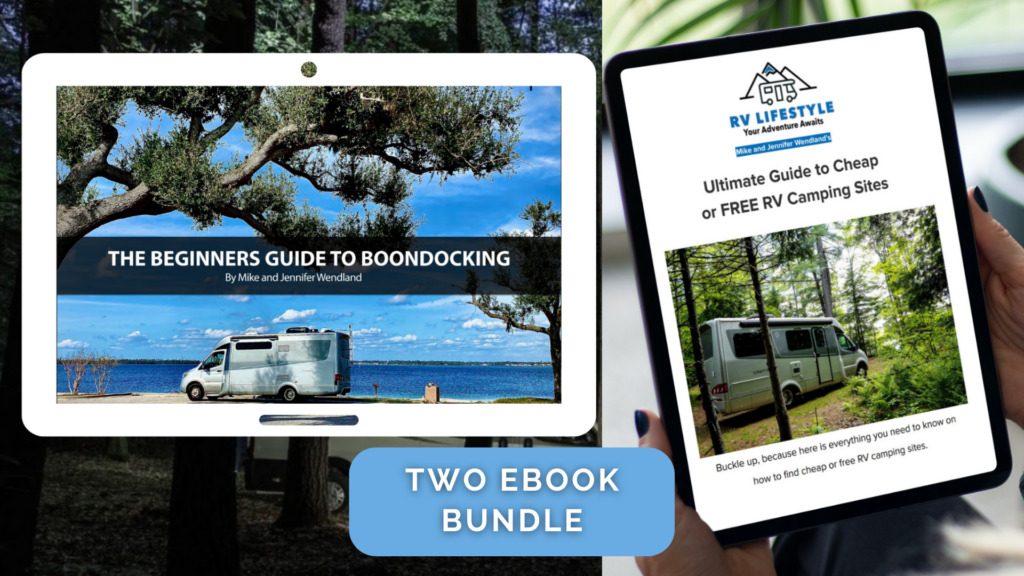 Beginners Guide to Boondocking (one of our most popular ebooks) and one of our newest ebooks, The Ultimate Guide to Free and Cheap RV Camping!
ebook #1: Beginners Guide to Boondocking
We created a 65+-page downloadable digital guide to help you understand the nuances that come with boondocking, the most common boondocking problems, and what you need to do to get your rig "boondocking-ready."
ebook #2: The Ultimate Guide to Free and Cheap RV Camping
Buckle up because here is everything you need to know on how to find cheap or free RV camping sites in the 33-page EBOOK.
---