If you want to find great camping on private and public land, then the one tool that you will want to use is a popular app called Hipcamp. In Episode 450 of the RV Podcast we talk with the founder and CEO about how it works.
Also in this episode:
Our Fall Gathering has been announced – a Music City Meetup in Nashville, TN Oct. 2-5
The best and most friendly campgrounds as judged by our RV Lifestyle Facebook Group members
A story on how "Tourons" – tourist idiots – have been causing problems again at Yellowstone
And RV recipes, Tips, helpful ways to organize and RV and some solid expert advice on the best speed and distance to travel when RVing
You can watch the video version from our RV Lifestyle YouTube Channel by clicking the player below.
If you prefer an audio-only podcast, you can hear us through your favorite podcast app or listen now through the player below.
Podcast: Play in new window | Download (Duration: 52:11 — 30.5MB) | Embed
Subscribe: Google Podcasts | Spotify | Stitcher | Email | TuneIn | RSS
RV Lifestyle's "Music City Meetup" Oct 2-5 is announced
We are excited to announce that registration is now available for our fall gathering – the RV Lifestyle Music City Meetup, Oct. 2-5, 2023 in Nashville, TN.
Tickets will go fast for this event, which features an evening at the Grand Ole Opry. Add in tours of downtown Nashville, historic sites, great shopping and a vibrant music culture that is truly Americana and this promises to be one of our best meetups ever.
The Music Cty Meetup will have us camped at the beautiful Nashville KOA, close to the heart of everything. There will be prizes provided by Keystone RB, Leisure Travel Vans, Harvest Hosts, Battleborn Batteries, Obe Organizer, MorRyde and the Dyrt. Add in great food at an awesome potluck, rig tours and lots of socializing, and this promises to be a must-attend event.
For more information and to get your tickets, go to:https://rvlifestyle.com/Nashville
Note: This event WILL sell out. Order soon to get guaranteed a spot. We currently have 6 spots open that can fit rigs 34 feet or smaller. If you have a larger RV and want to join us – please email team@rvlifestyle.com.
Summer 2023 merch is now available
We have four new exciting designs for our Summer 2023 RV Lifestyle clothing and merch! From T-shirts to sweats, to wine tumblers to pint glasses and much more, you need to see them yourself at: https://rvlifestyle.com/2023merch
SOCIAL MEDIA BUZZ – Wendy Bowyer
Wendy Bowyer reports on the hot issues most talked about this past week on our RV Lifestyle Facebook Group:
Sometimes in the RVLifestyle Facebook group members share maps of an epic trip they took, pictures of what they saw, and other inspiring highlights.
That is just what Susan did recently, getting more than 150 responses.
From Sept. 1-June 1 Susan and her husband traveled about 15,000 miles, doing a big loop of the outer edge of the United States. Some highlights?
Susan said the best scenery was between Mt. Helen's and Glacier National Park. The friendliest people were in Tennessee.
And the nicest state park was in Brookings, Oregon.
Many people appreciated her post, agreed with her findings, and said it was inspiring them to take such a trip.
Renee was looking for a nice campground near a beach so she asked for recommendations.
Misty recommended South Carolina's Apache campground.
Scott recommended Florida's Ft. De Soto Campground – that is one I've been to and agree with Scott!
Dan recommended Pismo Beach & Morro Bay along California's Highway 1 – also pretty amazing. If you are looking for a nice campground near a beach, you might want to check out Renee's post!
Finally, the last thing I would like to share are some pictures.
Because sometimes members of the group snap a picture of an unusual rig set up they come across out there on the road and share what they saw.
Member SC Skeeters saw what appeared to be a semi-truck pulling a Fifth Wheel with a tiny car sandwiched in a space between the semi's cab and the Fifth Wheel.
SC saw that set up at a Georgia rest stop and it really got people talking!
Then Tony shared a picture he took of what looked like a Class A towing a small helicopter on some sort of trailer. Can you imagine?! Several hundred responses to that one, ranging from Dwight's comment "Now that's a toad!" to a funny one from Karlie saying: "And I thought I was fancy towing my jet ski!"
Tony said he bets the helicopter was going to be used for either fire fighting (there are some fires raging in a few places across the country right now) or as a crop duster. Whatever the situation, it really got people talking!
RV RECIPE OF THE WEEK – Jerrica Mah
Here's the editor of CampingFoodRecipes.com, outdoor enthusiast and lifelong foodie enthusiast Jerrica Mah:
Alabama White BBQ Sauce
Hey Mike and Jennifer and camping foodies! This is Jerrica with CampingFoodRecipes.com. This week we have a new kind of recipe for you because we're going to be making a BBQ sauce, and not just any barbecue sauce, but Alabama white barbecue sauce.
This BBQ sauce is pretty well-known in the South, especially if you've ever been to Alabama (hence the name of the sauce). This really versatile, yummy, tangy BBQ sauce looks like Ranch dressing but tastes like tangy BBQ sauce.
It's great as a condiment and dip but also as a finishing sauce that you can brush onto chicken or pork chops or any meat you like. It works best on white meats or light meats like pork or chicken or fish, but we've used it on burgers as well, and it's tasty for that, too.
It's really easy to make. Something you can make at home and take on your camping trip and then find all sorts of uses for it. We've paired it with our Healthy Grilled Turkey Burgers before and it's really just a great overall sauce to have in your RV fridge.
So, be sure to check that out! We also encourage you to go to our website and click "Submit a Recipe." We'd really like to see what your favorite camping recipes are. You can share those. That way, everyone in our community can enjoy what you and your family get to enjoy all the time.
Head to CampingFoodRecipes.com, check out that Alabama White BBQ Recipe, submit your recipe, and peruse all our other recipes. We're adding more and more each week, and we'll add even more once you submit yours.
RV INTERVIEW OF THE WEEK – Camping on Private and Public Land
If you are looking for unique camping experiences this summer, the app Hipcamp is something you need to check out. Hipcamp is a company that partners with landowners to provide camping on private and public land in places typically near national parks, federal and state forests, interesting landmarks, and beautiful landscapes.
Hipcamp has long been popular in California, where it started 10 years ago, but now is seemingly everywhere with more than 600,000 camp spots across the U.S., Canada, Australia and the U.K., with its number one growing customer group being RVers.
On our show today is Hipcamp's founder and CEO Alyssa Ravasio to tell us more. Welcome, Alyssa!
Among the topics we cover:
How the idea for Hipcamp came about.
Where are most of Hipcamp's camping locations?
What is the range of camping options people can find by using Hipcamp?
For RVers, how HipCamp is particularly helpful in finding camping on private and public land.
Some of the more unique camping experiences people can find with Hipcamp.
How do campers pay for their campsites?
How the free public land map in the app is so helpful.
The foundational belief is that time outside is a huge contributor to human happiness.
RVLifestyle followers who to try Hipcamp can use the code RVLifestyle10 to get 10% off their reservation.
RV NEWS OF THE WEEK
The travel season at Yellowstone National Park has barely begun, and already two videos are making headlines showing tourists getting too close to bison, putting themselves – and the animals – at risk.
In one incident a woman got within a foot of a bison and appears to try to pet it while posing for a picture when the animal lunged at her. Thankfully both she, and the animal, were not hurt. (See story here).
And in another incident that we told you about last week, a man who tried to "help" a baby bison cross a river was identified and charged. The man, a tourist from Hawaii, pleaded guilty and is facing $1,000 in fines for physically trying to move the calf, possibly causing it to be rejected by the herd and ultimately euthanized. (see story here).
Remember if you are heading to Yellowstone it is recommended you stay at least 25 feet away from bison. Also we have written a 7 Day Adventure Guide to help you plan an amazing Yellowstone trip that you can see here.
A group recently ranked the 15 best state campgrounds throughout the U.S., with the number one park being Franconia Notch State Park in New Hampshire's White Mountains.
While it seems everybody these days has their own rankings of campgrounds, this is the first we have seen in a while exclusively ranking state park campgrounds, which are some of our favorite places to camp, so we had to share it with you.
This ranking was done by a group called TravelAwaits, and they chose parks from all over the country.
Others in the top 15 include Maine's Baxter State Park, New York's Niagara Falls State Park, South Dakota's Custer State Park, Arizona's Red Rock State Park, California's Pfeiffer State Park and Indiana's Turkey Run State Park. To see the complete ranking click here.
To see links to some of our favorite state parks that we have written about, click here.
People who enjoy camping but have limited mobility may want to put Louisiana's Fontainebleau State Park on their travel list. The park recently announced it now has an all-terrain wheelchair that campers can reserve.
The chair can help those who need it go on the trails and the beach. All-terrain wheelchairs is something we are seeing more and more at state parks.
Apparently, Fontainebleau is the first of what will be many Louisiana state parks to offer one. Reservations are required to use it. To learn more click here.
Some swimmers at a state park in Texas had to be rescued by boat after some hungry alligators trapped them on a floating raft.
The swimmers were at Huntsville State Park north of Houston in Lake Raven when two alligators appeared, trapping the swimmers on a floating platform. Eventually, park rangers appeared and used a boat to rescue the swimmers, bringing them to shore.
And in true fashion of today's world, the whole thing was captured on video and shared on social media, getting 3 million views and counting. To learn more, click here.
If you are heading to Oregon's Umpqua National Forest for a camping trip, officials have a warning: Beware of the wolves.
A wolf pack there shows an unusual lack of wariness around humans. Human voices and car horns do not seem to scare them, which is very unusual. Videos recently released seem to show one wolf lying down near vehicles, unfazed.
Oregon Department of Fish and Wildlife said there are no reported attacks on people or their pets so far, but because of this unusual behavior, they are issuing a warning. Their advice? Stay at least 100 yards away, keep dogs on a leash, carry bear spray, don't wear headphones so you can be alert, make noise, don't run, try to look big.
To learn more click here.
RV Tip of the Week from Brenda of Queen Bee RV
Time now for the RV Tip of the week from certified RV Inspector Brenda of Queen Bee RV.
Brenda's focus is on educating RVers on how to care for their RVs – especially women RVers – and she is a regular contributor to the podcast, sharing her expertise with our entire audience.
Here's Brenda.. The RV Queen Bee… with this week's RV Tip.
Top troubleshooting tips for RV shore power 120Volt AC and 12Volt DC systems
You would be surprised at the number of repair issues that can be easily resolved by having a better understanding of your RV electrical systems.
So with that, begin by familiarizing yourself – actually making a cheat sheet – with what appliances and components operate on which type of service: either 120Volts AC or 12Volts DC. This simple hack can help to overcome a large number of your frustrations when it comes to troubleshooting RV appliances.
120Volts AC can be provided by plugging your power cord into a campground pedestal aka shore power, or by utilizing your generator or inverter, if your rig is equipped.
12Volts DC is provided by your lead acid, gel, AGM or lithium coach battery.
The coach battery powers items such as interior lights, water pump, appliance control systems like on the refrigerator and air conditioner thermostat, slide out and leveling systems, DSI igniter on the water heater, vent fans, furnace blower fan, and some electronics.
The 120Volts AC appliances and components include the big ticket items like your air conditioner, the microwave, wall receptacles, the absorption type or residential style refrigerators, your tank water heater if you have the electric option, and the washer and dryer. Note: It also powers your converter which is quite often overlooked by RVers because it's out of sight and out of mind.
Here is why that can cause issues: if you are connected to shore power, your converter charger is always on and is consuming a variable amount of wattage to either charge your battery or operate your 12Volt DC systems in the RV. This can be an important troubleshooting tip to know if you are attempting to determine whether or not your RV's power capabilities are being exceeded.
Another reminder is that when you are connected to shore power, your converter is actually the one providing power to that list of 12Volts DC appliances and components. So, if your 12Volts systems are working great when plugged into shore power, but not operating when you are boondocking, check the health and charge status of your coach battery.
While you are taking a look at your coach battery condition, double check the connections are tight and make sure there is not excessive corrosion that can interfere with its performance. And two more tips for 12Volts DC issues: confirm that the battery disconnect switch is not engaged and don't forget to check the blade fuses in the panel box to make sure none are blown.
A few ideas for troubleshooting the 120Volts AC systems and appliances include checking the breaker at the campground pedestal and the breakers in your electrical panel box for both the main 30 or 50 amp source or any of the individual appliances. Note that sometimes a breaker could appear to be in the proper position even though it's been tripped, so run your finger across them to make sure none are loose.
If outlets are inoperative, make sure the GFCI outlet has not tripped at the receptacle or the breaker panel. And lastly, if your generator is running, but there is no power at the 120Volts appliances, confirm that the dedicated breaker inside the generator compartment is on.
It seems too simple to be true, however, making a list of these troubleshooting tips on an index card for easy reference can eliminate a surprising number of issues with your RV electrical system. Hope this was helpful and I will see you next week for another RV Tip of the Week.
App of the Week
Time now for the RV App of the Week segment, taken from the pages of NewTravelTech.com – our sister blog that celebrates the many ways technology enhances the travel experience.
This week's app is really a Website called OrganizedObie.com and it is a great resource for organizing your RV with very handy storage solutions.
We love Organized Obie products so much that when we got our new RV, one of the first things we did is add a bunch of Organized Obie organizational and storage nets and products. Here's a blog and video showing how we used these products in our current RV.
Organized Obie specializes in aftermarket organizational solutions for Recreational Vehicles, boats, and other places where storage may be tight. They make a wide variety of mesh and stretch nets using bungee cords and specially woven material that keeps things organized and secure.
We picked out an assortment of bags, nets, hangars, hooks, shower organizers, a unique shower towel rack, and various others. Their products offer a great way to put unused wa;l space to very tactical use and If you use the promo code RVLIFESTYLE they'll give you 5% off the cost of your order.
RV QUESTIONS OF THE WEEK
Before we get to this week's question, we want to share some great feedback from a member of our RV Lifestyle Facebook Group. There's always a lot of discussion on the group about how fast and how far to drive when on an RV trip. Here's some insight on this issue from Max:
My argument for taking it slow. Trish and I are on day 220 of this year's Magical Mystery Tour.
My typical driving day is less than six hours and my speed is between 55 and 65. Depending on traffic and the road.
At 60 mph I burn about 20% less fuel than if I'm doing 75/80. That equates to $45./$50. On a drive day. So basically paying for my overnight stay.
At 60 MPH I have a much better reaction time for Pot Holes and Aholes.
At the end of the day I feel a lot better at 60. Less fatigued.
60-65 MPH is a lot easier on me, my truck and the camper.
The down side.
On a typical 6 hour drive day I arrive 30 minutes later. So instead of arriving at 3:30. I arrive at 4.
Being retired means I'm never in too much of a hurry. Proper planning means I can keep to under 6 hours. Enjoying the ride.
QUESTION:
I recall your original Unity FX had those two oval openings under the Murphy bed that (when the bed was away) allowed you to reach in and open the drivers side/ small high windows. We just took delivery of our FX and i want to get those down after market. Did you add that to your new FX? – Kat
ANSWER: No, it was installed by the factory as an experiment and for whatever reason, they decided NOT to put those windows into production across the entire line. On our new Unity FX, the windows are not there. We wish they were, but probably because of a structural issue, they only put them in that one unit we had several years ago.
Where are you RVing next?
Let us know in the comments!
Get the Home Study Course today and worry about the road, not the repairs!
Every time you move your RV it's like driving through a hurricane during an earthquake. Parts break and many items need to be maintained, this program will show you how you can save time and money by gaining the confidence to take on the majority of the issues you'll come across. Don't get caught with your RV in the shop! Learn how you can maintain and repair your RV at your own pace and at the most convenient time for you! This course is produced by the National RV Training Academy.
---
---
---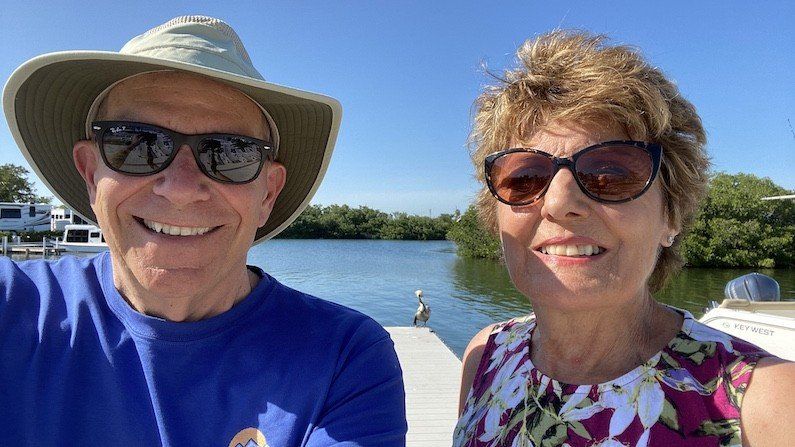 Curious about the gear, gadgets, accessories, and RV products Mike & Jennifer use and recommend?
On this RV Lifestyle Travel blog, our RV Podcast and our RV Lifestyle YouTube Channel, we mention all sorts of RV-related products and gear that we use, So we created a special page that links to them. We update this all the time.  CLICK HERE to go to it directly.
---