The following tips for selling your RV will guide you through the process and help you get the most money for your rig…
Are you looking to sell your RV and get the best price possible? Attracting potential buyers and getting a fair deal requires proper preparation and marketing.
In our RV Lifestyle Podcast's tip of the week, certified RV inspector Brenda of Queen Bee RV shared a step by step guide for prepping, pricing and selling your RV.
In this article, we share and expand on her tips. They will help you navigate the selling process and maximize your chances of a successful sale.
We use affiliate links and may receive a small commission on purchases at no added cost to you. Thank you for your support. You can read our full affiliate disclosure here.
1. Gather All the Info on Your RV
To make a strong impression on potential buyers, gather all the necessary information about your RV. This includes its history, maintenance records, repairs, and any upgrades you've made. Organize it neatly so the potential buyer can easily review the material.
Providing detailed documentation will give buyers confidence in the condition of your RV. It will also better prepare you to answer questions and address any concerns they may have.
Also, gather all user manuals and show the buyer that you have them available. This will build their confidence in their ability to manage the different systems. Plus, it shows that you didn't discard the user manuals, implying you took care of your RV as you should.
2. Clean & Do Minor Repairs
Make sure your RV is very clean and presentable before showing it to potential buyers. A well-maintained and clean RV can significantly impact buyers' perceptions and increase their willingness to pay a fair price.
Focus on both the interior and exterior. Pay attention to details such as washing the windows and wheels, vacuuming and wiping down the nooks and crannies, and cleaning the cabinets.
Remove any personal items to allow buyers to envision themselves in the RV and to showcase as much open space as possible.
It's also worthwhile doing small repairs, especially cosmetic repairs. Every small thing a buyer sees needing repair is dollar signs coming off in their mind. And more dollars will come off than the cost of doing the repair yourself.
Get the Home Study Course today and worry about the road, not the repairs!
Every time you move your RV it's like driving through a hurricane during an earthquake. Parts break and many items need to be maintained, this program will show you how you can save time and money by gaining the confidence to take on the majority of the issues you'll come across. Don't get caught with your RV in the shop! Learn how you can maintain and repair your RV at your own pace and at the most convenient time for you! This course is produced by the National RV Training Academy.
3. Price It Right
Determining the right price for your RV is crucial. Research the current market value of similar RVs using resources like NADA guides or Kelley Blue Book.
Be realistic and set a fair and competitive price to attract potential buyers. Consider both the age and condition of your RV when setting the price.
Price it too high, and it may deter prospective buyers, but pricing it too low may not fetch the best possible price. Pricing it at fair market value is the quickest way to sell an RV while satisfying both parties.
4. Consider Private Sale vs. Consignment
Decide whether you prefer a private sale or consigning your RV with a dealership. Selling privately allows you to have control over the entire process and potentially negotiate for the best price. However, it may require more time, effort, and advertising on your part.
On the other hand, consigning with a reputable RV dealership can save you time and leverage their existing customer base. They handle negotiations and paperwork but keep in mind that they will charge a commission fee.
Using a dealer will be less work for you, but you'll likely put less money in your pocket. HOWEVER, dealers can sometimes fetch a higher price than you can on your own. That's why it never hurts to at least speak with a dealer, especially if you received a good referral for one.
If you decide to use a dealer, you can stop reading here. If you're still considering selling it yourself, continue reading…
5. Utilize Online Platforms
In today's digital age, online platforms are an excellent way to reach a wide range of potential buyers. Utilize websites like RV Trader, Facebook Marketplace, Craigslist, and eBay to list your RV for sale.
Some selling platforms are free, while others charge a fee.
Showcase your RV with high-quality photos and provide a detailed description, including key features, specifications, and any special upgrades or accessories. Basically, all the details you would see in a manufacturer's brochure. The more the better.
You should also put a For Sale sign on your RV if the public can see it. Why not capitalize on the foot and car traffic that passes by your RV every day?
6. Highlight Desirable Features
When marketing your RV, highlight its unique and desirable features that appeal to potential buyers. If you have a travel trailer with solar panels or a high-capacity water heater, emphasize these selling points.
If you paid for upgrades at the time of your purchase or after, compile a spreadsheet showing how much the upgrades cost. This will help show the buyer why you may be asking more money or why they're getting such a good deal.
Be transparent about any necessary repairs or upgrades that may impact the selling price. Presenting your RV in the best light possible (while still being honest and upfront) will attract serious buyers willing to pay a premium.
7. Respond Promptly and Engage with Potential Buyers
When potential buyers inquire or show interest in your RV, respond promptly and engage with them. Be friendly and provide meaningful information to address their questions or concerns.
Share additional photos or videos upon request, and try to be patient. As you know, purchasing an RV is a BIG commitment. So, while you don't want to allow anyone to waste your time, be as patient as possible within reason.
Throughout the selling process, be vigilant about protecting your personal information and belongings. Verify the identity of potential buyers and avoid sharing sensitive information that could compromise your security.
Consider meeting in a public place like a shopping center or church parking lot, a campground, or other public space.
8. Test Drives and Inspections
Allow serious buyers to test drive your RV and inspect it thoroughly. But don't let just anyone jump behind the wheel. Request a valid driver's license and insurance coverage before letting them test drive the RV.
As an alternative, you can offer to take them on a test drive. So, they see it in operation but aren't in control.
HOWEVER, keep your personal safety in mind at all times! Use your best judgment on whether or not you should ride along or drive them somewhere. Trust your gut!
It's best to ALWAYS have someone else with you when showing an RV, even on potential buyers' second or third visits. Your safety is far more valuable than your RV; keep that in mind when deciding whether to let them test drive it on their own or ride/drive with them.
If you don't feel comfortable riding with them during the test drive, ask for a deposit or valuable item to hold onto until they return your RV.
9. Negotiate Effectively
Be prepared to negotiate the selling price of your RV. You may receive some lowball offers, which you should firmly decline since you did your research and set the right price (Step #3).
Set a bottom dollar in your mind and be willing to consider reasonable offers while also remaining firm on the value of your RV.
You can use the NADA or Kelley Blue Book reports to show why you've selected your price. However, be careful that those reports can't be used against you to talk you down even more.
The reports may show a lowest value amount that's lower than your bottom line. So, think carefully before you show the reports, and be able to defend your price if it varies from the report.
10. Finalize the Sale Securely
When finalizing the sale, prioritize security and ensure a smooth transfer of ownership. Use a bill of sale that outlines all the important information, including the buyer's and seller's details, agreed-upon sale price, and any additional terms or conditions.
Clearly outline the accepted forms of payment, such as cash, wire transfer, or personal checks, ensuring all parties are comfortable with the chosen payment method. Verify the payment before transferring the ownership to avoid scams or fraudulent transactions.
With some scams, payments appear to clear in your account, only to bounce out of your account in a few days.
If the buyer pays with a cashier's check or certified bank check, contact the issuing bank to verify its authenticity and ensure it clears before handing over the pink slip or transferring ownership. Also talk to your bank about any current scams you should watch out for.
When transferring ownership, consult your insurance company to understand any necessary steps or notifications required. Additionally, provide the necessary paperwork, including the title transfer/pink slip, to the new owner.
The Funny Reasons Why People Buy RVs
Like what you see in these videos? We'd appreciate it if you would Subscribe to our YouTube Channel (easy to do right here) and consider "ringing the bell icon" to be notified of any new video from us. 🙂 Thanks!
There are so many reasons people buy RVs. But many of those reasons are not as complicated as you might think. Check out the responses we got when we asked our RV Lifestyle community.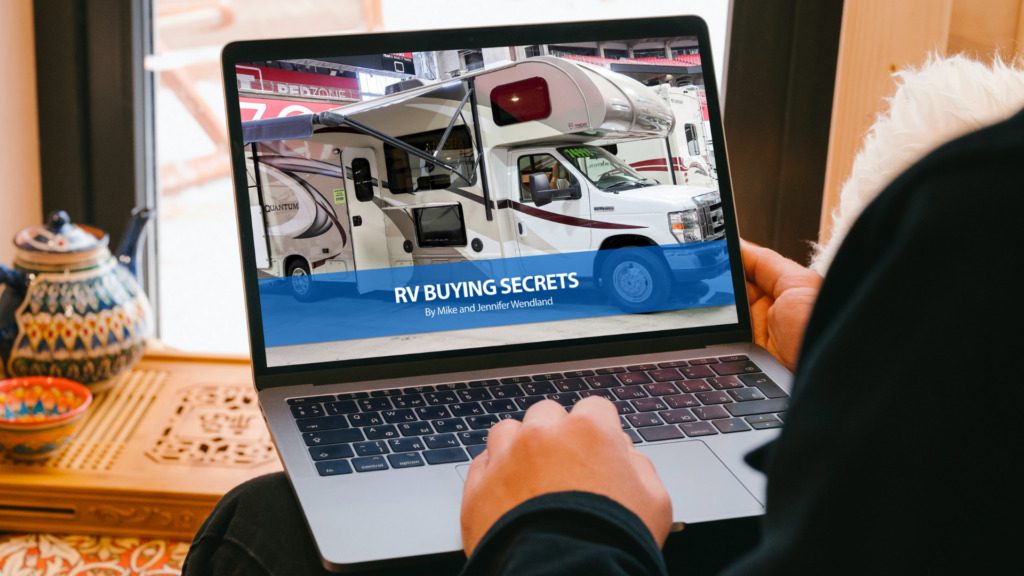 Next to your home, an RV is most likely the 2nd most expensive thing you'll ever purchase.
We get questions every day of other RVers wondering. "How do you buy a new or used RV?"
So we created a 75+-page downloadable digital guide to help you understand the nuances that come with purchasing an RV, where you can save thousands of dollars in the buying process, what the right questions are to ask dealers, what things to look out for, how to select the right unit, amenities, warranties, and so much more!
We created this guide to help you understand the nuances that come with purchasing an RV including:
Where to save thousands of dollars in the buying process
What questions to ask dealers
How to select the right unit
How to narrow down RV amenities
Understanding your warranty and what it covers
This ebook is designed to help make your purchase process as smooth as possible. And to teach you step-by-step exactly what to do so you can start your RV Lifestyle today!
---
---
---
Official RV Lifestyle QUICK Links to ALL our eBooks
You can see ALL our eBooks here, or use the following Quick Links to go straight to what you need!
● Arizona
●    Colorado 
And MANY of these are BUNDLED together:
New England Bundle
Coastal Maine, Adirondacks
Ultimate Michigan and Great Lakes Bundle – 3 ebooks –
Upper Peninsula, Lower Peninsula, and the Great Lakes Tour
Michigan Bundle
Upper Peninsula, Lower Peninsula
The Great Lakes Adventure Guide Bundle
The Great Lake Shoreline Tour & JUST the Upper Peninsula Guide
Florida Adventure Guide Bundle
Gulf Coast, Atlantic Coast, Keys
Southwest Adventure Guide Bundle
Arizona, Colorado, Southern Utah)
Ultimate 7-Day RV Adventure Guide Bundle
Collection 1- our first 10 ebooks (does NOT contain Great Lakes Shoreline or Natchez Trace)
We also have a nice collection of ebooks that will help you navigate the RV Lifestyle.
Like these:
The Beginner's Guide to Boondocking
The Ultimate Guide to Cheap or FREE RV Camping Sites
Boondocking and Free RV Camping EBOOK Bundle
The Beginner's Guide to Boondocking ebook and Ultimate Guide to Free Camping Sites
And ONE PRINT book 🙂 and yes, before you ask, we have plans for MANY more print books.
The Complete Guide to Boondocking – PRINT VERSION
This is the same as the ebook titled The Beginner's Guide to Boondocking but in print.
And while you are exploring all our ebooks – check out the hoodies, T-shirts, Stickers, and mugs in our MERCH Store! You can get to it directly by just going here – SHOP!
---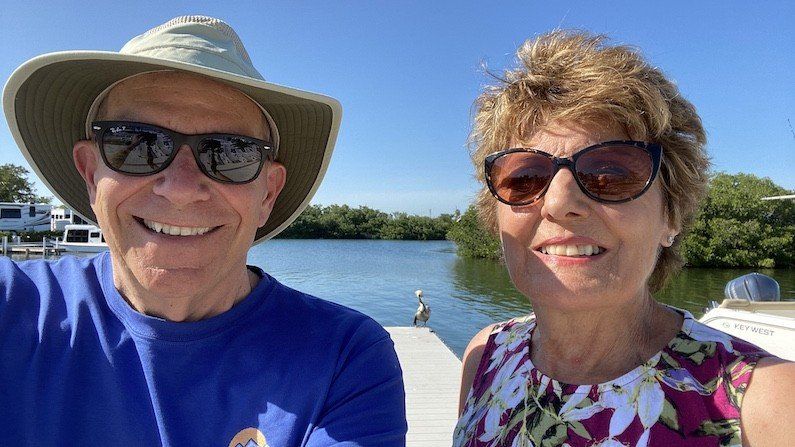 Curious about the gear, gadgets, accessories, and RV products Mike & Jennifer use and recommend?
On this RV Lifestyle Travel blog, our RV Podcast and our RV Lifestyle YouTube Channel, we mention all sorts of RV-related products and gear that we use, So we created a special page that links to them. We update this all the time.  CLICK HERE to go to it directly.
---