This week on the RV Podcast we talk about the so-called "Nature Pill," explaining how even 20 minutes of time surrounded by nature can measurably reduce stress and bring about better health.
That's what Jen and I are doing this week, decompressing and destressing in the woods of Middle Tennessee, enjoying the beautiful fall weather surrounded by nature.
And yes, there is indeed such a thing as a "nature pill," which we describe in our opening monologue.
You can watch the video version from our RV Lifestyle YouTube Channel by clicking the player below.
If you prefer an audio-only podcast, you can hear us through your favorite podcast app or listen now through the player below.
Podcast: Play in new window | Download (Duration: 51:27 — 31.0MB) | Embed
Subscribe: Google Podcasts | Spotify | Email | TuneIn | RSS
There's a lot coming up in this episode…
We talk with the organizer of the big Quartzsite RV show in January and learn why every RVer needs to make at least one trip to Quartzsite, the desert mecca that draws thousands upon thousands of RVers each winter.
If you are a solo traveler who wants to visit the area but is concerned about being alone, we'll hear from a woman who runs a popular group for solo RVers who is inviting solo travelers to camp together in Quartzsite.
Plus, the RV news this week, tips, travel ideas, and your RV Lifestyle questions…all coming up on Episode 468 of the RV Podcast.
We're taking a "Nature Pill" this week
This week, we come to you from Loblolly Ridge. That's the name we call our five acres of land in Mid-Tennessee near the small town of Linden. We have developed several full hookup RV sites here for ourselves and friends and relatives, and we're here this week to relax, enjoy the beauty of fall amidst the hills and hollers of this beautiful part of the state and to dream and plan some future improvements.
We needed the rest because last week we were very busy in Nashville, hosting a gathering of 65 of our RV Lifestyle followers at our annual fall campout, which we called the Music City Meetup. We toured Nashville and even attended an evening at the Grand Ole Opry. It was so much fun. So now we're decompressing in the peace and quiet at Loblolly Ridge.
We've owned this property for two years. It's in a 5,300 acre development known as the Woodlands of Buffalo River and this week, many of our fellow property owners are here. We're having nightly bonfires and cookouts with everyone, learning about ways to improve our property and even touring some of the bardominiums folks around here are putting up.
A growing number are living here year round now, having come to Mid-Tennessee from around the country. It's all wilderness here. There's lots of wildlife. Great fishing and hunting. Awesome star gazing and in the town of Linden, the local Commodore Hotel Music Cafe brings in Nashville songwriters and performers for entertainment each weekend.
The thing I like best about it is the sound of the breeze whispering through the Loblolly pines surrounding our property. So calming. There are no traffic noises, and it's very private, but if we ever were in need of help, our neighbors are always there. This is, as we say, a perfect place to unwind and decompress, surrounded by nature.
The "Nature Pill" is verified by a university study
There's scientific evidence now about the therapeutic effects of being in nature. We'll link in the show notes to a study by the University of Michigan that shows that just 20 minutes spent outside surrounded by nature actually reduces stress hormones in a measurable way.
The researchers call the effect of being outside a "nature pill," and their study said it could reduce health issues such as chronic stress, blood pressure, cholesterol, heart disease, and weight.
For an eight-week study period, 36 people agreed to have a nature experience for at least 10 minutes, at least three times a week. People were free to choose the time of day, duration, and the place of their nature experience—defined as somewhere the participant felt a connection with nature. Once every two weeks, participants collected saliva samples before and after that day's "nature pill."
Saliva samples were analyzed for cortisol, a stress hormone, and used to determine if stress levels had changed by the end of a given nature experience. The study found that a nature experience produced a 21.3% per hour drop in cortisol levels, with the greatest efficiency (best outcome for time put in) from nature pills lasting 20 to 30 minutes. Thereafter, stress relief continues to build, but at a slower rate.
Here's a quote from the study:
"Exposure to nature has many benefits, including better sleep, reduced inflammation, improved immune function and, key among them, a better state of mental well-being, including stress reduction, the ability to stay focused and the experience of awe."
Well… that's what Jen and I are doing this week. Taking a nature pill surrounded by the beauty of the Woodlands here in Tennessee. You ought to try it yourself in wherever you can find some nature near you!
SOCIAL MEDIA BUZZ with Wendy Bowyer
Wendy Bowyer reports on the hot issues most talked about this past week on our RV Lifestyle Facebook Group:
Brent and Sheri were driving from Mesa Verde to Moab recently. They said the drive was gorgeous but the roads – not so much. They dropped their speed to 25-35 mph, but it was not enough. When they stopped and opened the door to their RV, everything had spilled out of their cabinets and refrigerator. It was scattered all over the floor, splattered against the walls, and even got on the carpet.
They said they had camped for four years, and just used rags to tie the cabinets shut and never had an issue. But on this road, it was not enough so they snapped a picture and shared it with the RVLifestyle Facebook Group.
Lots of people wrote expressing their sympathy. Some shared helpful tips on latches, childproof locks, and even ponytail ties they use to keep everything secure. Lots of good suggestions on this one.
Next, I'd like to tell you about Kenneth's post. Kenneth was camped in a spot with a perfect view, under an oak tree. The acorns were bouncing off his roof and sounded like fireworks. The dogs were not happy, and then he started wondering, is this ruining my roof? So he wrote the group for advice.
Some, like Jack, said he would move because you never know if damage is being done up there, and if he has a shower skylight, why take a chance?
Others said it all depends on the size of the acorns and the height they are falling from.
But the majority said that while the sound is annoying, the roof should be fine.
The most important thing was for Kenneth to sweep the slides before leaving because a stuck acorn could cause some real damage. Good advice for anyone camping right now near an oak tree.
Then finally I have to tell you about a post from Luanne that got many chuckles. She wrote: "Well here's one for ya… anyone ever leave a spouse at a gas station after filling up? I got out to walk the dogs and as I head back to the RV, I see my husband pulling out. Not wanting to chance how long it would take him to notice us missing, I had to borrow a cell phone to get him to come back."
Poor Luanne! And can't you just imagine her husband in the zone – he's filling up with gas, task completed, then takes off not realizing his wife and dogs aren't with him?
Luanne's post got about 500 comments, lots of chuckles, lots of sympathy, and more than one guy sheepishly admitting he had done the same thing.
RV INTERVIEW OF THE WEEK
The biggest RV gathering in the country is almost here… the annual January invasion of Quartzsite, AZ by up to one million RVers who camp in the desert around the tiny little town on the thousands of acres of BLM land.
They come every January and the biggest draw is the annual Quartzsite RV show, held January 20-28 2024. Officially known as the Quartzsite Sports, Vacation and RV Show, it is one of those RV events that is truly a happening and something that every RVer needs to experience at least once.
Our guest to talk about the show is Kimmy King, the show producer.
Meanwhile, what if you are a solo traveler? It can be a little intimidating for those traveling alone. But not this year. Jenell Jones runs a popular RV group made up of solo travelers called the Wandering Individuals Network. And she's extending an invitation to solo RVers to camp together for this year's Quartzsite event.
We did a short interview with Jenell.
RV NEWS OF THE WEEK
The Canadian couple killed by a grizzly bear at Canada's Banff National Park was able to send out a message to their nephew saying "bear attack bad" before being found hours later by a rescue team, dead.
The 62-year-old couple were backpacking with their dog, who was also killed, and were likely in their tent when the grizzly bear struck. Their food was stored correctly in a tree, and an empty bear spray canister was found on the ground, showing they had tried to fight it off.
The couple's bodies were discovered in a remote area about five hours after the call for help came in. When rescuers reached the site, the grizzly bear appeared and started acting aggressively toward them before it was shot and killed.
Fatal grizzly bear attacks are relatively rare, and sadly, this experienced camping couple did everything right but still were attacked and died.
To learn more about camping in bear country, click our story here.
This Saturday, the much-anticipated annular solar eclipse will occur, with many expected to be camping throughout the country within its path.
The annular social eclipse is often described as a ring of fire because when the new moon briefly crosses before the sun, what is left looks like a ring of fire.
The path of totally begins in Oregon, around 9:13 am Pacific time, and will travel in a southwest diagonal, ending in Texas. But much of the country, even those spots not in the direct path, will see something.
To learn more click here.
Seven U.S. senators introduced a bill to require all national parks to accept cash as payment in response to the growing number of parks that no longer will take it.
Death Valley and Rocky Mountain National Parks went cashless on June 1. Hawaii Volcanoes and Mount Rainier National Parks went cashless in late May.
Some remote national parks have gone cashless because it costs money to hire an armed vehicle to drive the cash to a bank. Also, cash transactions are slower to process, and more customers prefer cards.
But the senators say it is wrong to require a credit card or cashless payment option to enter a national park. National Parks are national treasures, and no one should be denied entry because of wanting to pay cash.
It will be interesting to see if this bill is passed into law.
Idaho is making what it calls a once-in-a-generation investment of $140 million in its parks system, using a combination of federal and state funds.
All 30 of the state's parks will see improvements. Some things planned include adding up to 450 new campsites over the next 10 years, renovating bathrooms, buying a natural hot spring, updating electrical and water connections, improving parking and paving miles of trails.
The work willtake place over 10 years.
RV QUESTION OF THE WEEK
This week, we have a video question sent in by Brad Olson.
QUESTION: How do I get to the point of waking up in the morning on an RV trip and not having a reservation…of introducing more serendipity into our lives? – Brad
ANSWER: Have faith. Seriously. Faith that you will find a place, even if it's boondocking or, worse yet, overnighting in a Walmart lot. There are groups like Harvest Hosts, Overnight RV Camping and lots of apps and services like the Dyrt, Campnab, RV Life, CampgroundViews.com and others that can help you find places wherever you happen to end up.
There are state forests, BLM lands, Corps of Engineers campgrounds and hundreds of county and municipal campgrounds all over North America that have room for you,
Now you do have to do some planning. Like what direction you're headed and what time you want to stop. That will give you a general area to look in. But we've always been able to find a place to stay. It's especially easy this time of year.
Our one caveat is to not stop too late. Plan on stopping before the end of the business day… by 4PM if possible, before places close. Even then, though, we've always found a spot.
We remember one time in Minnesota. We had stopped at a restaurant on a beautiful lake. They had a nice parking lot overlooking that lake. We asked the owner and he said, sure, no problem and we had what could have been a $100 a night campsite with a gorgeous view… but it was free.
So don't worry. Have faith and camp on! 
RV Lifestyle officially recommends The Dyrt
You can book campgrounds for tents, RVs, cabins, and glamping, or find free camping. The Dyrt has it all. And in case you didn't know, The Dyrt is the #1 camping app and website in the US, with over 8 million campsites, reviews, and tips — submitted by campers, for campers. And The Dyrt PRO version makes every camping trip easier. With offline map backups, offline search, exclusive discounts, and trip planning tools, PRO can improve any stage of camping.
The Dyrt app lets users with basic accounts search for camping and save favorites, completely for free. The Dyrt PRO is an upgrade that makes it easier to go camping. Try PRO for free today.
Use the code RVlifestyle for your 30-day free trial!
---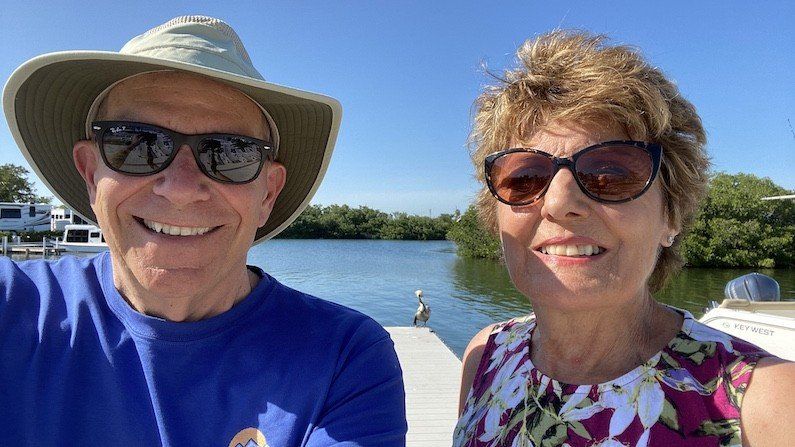 Curious about the gear, gadgets, accessories, and RV products Mike & Jennifer use and recommend?
On this RV Lifestyle Travel blog, our RV Podcast and our RV Lifestyle YouTube Channel, we mention all sorts of RV-related products and gear that we use, So we created a special page that links to them. We update this all the time.  CLICK HERE to go to it directly. Have you caught one of our Amazon LIVE events yet? Just go here and Follow us – to be notified every time we go live.
---