One of the most daunting parts of camping has to do with RV Towing. Not just how to tow but how to make sure your tow vehicle is up to the task and then how to tow safely and correctly is what we explore in this week's podcast interview.
Here are the main topics in Episode 457 of the RV Podcast:
RV Towing Basics: Expert Advice on doing it right
RV Social Media Buzz: How to decorate the OUTSIDE of your RV
RV News: Bison and bear attacks and more hikers have died from excessive heat
Plus: Your RV questions, tips and much more coming up in Episode 357 of the RV Podcast!
You can watch the video version from our RV Lifestyle YouTube Channel by clicking the player below.
If you prefer an audio-only podcast, you can hear us through your favorite podcast app or listen now through the player below.
Podcast: Play in new window | Download (Duration: 1:04:59 — 37.8MB) | Embed
Subscribe: Google Podcasts | Spotify | Stitcher | Email | TuneIn | RSS
First, we have a bucket list tour of the Canadian Maritimes to announce!
A couple of weeks ago we asked folks to express interest in a possible Fantasy RV Tours 27-day guided trip to the Canadian Maritimes for next summer (2024).
We promised to let you know if we were able to make this happen and we are excited to say that…
It's a go!
The dates for our RV Lifestyle Best of the Canadian Maritimes Tour will be July 22 – Aug. 17, 2024.
Jennifer and I (and Bo) will be going with you. The tour is run, managed, and organized by Fantasy RV Tours and all the details, costs, payment plans, and the itinerary can be found at:
https://rvlifestyle.com/maritimes ​
Please note: This tour is limited to 25 rigs. Based on the interest we're seeing, we suspect it will fill up fast.
If you want to speak directly to Fantasy RV Tours by phone, you can reach them at 800-952-8496.
Again, Jennifer and I are not running this tour. We are just guests, like the others who sign up for this trip.
SOCIAL MEDIA BUZZ – Wendy Bowyer
Wendy Bowyer reports on the hot issues most talked about this past week on our RV Lifestyle Facebook Group:
One of the things I love about our Facebook group is all the people willing to share those little tips that make the RV even more comfortable – or safer.
Cristy shared such a tip last week.
She was concerned about her foot slipping through that empty space behind the metal steps. So her husband made the perfect solution to prevent her from slipping while climbing up the metal steps. He took some diamond plate sheet metal and formed it to the back of the stairs, attaching it with rust-free screws.
She took a picture and shared it with the group. Many thanked her for sharing and said they, too, had struggled with those stairs.
In fact one member, Red, said his girlfriend had broken her foot after she slipped into that empty space when climbing the steps. What a great solution!
Next let's talk about the outside of our rigs. Ever hear the expression, small house, big yard? I kept thinking of that phrase when I read a post from Melissa. Melissa said she is new to camping and asked the group how they set up the outside of their rig. What a great question! She asked for photos and tips, and received so many helpful ones!
Susan showed a picture of a canopy over the picnic table, an outdoor rug with some chairs on it – super inviting!
Some, like Brenda, had a fan and American flag outside her rig along with the outdoor chairs.
Sherry shared a comfy picture of her campsite with a screened-in tent, an outside rug where her dog was lying, grill – it was great.
So many posts, with everything from the simple – a rug, maybe an outdoor chair – to the extreme outdoor set up with rugs, chairs, fans, grills, tents, lights and more —it was fun to see!
Then finally, I'd like to leave you with a post from Donna. Donna and her husband are camping in one of those drop-dead gorgeous campgrounds in a beautiful part of the country, so she shared some pictures for all to enjoy. She was at Ghost Mountain Ranch RV Resort in Pollack Pines – the Tahoe area – and just WOW – the water, the mountains, the giant trees, the peaceful campsite, it was stunning.
RV RECIPE OF THE WEEK – Jerrica Mah
Time now for the RV Recipe of the Week, brought to you by CampingFoodRecipes.com
Here's the editor of CampingFoodRecipes.com, outdoor enthusiast and lifelong foodie enthusiast Jerrica Mah:
Hey Camping Foodies, Jerrica here with CampingFoodRecipes.com. I have a question for you today: Do you own a pie iron? If you don't have one in your RV, I think you should consider getting one. It's one of those campfire tool accessories that everyone should take on their camping trip because it offers so many options to cook delicious meals over the campfire.
And that includes grilled cheese sandwiches!
We've been on a bit of a grilled cheese sandwich kick over at Camping Food Recipes this week, because who can go wrong with grilled cheese sandwiches? But of course, we don't want to just give you the basic cheese and bread. We want to elevate it, because this is CampingFoodRecipes.com!
So, we've uploaded three different grilled cheese recipes. What's special about these is that they use overlapping ingredients. That way, you can buy the same ingredients and enjoy a unique grilled cheese sandwich every day.
The three options we decided on were grilled cheese and tomato, grilled cheese and ham, and grilled cheese with caramelized apples. You have a really nice range, and each day brings a little tweak to the ingredient list, resulting in a tasty and unique lunch. Be sure to check those out. It's a great way to fill your camping menu with well-rounded options.
While you're there, make sure to explore all the other recipes. We add more and more every week. And don't forget to submit your favorite camping food recipe, so we can share it with our RV community. They can enjoy what you love whenever they go camping.
Thank you for joining me today, and I'll be back next week with another favorite camping food recipe.
RV INTERVIEW OF THE WEEK – RV Towing done right!
One topic our audience asks about ALL the time is towing. Some wonder if their truck can handle pulling their trailer. Others ask about the proper hitch. And others want to bring along a toad (a car for all you newbies!), and wonder what's the difference between a flat tow or dolly.
To help us break everything down to the very basics so even the greenest RVer can follow without getting confused, we have on the show today Gary Cipa, an instructor and the coordinator of FMCA's RV Basics Program (which includes a session on towing!).
Gary had so much valuable info that we will have two conversations about this topic.
This week, all about towing an RV.
Next week, Using your RV to tow a vehicle.
Among the topics Gary covers:
Does the typical new RV owner understand what is necessary to know about towing when they pull off the dealer's lot for the first time?
What is crucial to consider when determining the weight of an RV
What factors do people need to consider when figuring the weight of their RV?
Once we know how heavy our RV is, how do we choose the right truck to tow it?
How pickup truck ratings can vary significantly by such things as model, year, axle ratio, etc
Does adding products like air bags or anti-sway bars really make a difference?
RV NEWS OF THE WEEK
A 47-year-old woman was seriously injured at Yellowstone National Park last week after being gored by a bison.
The woman was injured in her chest and abdomen while on the north shore of Lake Yellowstone. It was not clear how close she was to the animal.
Also last week a different woman was severely injured by a bison at Theodore Roosevelt National Park in North Dakota. Exact details of that case are not clear. (see more here).
It is mating season for bison and will remain so until mid-August, making the animals even more unpredictable than normal.
Yellowstone requires visitors stay AT LEAST 25 feet from bison, though many people regularly break this guideline to take pictures.
We interviewed a Yellowstone park ranger to talk about this and other safety issues that you can see here.
Park rangers had to euthanize a 5-year-old grizzly bear at Glacier National Park last week because the bear was becoming aggressive around people after successfully getting campers' food stashes.
The bear was a female who successfully took human food off a picnic table at Many Glacier Campground in late June. Rangers closed the campground and hazed it two times to keep it away. Radio showed it was gone but then showed up at the Swiftcurrent Lake Boat Launch last week.
There the bear charged a family who were having a picnic, and the animal succeeded in getting some cool beverages. Aggressive, food-conditioned bears are dangerous, so the animal was put down.
The sad story is a good reminder to all of us to keep food in bear-safe containers when in bear country, and take other precautions you can read about here.
A 14-year-old girl spent the night lost and alone at Zion National Park last week before being found by rescuers and reunited with her family.
The girl and her family were walking the Narrows when they broke into two groups – a faster and a slower group. The girl decided later to try to catch up with the faster group, but when she took off alone she got lost.
The Narrows goes through a narrow section of Zion Canyon, and at times travelers need to wade through the Virgin River.
Rescuers found the girl, without shoes, in the morning. She had slept with bugs and in mud and her food had soiled from the river. Otherwise she was OK.
The story is a good reminder for all not separate from a group when hiking.
If you are looking for the best hiking gear to keep you safe while exploring, click here.
Remember how we shared with you last week that visitors were flocking to Death Valley National Park to be at one of the hottest places on earth during a heat wave?
Well, sadly last week a 71-year-old man died just outside the restroom at the park's Golden Canyon in what officials believe was a heat-related death.
It appeared the man was hiking. Temperatures were 121 degrees the day he died but may have been even hotter where he was because temperatures in the canyon radiate the sun's heat.
Park officials could not send a helicopter to help him, because of the heat. And while they tried to help him, they were unsuccessful.
Flooding in Vermont that we told you about last week completely washed away a bridge connecting the Onion River Campground to a nearby highway, stranding those in about 28 campsites.
The campers had no electricity, no water and no way out. Many turned to generators and their RV toilets to get by.
As the water receded, a back road was formed and eventually everyone was able to leave using it. And meanwhile, as the campground owner rebuilds, residents in the area who lost their homes to the flooding are temporarily moving in.
Flooding is one thing people may not think while camping, but it is. To see our story on five campground dangers, click here.
RV INDUSTRY NEWS WITH RICK KESSLER
For the latest in RV and Camping Industry news, we're joined by Rick Kessler, executive editor of the industry leading publications RVBusiness and Woodall's Campground Magazines.
Camping World continues its rather impressive streak of grabbing the headlines this past week, with perhaps the biggest news being the grand opening of a new location in Billings, Montana. For those keeping score at home, that's store No. 199 for the world's largest RV dealership.
In other industry news, FMCA – one of the nation's largest RV owners' clubs – is celebrating its 60th anniversary this year. We sat down with FMCA CEO Chris Smith, who talked about the club's milestone as well as its 107th International Convention and RV Expo coming up in August in Gillette, Wyoming. You can see that video on our website – RVBusiness.com or our YouTube channel.
And the last thing I might mention is the RV industry is gearing up for the annual Elkhart RV Open House, where at the end of September thousands of North America's RV dealers will invade Elkhart, to review the thousands of 2024 model year units on display by the manufacturers. This industry-only event – sorry, the public is not invited – is truly a spectacle.
We here at RVBusiness magazine are busy putting together our Open House issue, where we preview everything the manufacturers will be debuting at the Open House. We're sworn to secrecy until the issue comes out, but I can tell you what we've learned so far:
The OEMs have been listening to feedback from real RVers.
Everything from minor tweaks to major changes, designers and engineers have been busy trying to give customers what they've been wanting.
RV Tip of the Week from Brenda of Queen Bee RV
Time now for the RV Tip of the week from certified RV Inspector Brenda of Queen Bee RV.
Brenda's focus is on educating RVers on how to care for their RVs – especially women RVers – and she is a regular contributor to the podcast, sharing her expertise with our entire audience.
Here's Brenda.. The RV Queen Bee… with this week's RV Tip.
RV Power cord adapters
When we plug the RV into shore power, or 120Volts AC, there are a variety of outlets/receptacles you will encounter and in all kinds of locations or scenarios. And, when all of the stars align, you will always have the perfect receptacle for the power needs of your rig. However, sometimes that is not the case and you will need to understand about the RV power cord adapters, aka dog bones.
What are the reasons you might need to use an adapter? Here are a few examples: an error with the campground reservation system gave you the incorrect site; certain state and national park restrictions; when you are moochdocking or driveway camping using the outlets at a home that are the typical sticks and bricks variety; or maybe the breaker switch is broken at the pedestal and it's after hours so nobody can fix it.
The types of outlets/receptacles you will typically find in the RV space are the 15/20 amp (like in our sticks and bricks), 30 amp, and 50 amp. There are also matching power cord adapters with different configurations to assist with converting your rig's power needs to fit those outlets that are available to you at any given time.
Pro tip: pay close attention to the male and female ends of these dog bone adapters. Think about what scenarios you might encounter and have a variety of adapters to remedy multiple situations.
Best practices when plugging in the adapters are similar to the steps for plugging your RV into the campground pedestal: attach the power cord of your RV to the adapter, breaker turned off at the pedestal, plug adapter in, breaker back on to send power to the rig.
Can you use a dog bone with an EMS or surge protector? Yes! I highly recommend it for the same reason you use the EMS. Let's say you are driveway camping and plugged into someone's 15 or 20 amp sticks and bricks outlet in the garage. It's not uncommon that you might find reverse polarity at someone's home (meaning the hot and neutral have been switched) and they are none the wiser, because it does not affect the use of their outlets and appliances inside the home. However, this can be dangerous for RVers, since we have no thermal protection on the neutral line should that become energized.
Here is some information to help you understand watts consumption in your RV while utilizing a dog bone adapter. RVers with 50 amp service are used to having a total of 12,000 potential watts to use when plugged into shore power. If you are "dog-boning" from a 30 amp outlet to your 50 amp power cord, you will now only have a potential of 3600 watts to use in the RV. A big ticket 120Volt item like the air conditioner, for example, needs approximately 2400 watts on start-up and then will settle down around 1500 watts. If you couple that with the water heater electric element, the converter charger, or the microwave which can all consume similar amounts of wattage, you can see how quickly that 3600 watts can get used up and create problems like tripping the breaker. You are possibly only going to be able to operate one of those appliances at a time.
For the 30 amp rigs that are using an adapter to step down from a 50 amp outlet to your 30 amp power cord, does that mean you now get to use a potential total of 12,000 watts like typical 50 amp RVers? Unfortunately, no. Your power cord is still rated at 30 amps and, thankfully, you also have a 30 amp breaker inside the RV electrical panel to theoretically protect you from calling for too much amperage.
When you are moochdocking or driveway camping and adapting a 15 or 20 amp outlet to meet your RV power needs, those receptacles are only able to provide 1800-2400 potential watts for use. That might mean you are unable to use any of the big ticket appliances, especially if your converter charger is in full swing, or maybe only one outlet or one appliance at a time.
Pro tip: to keep from overloading the circuits, make a cheat sheet with the power consumption needs for all of your 120Volt appliances and have it handy when you are going to need to utilize a dog bone adapter.
App of the Week
Time now for the RV App of the Week segment, taken from the pages of NewTravelTech.com – our sister blog that celebrates the many ways technology enhances the travel experience.
This week's app is called Just ahead.
These are audio travel guides you can play as you travel on your iPhone or Android phone.
Written by award-winning travel writers from National Geographic, Outside Magazine, AAA and others, these guides play automatically to let you drive safely and see more sites.
Once you get the app they work even in areas without phone service or WiFi! They're tied to your phone's built-in GPS. There are a dozen guides available, of National Parks, scenic drives and major attractions. More are planned and they are regularly updated.
The cost is $19.95 per guide, which is a bit steep, but because they are entertaining as well as informative, and helpful for understanding the country you're traveling through, we think they're worth it.
You can see a demo of how they work and browse the selection at https://www.justahead.com.
RV QUESTION OF THE WEEK
QUESTION: We just purchased an RV lot in North Carolina dn will keep our RV there between visits. When you guys leave your fifth wheel at your Tennessee property for a few weeks, do you leave the slides out? How about the AC? Is it okay to let it run at a fairly high temperature for a while so it doesn't get too hot in there? – Jason and Missy.
ANSWER: We always put in the slides and disconnect electricity at the power console. One time, we had a small tree blown over in a storm while we were gone and it would have hit one of the slides, potentially knocking it off track.
Instead, the trees were just sort of leaning on the RV and did no damage. With electricity, we always unplug when we leave. Even though we use power management protection and a surge protector, a lightning strike on the power line or nearby transformer could still fry a lot of things on the RV if there's a power cord still plugged in.
Obviously, we don't run the AC. But to help with heat build-up, we are able to open windows. They're awning-type widows, so rain doesn't get in when they are open. We open them a few inches and get a little cross-ventilation going.
Where are you off to next?
Whenever someone asks us, "Where is one of your favorite places in the US for RVing?" Our answer is unquestionably, in unison, "The UP of Michigan." The "UP" means Upper Peninsula, of course.
That's why we decided to write our first "7 Stop RV Adventure" to help you explore Michigan's Upper Peninsula.
This ebook is a seven-stop guided exploration of the Michigan UP. We provide a suggested route and itinerary, links to multiple campgrounds and boondocking spots, and the best spots to see along the way. Don't plan your trip to the Upper Peninsula without it!
---
---
---
---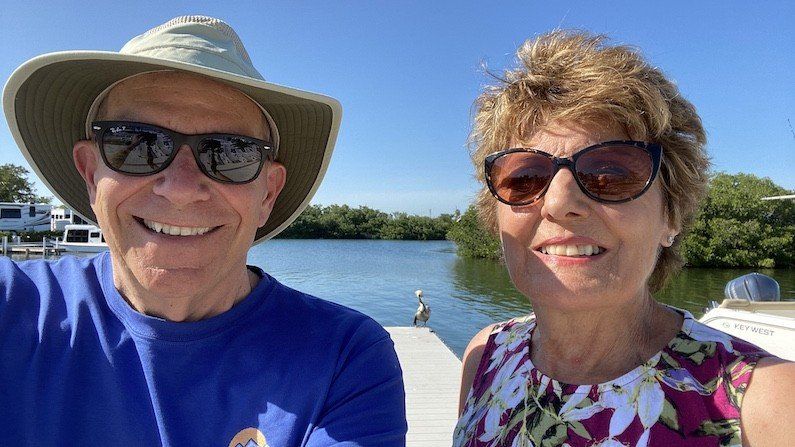 Curious about the gear, gadgets, accessories, and RV products Mike & Jennifer use and recommend?
On this RV Lifestyle Travel blog, our RV Podcast and our RV Lifestyle YouTube Channel, we mention all sorts of RV-related products and gear that we use, So we created a special page that links to them. We update this all the time.  CLICK HERE to go to it directly.
---