With such limited wall space, we RVers don't have much opportunity to decorate our RVs. But these RV throw pillows help add character and comfort…
One of the neatest things about owning an RV is that you can customize it to you and your lifestyle. (It is much harder to do that with tent camping, although not impossible!)
Jennifer and I love having a few touches from home when traveling. It makes us feel a little cozier and more comfortable, even living off the grid.
Adding some throw pillows is a fun way to customize your RV. There are hundreds to choose from, including funny or cute ones.
We use affiliate links and may receive a small commission on purchases at no added cost to you. Thank you for your support. You can read our full affiliate disclosure here.
11 Cute & Funny RV Throw Pillows
The following are the 11 best cute and funny RV throw pillows around. There is bound to be one that speaks to you! It's worth noting that all of the following are actually pillow covers. So, they'll likely work over any existing throw pillows in your RV.
This fun RV camping pillow set features four different sayings, all with the same background style that ties them together. The background looks like linen-colored wood slats.
The first pillow is "camp rules," written in black text.
The second pillow features a vintage trailer with the saying, "It's all good in the trailer hood."
The third pillow has a camper van and flowers, saying, "Happy camper, let's go adventure."
The final pillow in the set says, "Home sweet home, " with a vintage camper in place of the "O" in the word "Home."
Notice these are just the covers — Pillows NOT included.
This adorable set can go with many different RV decor styles.
It is a set of two RV throw pillows with a wood slat background. The wood brings in light colors like off-white, browns, and blues.
One pillow says "Happy campers" and features the outline of a vintage trailer, mountains, and trees.
The other pillow has the "Let the adventure begin" written in black.
The pillowcase itself is linen and has the saying "Home is where you park it" stenciled in black lettering.
I like this pillow because it is simple and can match virtually any decor. It does not stick out like a sore thumb and is funny without being obnoxious.
Plus, since this is a pillow cover, you might be able to use it on your existing RV throw pillows.
This linen pillow cover would make a great addition to any RV. It lists fun camping rules in black font.
The camping rules included on this pillow are:
Nap often
Make memories
Watch the sunset
Wake up smiling
Eat s'mores
Drink a cold one
Visit with friends
Relax and unwind
Be grateful for this day
I don't know about you, but these are my type of camping rules!
This is another funny pillow case that can go with almost any RV decor.
The background is cream and features the saying, "Sorry for what I said while we were trying to park the camper," in the foreground.
I have mumbled key phrases when backing in my camper a few times, so this one resonates well with me!
---
Mike and Jennifer's Summer T-Shirts for your next adventure

---
This set of four RV throw pillows has a subtle background, a fun saying, and pictures on each case. The first two pillow covers are 12 x 20-inch lumbar pillows, and the other two covers are 18 x 18-inch square pillow coverings.
The first shows a vintage camper outline with "Happy Camper" written on the front. It also has a heart and outline of pine trees.
The second pillow covering shows an outline of s'mores with the saying "Making s'more memories."
The third says "Camping LIFE" in large lettering. The word "life" also has outlined pictures of trees, stars, a fire, the moon, and a trailer in the lettering.
The last pillowcase has a humorous saying, "Welcome to our fire pit where friends and marshmallows get toasted."
This set is great for decorating both a seating area and your bed.
Calling all farmhouse decor lovers who want to bring a tiny bit of home with them on the road. This throw pillow cover can do just that!
It is a cream-colored pillow with the words "Our happy place" written on it in two different fonts.
Not only is this pillow stylish and trendy, but it can blend with whatever decor you currently have.
This set is for you if you like color and a little rustic style! It comes complete with four different designs for RV throw pillows.
Each pillow case shows a vibrant scene with different colored vintage trailers. One is set in the mountains, one at a lake, another at the beach, and the final one in a forest.
This is one of the cutest sets I have seen and will bring a lot of color to your RV!
This hilarious pillow has a funny saying and the outlines of deer, trees, and bears.
The saying goes, "Camping: Where you spend a small fortune to live like the homeless."
Of course, this is meant as a light-hearted joke. And I can appreciate the humor of the pillow since I have most definitely spent a small fortune to camp!
Unlike the other RV throw pillows on this list that are square, this cover is for a rectangular pillow 12×20 inches long.
Raise your hand if you're a dog-lover! (My hand is raised!) If you love your pets, then you don't want to miss out on this adorable pillow.
It is simple and comes in 11 different color choices to match any decor.
The background of the pillow is a solid color and features a saying in the foreground. It says, "You, Me & the dogs," with two paw prints in one corner.
You dog-lovers should also check out this amazing shopping list for RV pet supplies.
Do you change your mind a lot? Or get tired of the same old decor? Then this is the perfect pillow cover for you!
The reversible case can be changed simply by turning over the pillow.
One side of the pillow says, "Let the adventure begin." Then flip it over to find a vintage camper with the saying, "Happy camper," on the back.
Do You Have Cute or Funny RV Throw Pillows?
Tell us about them in the comments below! We always like to hear how our fellow RVers decorate their rigs and appreciate their sense of camping humor.
And speaking of pillows, you might want to check out How to Stay Comfortable on a Road Trip (10 Accessories).
Mike and Jennifer's Official Travel Guide – Michigan's Lower Peninsula is now available!
You are in for a HUGE adventure. While some of our guides are designed to explore an area in 7 days, this one can take an entire summer to see it all. We chose to start in Detroit and travel north up the "Thumb" region, but you can pick and choose any section you want to begin your adventure.
Each Stop in our Guide gives you at least 3 places to camp while exploring the area! The state is particularly well suited for RV adventurers and the Michigan State Park system is one of the nation's best. But don't forget the beauty of boondocking. State forests abound, most offering rustic and dispersed off-the-grid camping. We hope you pick this up and enjoy one of our favorite places in the US to RV!
---
Mike and Jennifer's Southern Utah RV Adventure Guide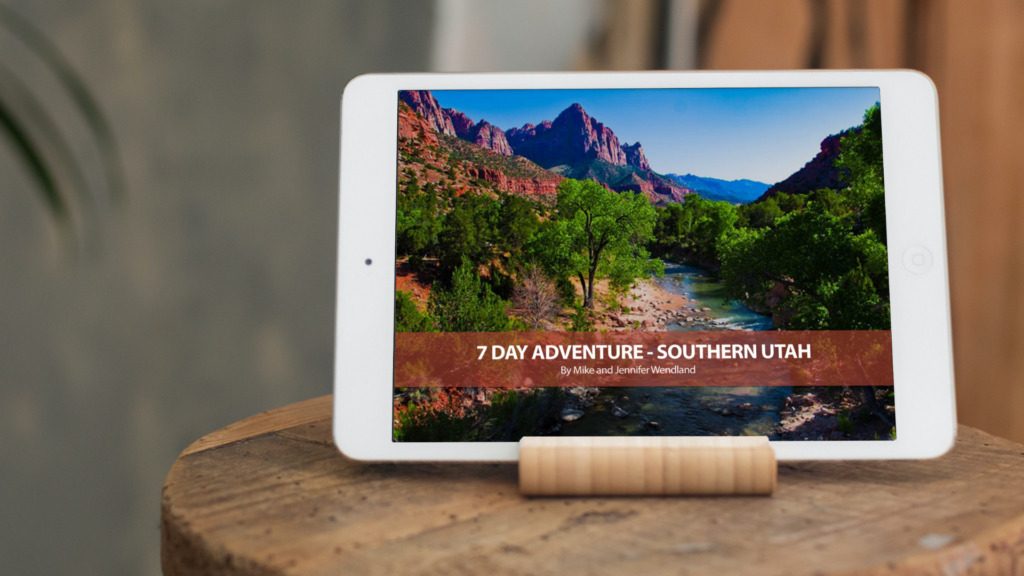 Utah, Utah, Utah. What more is there to be said? In very few places across the United States is there such a tremendous area with breathtaking vistas and diversity of terrain.
The sheer size of the National Parks, the canyons, the desert. Combined with the amount of history written in the red rocks that rise like towers jutting out of the ground and the delicate hoodoos washed away by erosion.
It is a place that, if you've never been, you need to go, at least once in your life.
This ebook is a seven day guided exploration of the State and National Parks in Southern Utah. We provide a suggested route and itinerary, links to multiple campgrounds and boondocking spots, and the best spots to see along the way. Don't plan your trip to Southern Utah without it!
You can hit everything in seven days, do a whirlwind weekend tour, or you can take your time and explore the area over a few weeks.
---
---
---