The RV Sales numbers coming out of Elkhart are dismal this summer, with some dealers even using the R-word to describe the seriousness of the problem – R as in Recession!
We'll talk about that and much more in this Episode 458 of the RV Podcast, including:
Part 2 of our RV Towing Interview: How to tow a car behind your RV
The difference between an RV converter and an inverter
RV travel tips
your RV questions
The RV App of the week
A delicious campfire treat
You can watch the video version from our RV Lifestyle YouTube Channel by clicking the player below.
If you prefer an audio-only podcast, you can hear us through your favorite podcast app or listen now through the player below.
Big News! We have a New RV
It's been a very busy week for us. We have a brand-new fifth wheel!
It's a 2024 Montana High Country 311 RD. Yes, we traded in our Arcadia 32-foot fifth wheel and upgraded to this new 35-foot rig,
Why?
Well, if you are a regular follower, you know we have loved fifth wheel life. But after a year and a half with the Arcadia, we wanted a bit more space, an option for a washer-dryer combo unit, an outdoor kitchen, and a king-sized bed for those nights when Bo decided he needs to sleep with us.
This unit has it all and then some. We've been uploading stuff from the Arcadia the past few days, finding new spots for it all in the Montana, and getting ready for a week on the road at a rally for Keystone RV Ambassadors this week in Shipshewana, IN. We hope to shoot a full video review this week and get it edited and released soon.
And yes, we still have our 2022 Class C Leisure Travel Vans Unity FX. We plan to keep it for now, as it's perfect for quick overnight trips to our favorite boondocking and moochdocking spots.
The summer 2024 Maritimes Tour is filled!
Just a quick note that the Fantasy RV Tours 27-day guided trip to the Canadian Maritimes for July 22 – Aug. 17, 2024, is now filled. They are, however, compiling a waitlist for any cancellations.
This tour is run, managed, and organized by Fantasy RV Tours. Details at https://rvlifestyle.com/maritimes
Please note: Jennifer and I are not running this tour. We will just be guests, like the others who sign up for this trip.
SOCIAL MEDIA BUZZ – Wendy Bowyer
Wendy Bowyer reports on the hot issues most talked about this past week on our RV Lifestyle Facebook Group:
Steve is going to be camping in a Class B, and he asked the group: When we are planning to head out for a day of exploring, what should we leave behind to show the site is occupied?
Lots of discussion on this one.
I felt bad for some folks, who said they had taken off for the day only to return and find their campsite taken and their site registration at the post up front removed and replaced by someone else's.
But most folks said they never had a problem but they did always leave something behind to show they were coming back.
Many had signs or garden flags with messages like "Site occupied" or "We'll be back" or "Out exploring." A few showed pictures of their signs which were fun to see.
Many said they add a chair or two, or a cheap tablecloth to go with the sign, sometimes an orange cone to clearly show the site was taken.
So many helpful suggestions.
Sometimes in the group people share a photo that really gets folks talking. That is what Brandon did, showing a picture of a motor home towing a travel trailer with bikes attached to the end of the travel trailer. He saw it out there on the road and as you can imagine, it was something to see!
Lots of back and forth about whether this is legal to pull something so long (consensus was it is). Also some wondered why anyone would haul a travel trailer if they already had a big Class A motorhome. Some jokingly called it the inlaw suite. But what really struck me about this post, is that driver really had some skills!
Then finally, I'd like to share with you a post from Bob.
Bob wanted to buy something to cook on and asked what is better – charcoal grill, gas grill or griddle?
Boy, did he get a lot of responses! More than 650 – and counting!
Some were all for charcoal for the flavor, but then others said charcoal is now banned in some places. I did not know that.
Many voted for a portable gas grill – economic – fine flavor. But then you have all those little disposable propane containers that some did not like.
But probably the thing I saw recommended the most was the Blackstone griddle. People said the Blackstones are easy to clean, nice flavor, can cook anything on them, etc. If you are thinking of buying a new camping grill, you might want to take a look at this post.
That's it from me this week with a little taste of what is happening in the RV Lifestyle Facebook group.
RV RECIPE OF THE WEEK – Jerrica Mah
Time now for the RV Recipe of the Week, from the editor of CampingFoodRecipes.com, outdoor enthusiast and lifelong foodie enthusiast Jerrica Mah:
Chocolate Chip Skillet Cookie
Hey CampingFoodies, Jerrica here with CampingFoodRecipes.com, and I bet a lot of your ears are gonna perk up when I tell you that this week's recipe is a giant cookie. So if you've ever been to BJ's Brewhouse, there's something called a Pizookie. Yep, if you know it, you love it because it's a giant soft cookie that's cooked and served in a skillet with your favorite toppings on top that you just grab spoons and dig right in.
Well, you can make this chocolate chip skillet cookie at your campsite, and it will become a family favorite and a great substitute for s'mores if you're feeling like you've done that a little too much. And it's actually really easy to make.
The best part about this camping recipe is you can make this cookie dough at home in advance. It freezes really well and refrigerates really well, so whenever you're just craving a giant cookie, you can take it out of your RV, pack it into your little skillet, bake it over the campfire, or you can actually bake it in your RV oven. The recipe tells you how to do that as well. But either way, you end up with this big, yummy, gooey cookie that you just pass spoons around the campfire and all dig in.
So it's fun, it's delicious, and it's really a family favorite that's worth trying out, and that's only one of the desserts that we have on our site. We do have a twist on s'mores, so if you're tired of s'mores, but you still love s'mores, you can give it a red, white, and blue twist with our All-American s'mores or try the Patriot biscuit cups that you can tweak and add different toppings to.
All of those recipes are on our site at CampingFoodRecipes.com, all are definitely worth trying out. And while you're there, you should also click on "Submit a Recipe" so you can share your favorite camping food recipe for all of us to enjoy as well.
Thank you for tuning in this week, and next week I will be back with another favorite camping food recipe.
RV INTERVIEW OF THE WEEK
Time now for Part Two of our interview on RV Towing.
Last week we met Gary Cipa, an instructor and the coordinator of FMCA's RV Basics Program (which includes a session on towing!).
Gary talked about towing an RV behind a truck last week. But this week, he brought him back to talk about towing a car with a motorhome – a Toad, or dinghy as commonly known.
You can watch or listen to the interview above starting around the 15-minute mark.
RV NEWS OF THE WEEK
The extreme heat in much of the country has lead to the most heat-related deaths in national parks since 2007.
At least five people have died from heat-related causes in the national parks this summer and many more have become ill with heat-related illnesses.
The deaths have been in Big Bend, the Grand Canyon, and Death Valley, as temperatures, especially the West, surged to triple-digits.
Where ever you're camping this summer, it is good to be prepared for an emergency – be it from extreme heat or something else. To see our tips, click here.
Speaking of heat, to show how dangerously hot it is and why children or pets should never be left alone in a vehicle, rangers at Zion National Park baked cookies – literally – on the dashboard of a car.
They whipped up some cookies, put them on a cookie sheet, left them on the dashboard, and three hours later brought them out completely baked – even a little crunchy.
The point of the demonstration was to show how hot it was outside and how dangerously hot it can quickly become in a vehicle.
Besides not leaving pets, rangers urged visitors not to leave food either – noting that when the weather is in the triple digits, the temperature in a vehicle will easily reach 200 degrees.
The story is a good example of finding a pet sitter when you are in a place that does not allow pets. To see our story on where to look, click here.
Retail sales for RVs are so low, at least one large dealer says it feels like a recession with sales the lowest they've been since 2015. (See story here).
Interest rates on loans for RVs are averaging around 10 percent,and since 80 percent of RV buyers finance them, the high-interest rates are definitely affecting sales.
RV sales have traditionally been a predictor of a recession. But the U.S. economy experienced growth its second quarter that ended in June, meaning economists are not currently predicting a recession.
If the economy is leading you to buy a used RV – versus a new one – be sure to check out our story on what to look for here.
A Texas couple whose RV was stolen found it for sale on Facebook Marketplace, went to the house where it was listed for sale, contacted police and got it back.
The couple's security camera showed a pickup truck came and took their travel trailer one night. They filed a police report but also vigilantly searched Facebook Marketplace to see if the thief would try to sell it there for cash.
Sure enough, soon they saw their folding ladder listed. Through what the couple describes a stroke of luck, they were able to find the house where the ladder was listed, a friend drove by, and sure enough, there was their RV in the driveway!
They contacted police, who took over from there, arrested the thief and returned their rig.
Their story is a good example of the importance of checking a VIN when buying a used RV. To learn how, click here.
RV INDUSTRY NEWS WITH RICK KESSLER
For the latest in RV and Camping Industry news, we're joined by Rick Kessler, executive editor of the industry leading publications RVBusiness and Woodall's Campground Magazines.
Let's start with the latest RV shipments report from the RV Industry Association – and keep in mind, this is the number of RVs that were built and shipped to dealers, not the amount that were sold.
In June of this year, manufacturers built 24,095 RVs, which is down 46.4% compared to June of last year. It's a similar story year to date, as RV shipments are down 49.2% year over year.
It's the same story, folks, manufacturers are cutting back on production as dealers are trying to sell excess inventory.
And that same supply-vs demand scenario is why several of the RV industry's publicly traded companies all reported some pretty significant decreases in their quarterly reports this past week.
Of course, the soft market hasn't stopped some people from expanding, as Camping World acquired dealerships in Arkansas and Indiana, and Lazydays opened a new store in Tennessee.
By the way, Camping World is now up to 200 stores.
And that's the latest industry news from RVBusiness and Woodall's Campground Magazines.
RV Tip of the Week from Brenda of Queen Bee RV
Time now for the RV Tip of the week from certified RV Inspector Brenda of Queen Bee RV.
Brenda's focus is on educating RVers on how to care for their RVs – especially women RVers – and she is a regular contributor to the podcast, sharing her expertise with our entire audience.
Here's Brenda.. The RV Queen Bee… with this week's RV Tip.
RV Inverters and RV Converters
Although the names sound similar, the converter and inverter have very different functions. This week, let's learn about the RV inverter and why they play an important role when full utility connections are not available.
We will begin by explaining the differences between the two components. ALL rigs have a converter. This is what is helping to operate those 12Volts DC components and systems, plus it charges the battery while connected to shore power. Conversely, NOT all rigs have an inverter. Some will have an inverter that was provided during production at the manufacturer; however, typically, it's an aftermarket addition.
What does the inverter do? The inverter takes low voltage, aka 12Volts DC from your batteries and changes it to high voltage 120Volts AC to operate those big ticket items like the air conditioner, microwave, receptacles (outlets), the water heater or refrigerator.
Why do RV owners want an inverter set up? The reasons will vary. Some RVers are needing to operate a simple outlet for electronics or a medical device while traveling and not connected to shore power. Some want to keep their food cold in the refrigerator instead of using propane while in transit. Others will be overnighting off-grid like maybe at a Cracker Barrel or Wal-Mart and need to fire up the air conditioner or an outlet. Then, some RV owners want to take it to the max and stay off-grid for days or weeks at a time and might be implementing an inverter with a big solar setup to run the majority of those 120Volts AC appliances in the rig.
Inverters are rated by their wattage output. The range will start with small stand alone units that are operating a single outlet and go all of the way up to the big guys with the capability to produce several thousand watts for consumption. These big inverters, sometimes combo units that also act as a charger for the batteries, will be used in conjunction with a solar set up to power all, or most, of the 120Volts AC appliances in the rig.
How do you decide which set up is right for you? This will start with an energy audit. Make a list of all of the 120Volts AC appliances that you want or need to operate for your situation. Give that list to your dealership, repair shop or mobile solar tech so they can match you with the proper inverter set up.
App of the Week
Time now for the RV App of the Week segment, taken from the pages of NewTravelTech.com – our sister blog that celebrates the many ways technology enhances the travel experience.
We have found one of the best weather apps for RV travel and general road trips. Drive Weather takes the National Weather Service's weather forecast showing the weather along a route when they reach each point.
It allows comparison of different routes, creating stops, interactively changing departure time and other features that help travelers plan driving trips around the weather.
The app is available for either iOS or Android on an annual or monthly subscription or a free version with limited features.
You can find a full review on this app at NewTravelTech.com
RV QUESTION OF THE WEEK
QUESTION: We could only get a 30 amp spot at our favorite campground next month. But our fifth wheel is 50 amps. What do we do? In this heat, we really need air conditioning. This is our big summer vacation and we hate to give up the spot. – Lacy
ANSWER: You probably have two ACs on your fifth wheel. With 30 amps, you can run one of them. Just not both as you can when on 50 amps. Obviously, you'll need a 50 to 30 amp adapter – which you should already have or can easily get at any RV dealer – but maybe use the living room AC during the day and your bedroom AC at night. And when the AC is on, don't use the microwave, a hair dryer or heavy demand appliances like a toaster. But you will be just fine with 30 amps, you'll just want to conserve power drain as much as possible. Have a great vacation!
Where are YOU Rving next?
This bundle contains our ever-popular Michigan Upper Peninsula 7-Stop Adventure Guide PLUS the NEW LOWER Michigan Adventure Guide PLUS the US Side Tour of the Great Lakes! This ULTIMATE Bundle will help you keep enjoying Michigan and the Great Lakes for years!
---
---
---
---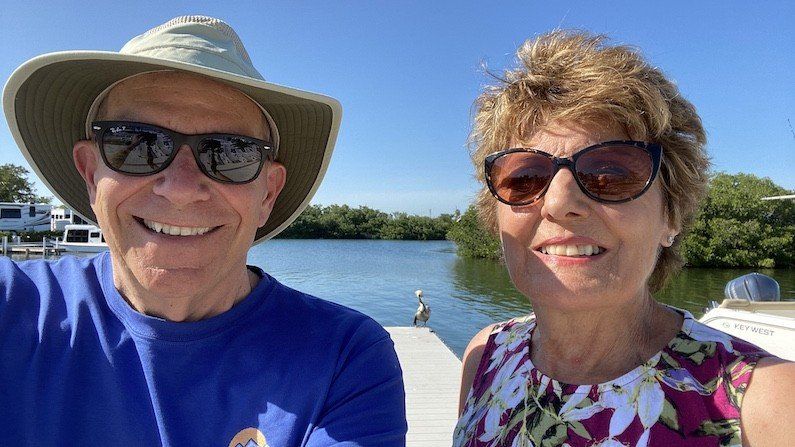 Curious about the gear, gadgets, accessories, and RV products Mike & Jennifer use and recommend?
On this RV Lifestyle Travel blog, our RV Podcast and our RV Lifestyle YouTube Channel, we mention all sorts of RV-related products and gear that we use, So we created a special page that links to them. We update this all the time.  CLICK HERE to go to it directly.
---
Podcast: Play in new window | Download (Duration: 49:53 — 29.2MB) | Embed
Subscribe: Google Podcasts | Spotify | Stitcher | Email | TuneIn | RSS