Getting the most out of our RV Air Conditioner can be a daunting task. But before you give up, consider this hack or this suggested upgrade.
The Hack is a very simple addition to your existing RV air conditioner – a $300 product (we can save you $30 off that price) called SoftStartRV that you install up on the roof.
NOTE: We're giving three of them away on a limited-time sweepstakes you can enter for free at https://RVLifestyle.com/sweepstakes
The Upgrade is much more expensive. It involves totally replacing your existing unit with a new one that Advanced RV markets through its Upfitter Resource website as the Quiet Air Conditioner
In Episode 360 of the RV Podcast, we show you both the RV Air Conditioner Hack and the Upgrade, plus much more, including the RV News of the week, the latest on the 2021 edition of America's Largest RV Show upcoming in Hershey, PA, RV tips, your RV questions, and a hidden campground gem.
To watch the video version of the Podcast, click the player below:
To hear the audio version of the player, you can listen in your favorite app or right now on your computer or smartphone through the audio player below.
Podcast: Play in new window | Download (Duration: 1:02:53 — 36.6MB) | Embed
Subscribe: Google Podcasts | Spotify | Stitcher | Email | TuneIn | RSS
Where to find the RV Air Conditioner info and other topics covered this week
Here's a table of contents of the topics we report. Scroll on the video or audio player to the times given to hear that exact subject.
:30 – The latest whereabouts of Mike and Jennifer
2:20 – Details on the giveaway of three SoftStartRVs (the RV air conditioner hack) through our sweepstakes
5:00 – Photo of the week. "Sleeping on Air" over the Italian Alps
6:40 – Hot Asphalt temperatures. A warning about how hot asphalt is and the damage it causes to pet paws.
10:55 – Extreme weather problems across the country
12:57 – "Touron" woman sentenced to jail for walking in Yellowstone thermal area
14:50 – Labor Day weekend travel predictions
16:35 – Private Maine campground requires proof of vaccination and masks
18:16 – Colorado campground closed because of bear activity
18:25 – The latest on the Hershey RV Show. Interview with executive director Heather Leach.
29:00 – Question about finding the quietest RV air conditioner
30:35 – Demonstration of the Houghton RV air conditioner
40:18 – Interview with RV electricity expert Mike Sokol about how the SoftStartRV hack lets you run your RV air conditioner while moochdocking by connecting to household 20 amp circuit.
57:35 – Hidden Campground Gem the Cooper Gulch Campground in California
RV Tip. Using a blackout curtain to screen out the glare from a TV so you can 1:00:42 – watch TV and your partner can sleep
Info on SoftStart RV – our RV Air Conditioner Hack
We installed SoftStart RV on our Class C Leisure Travel Vans Wonder this past summer and since then, we've been able to enjoy moochdocking in the driveway of friends and relatives much more than before because with this hack we can run our RV air conditioner on regular household current.
We just plug into a 20 amp household circuit and we're comfortable all night long.
I've written before about this hack so if you want the details, head over to https://rvlifestyle.com/softstartrv-review-for-boondocking-and-moochdocking/
RV Air Conditioner Upgrade – The Houghton Quiet Air Conditioner
This is expensive.
That's because if you choose this upgrade, you are totally replacing your RV Air Conditioner with a much quieter and more efficient unit made by a company called Houghton and sold and installed through Advanced RV in Willoughby, Ohio and its UpfittersResource.com service.
You have to take your unit in to Advanced RV in suburban Cleveland. The install takes a full day and the company has overnight parking, with hookups, in its parking lot if you come in the night before.
The company claims the unit is 20% more efficient and many times quieter than any other RV air conditioner on the market. You can easily have a conversation with it running, even when the fan is on high.
Advanced RV retrofits it for Class A, B, B+, and C motorhomes, as well as trailers, and 5th wheels. Among the RVs it works on are Airsteam, Roadtrek, Pleasureway, Hymer, Leisure Travel, Winnebago, Prevost, and more.
According to the Advanced RV website, the price for installation is $3,143. Obviously, you need an appointment.
---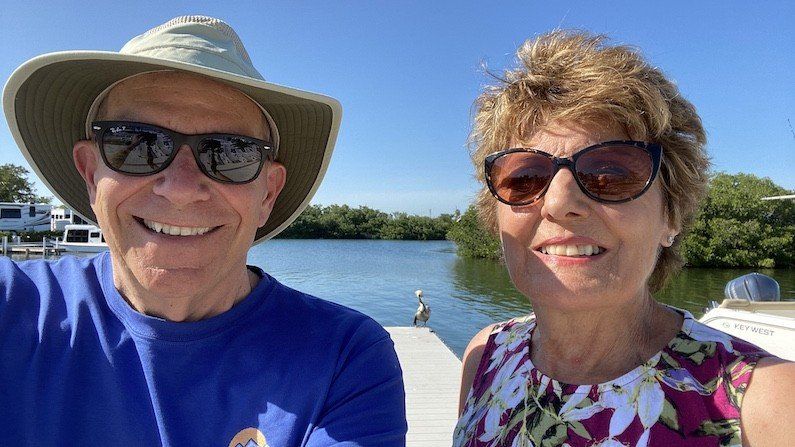 Curious about the gear, gadgets, accessories, and RV products Mike & Jennifer use and recommend?
On this RV Lifestyle Travel blog, our RV Podcast and our RV Lifestyle YouTube Channel, we mention all sorts of RV-related products and gear that we use, So we created a special page that links to them. We update this all the time.  CLICK HERE to go to it directly.
---
Looking for a Great RV Adventure?
The Great Lakes region is filled with beautiful vistas, welcoming towns and villages, and fabulous places to camp, hike, and explore.

We were so taken with the adventure of this trip that we just knew we had to write one of our Adventure Guides about it!

But instead of the usual 7 Days that some of our other guides can be done in, with this one, we're suggesting that you budget more time. This is why we are calling it a "Tour" instead of a 7-Day Guide! There are 86 pages in this new ebook.
In this new Great Lakes Shoreline Tour we cover in detail:
Notable U.S. Cities/Towns along each Great Lake (US side) like; Watertown, Grand Island, Geneva-on-the-Lake, Vermillion, Mackinaw City and so many more!
What to See/Do Around EACH Lake like; Ocqueoc Falls Scenic Site, Les Cheneaux Islands, Antique Boat Museum, and many, many more places including BONUS side trips!
And good Campgrounds for each Lake (US side) – at least 4 or 5 for EACH Lake! With all the info you need to set up reservations.
Interested? 
---
---
---