A series of new Harvest Hosts programs is making it super easy for RVers to find overnight campspots – even in sold-out campgrounds.
In Episode 451 of the RV Podcast, Harvest Hosts CEO Joel Holland details the new offerings as he shares the many ways his company is helping RVers find unique places to camp and explore.
Also this week we have:
RV News of dangerous wildlife encounters
Social Media feedback on RV campground etiquette
A guide to proper use of your RV air conditioner
And the best way to attach photos to the walls of your RV
You can watch the video version from our RV Lifestyle YouTube Channel by clicking the player below.
If you prefer an audio-only podcast, you can hear us through your favorite podcast app or listen now through the player below.
Podcast: Play in new window | Download (Duration: 50:19 — 29.4MB) | Embed
Subscribe: Google Podcasts | Spotify | Stitcher | Email | TuneIn | RSS
Social Media Buzz – Wendy Bowyer
Wendy Bowyer reports on the hot issues most talked about this past week on our RV Lifestyle Facebook Group:
Many people who are traveling ask the RV Lifestyle Facebook group about road conditions for a trip they are about to take.
That is just what Jennifer did on a post that really took off. Jennifer lives in central Florida and plans to go to Pigeon Forge in Tennessee.
She could take I -75 up through Atlanta, or she could go up the east coast of Florida and cut over through the Carolinas, traveling along 26 and I-95.
Jennifer and her husband are pulling a 43-foot Fifth Wheel and wondered what is the best way to go.
Cheryl had just traveled up 26 and 95 and said there was a LOT of construction with narrow lanes and roads in terrible shape. Others said the roads are like are washboards, the mountains steep.
But when it came to the I-75 choice, several said to avoid Atlanta at ALL costs and several said I-75 was tough because there are so many semis.
Perhaps the best advice came from Lori. She has traveled both routes numerous times and said each has its challenges. Her advice was to try either one, just be sure to leave at 4 am to avoid as much traffic as possible.
Next I'd like to share a post from Melissa.
Melissa is new to RVing and asked the group for some RV campsite etiquette questions.
First she wanted to know if it was OK to dump water at her campsite when leaving (not black or grey tank – just water) and then she asked what are 3 to 5 etiquette tips for newbies.
Boy, did she get an earful- we're talking more than 700 responses!
They included don't walk through someone's campsite, don't leave trash in your campfire pit, respect quiet hours and finally in answer to Melissa's question, while there was some debate, most said do not dump water at your site because you will be leaving a muddy mess for the next camper.
The last post is one of those questions that make you smile.
Bobbi-Jo asked: "Do you take your pets with you RVing? Can you share your photos with them?
So many cute pictures– more than 640 and counting!
We have happy dogs in the passenger seat looking out the window, cute dogs wearing glasses, cats on leashes exploring the campsite, happy cats looking out the windows, dogs in small fences outside the RV, dogs out for walks in the wilderness, smiling dogs hanging out with their people at the campsite…..
So many pictures! If you love animals and just want to smile, you should check out this post!
RV Recipe of the Week – with Jerrica Mah
Time now for the RV Recipe of the Week, brought to you by CampingFoodRecipes.com
Here's the editor of CampingFoodRecipes.com, outdoor enthusiast and lifelong foodie enthusiast Jerrica Mah:
Hey Mike and Jennifer and Camping Foodies! This is Jerrica with CampingFoodRecipes.com and I have the recipe of the week for you: our healthy grilled turkey burger recipe.
We know that camping is known for burgers and hot dogs and frankly a lot of unhealthy food, but it doesn't have to be that way! There are so many great healthy camping recipes that you can use, including this one for turkey burgers.
Now, turkey burgers can be a bit tricky to make. Sometimes they tend to fall apart on the grill or they sometimes end up dry. But we have a few tricks up our sleeves to help you avoid that. So in our recipe post we go over those tricks and let you know which is the best turkey meat to use in order to end up with juicy burgers and not dry turkey burgers.
We also tell you how you can make the turkey burger patties in advance. So you can just prepare them at home, load them up in the RV, and then enjoy them at the campground.
And if you end up with extra turkey meat, whether before you cook it or after, we have a burger patty casserole that you can use that leftover meat in. Or, if you end up with extra ground turkey meat, we have this great taco soup recipe that you can use that ground turkey meat in.
So, this turkey burger recipe is a great recipe on its own but then also can lead into other recipes that we have available on the site.
I highly recommend you give it a try! You can check it out at CampingFoodRecipes.com along with all of our other great camping recipes that we're constantly adding to.
And I also want to remind you that you can submit your favorite camping recipe through their website. We're really anxious to see everything that you guys have to offer. So please go over and visit CampingFoodRecipes.com and we'll see you next week with the recipe of the week.
Interview of the Week – Joel Holland with New Harvest Hosts Programs
Harvest Hosts is a membership program that connects RVers with unique overnight spots in places like wineries, farms, breweries, museums, golf courses and more.
About two-ish years ago Harvests Hosts acquired Boondockers Welcome, a membership program that allows RVers to stay overnight on a piece of property while driving through an area. As many in our audience know, Jen and I are big fans of both services.
Well, Harvest Hosts has recently branched out even more, adding new Harvest Hosts Programs. And both are something we believe many in our audience will be interested in.
They include:
Camp Scanner – With a database of 12,500 campgrounds at 4,900 parks, for a total of 200,000 campsites, this program scans for cancellations as often as every five minutes, depending the membership level chosen. Users create a scan by providing a desired camp date and location, and the program that notifies them if a spot opens up.
Campers Card – This is a campground membership program that offers discounts and special perks ranging from free firewood bundles to site upgrades, early check-in or late check-out, and more. Members can also receive discounts on camping gear, entertainment and theme park adventures.
RV NEWS OF THE WEEK
A woman who was camping outside along a river in Montana was attacked last week by a black bear as she slept.
The woman was one of two guides for a river raft trip along the Middle Fork Flathead River, just west of Glacier National Park.
Bear spray was used, and the bear left, but then returned several times. The woman was taken to the hospital and her injuries are not life threatening.
This incident is a good reminder to all of us to be bear aware when camping in bear country. That means keep food and scented things in bear-proof containers, always have each person in your group carry bear spray, and more.
For tips click here.
Grand Teton National Park is asking for the public's help identifying two men spotted harassing a baby bison on June 4. Regular readers remember that last week we reported on two incidents involving bison at Yellowstone – this week it is Grand Teton.
The two men can be seen in a photo the national park released (see it here) standing very close to the calf. The National Park Service recommends everyone visiting a national park stay at least 25 feet away from bison, and never are visitors to tease, touch, or in any way harass bison.
Bison are wild animals, can be unpredictable, and people do get hurt.
More solo women, more people of color, and more younger people are getting into the RV lifestyle, according to an article in USA Today over the weekend. (See story here.)
The story highlighted research showing the number of non-whites getting into the RV lifestyle is growing, and it quoted research showing the median age of RV owners in 2021 was 53, but the median age for first-time buyers the following year was 32.
Also the number of solo female RVers has significantly risen in the last few years, many attributing this to the power of social media, where solo female RVers share their adventures, attracting more to the lifestyle.
This is something we have covered many times, including in this story here.
A 4-year-old boy was bit by a venomous copperhead snake while camping in North Carolina and is recovering. The little boy and his family were camping in the Highlands area in the southern Appalachian Mountains when he was bit.
His parents immediately rushed him to the hospital, but not before the father snapped a photo of the snake, which medical staff said helped immensely in saving the boy's life.
Copperhead snakes like rocky woods, and are relatively common in this part of North Carolina. Wildlife experts say if you are bit, getting a picture of the snake is one of the best things you can do.
To see more on this story, click here. To see a story we did on venous snakes to beware of while camping, click here.
If you are camping in the northeast part of the country, chances are the air quality has made your time outside challenging at times because of the massive amount of smoke entering the US from the Canadian wildfires.
In Alberta, there were a reported 76 active wildfires in the province as of Saturday evening. In Quebec, there were 131 active forest fires, 51 of which were out of control.
The good news is rain is expected in many of these places this week, and Canada's temperatures are expected to be cooler, helping with the drifting smoke.
Since the wildfire season in Canada typically lasts May from October, many are concerned the fires and air quality are so bad so early in the season. There are some things you should know about breathing air thick with smoke from wildfires. To see our story, click here.
RV Tip of the Week from Brenda of Queen Bee RV
Time now for the RV Tip of the week from certified RV Inspector Brenda of Queen Bee RV.
Brenda's focus is on educating RVers on how to care for their RVs – especially women RVers – and she is a regular contributor to the podcast, sharing her expertise with our entire audience.
Here's Brenda.. The RV Queen Bee… with this week's RV Tip.
Keep Your Cool This Summer With RV Air Conditioner Tips
The air conditioner is one of the big ticket items in your RV. Preventative maintenance and inspections are essential to help you save money and time instead of waiting on repairs for this essential appliance.
Have your A/C serviced once a year minimum, especially before the hot-weather season begins. A qualified RV technician can run inspections to help prolong the life of the unit.
If you feel safe accessing your roof, there are a few items you can check on your own between servicing. First, be sure to disconnect from all 120V power sources like at the pedestal, your inverter, or generator when accessing the rooftop unit. You can also turn off the individual breaker to the air conditioner. Note: there is one very high voltage component underneath the A/C shroud called a capacitor that must be de-energized by a qualified RV technician to do any type of diagnosing, servicing, or repairs.
Check that the shroud cover fastening bolts are secure to prevent the A/C cover from flying off while driving down the road. Next, without removing the shroud, you can take a peek inside at the metal fins on the back of the A/C unit. These are the condenser coils which can be easily bent and damaged and that can affect cooling efficiency. Avoid parking under or backing into low hanging tree branches. If the coils are damaged, a qualified technician can straighten them during servicing which can greatly improve cooling capabilities.
Visually inspect your rooftop unit for insects or mud dauber nests which can hinder performance. Protect the A/C shroud with a vinyl cover when in storage, if possible. These covers come in all sizes and styles, so be sure to order using the model number of your unit and never run the A/C when the cover is installed.
Use a surge protector/EMS to help protect your A/C from unexpected voltage highs and lows which could damage or destroy the appliance. Clean your filters often (every month during peak season). Adequate air flow will provide better cooling and help avoid undue wear and tear on your A/C.
Here is a troubleshooting tip: your air conditioner consumes a significant amount of power, especially when first starting, and this can be problematic if you do not fully understand the power capabilities of your RV. Over consumption could trip a breaker or prevent your air conditioner from powering on at all. Observe what other appliances are using 120Volts AC at this time. Turn off anything that isn't needed or switch to another power source on appliances like your refrigerator and water heater. Even basic items like the coffee maker or electric skillet which are plugged into the outlets can make demands that could exceed your RVs power capabilities, especially if your RV is a 30amp rig.
Ladies, are you a female RV Traveler? Want to learn more about safety, troubleshooting problems and maintaining your own RV? Head to www.queenbeerv.com and click on "events" to view the locations of our nationwide women's RV workshop tour – we'll see you there!
App of the Week
Time now for the RV App of the Week segment, taken from the pages of NewTravelTech.com – our sister blog that celebrates the many ways technology enhances the travel experience.
This week's story is a fascinating read on How AI will change your travel experience.
AI assistants are transforming nearly every aspect of the travel experience. They can help with complex planning tasks like finding cheap flights, comparing hotel options, and booking rental cars and tours. Once you're at the airport, they can provide gate information, flight status updates, and guidance through the terminal.
AI assistants are fundamentally altering the travel experience by seamlessly handling many complicated tasks in planning and executing a trip. They are transforming nearly every aspect of travel, from trip planning, to booking spots to even making suggestions on what to visit.
The article notes that sophisticated AI assistants already on the market today represent just the tip of the iceberg in terms of what's possible. The further integration of AI into our travels promises to make vacations less stressful and more memorable – enabling you to focus your full attention on having an amazing experience.
Check it out yourself at https://newtraveltech.com/ai-assistants/
RV Question of the Week
QUESTION: What do you use to hang pictures or decor on your walls of your RV? – Robin
Answer: For photographs, we have them printed and framed by a company called Mixtiles. The back of the frames has a very strong adhesive tape that attaches to the walls of our RVs and has never come off, despite thousands of miles traveled on bumpy roads.
The framed photos can be taken off and reattached in different spots with no damage to the walls.
For attaching things like clocks and thermometers, we use Command Strips, available everywhere. They also hold up well. The secret we've found is to apply steady pressure to them for about 15 seconds as soon as you put them on the wall. The downside to Command strips is is you remove them from the wall, they cannot be reattached. You need to put on a new strip for the one that foes on the wall.
Where are you going next?
Mike and Jennifer's Southern Utah RV Adventure Guide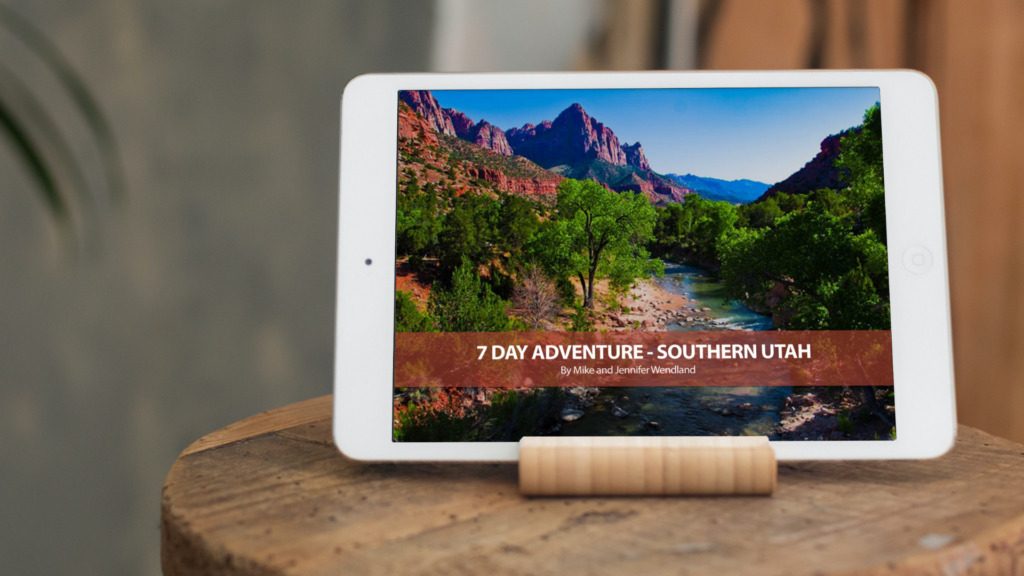 Utah, Utah, Utah. What more is there to be said? In very few places across the United States is there such a tremendous area with breathtaking vistas and diversity of terrain.
The sheer size of the National Parks, the canyons, the desert. Combined with the amount of history written in the red rocks that rise like towers jutting out of the ground and the delicate hoodoos washed away by erosion.
It is a place that, if you've never been, you need to go, at least once in your life.
This ebook is a seven day guided exploration of the State and National Parks in Southern Utah. We provide a suggested route and itinerary, links to multiple campgrounds and boondocking spots, and the best spots to see along the way. Don't plan your trip to Southern Utah without it!
You can hit everything in seven days, do a whirlwind weekend tour, or you can take your time and explore the area over a few weeks.
---
---
---
---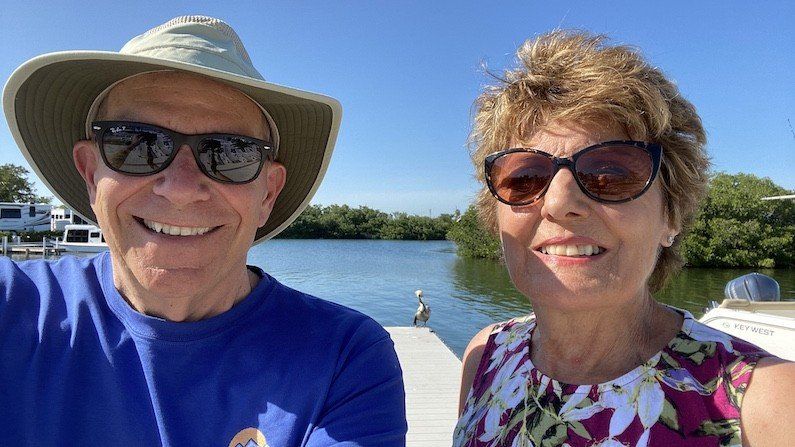 Curious about the gear, gadgets, accessories, and RV products Mike & Jennifer use and recommend?
On this RV Lifestyle Travel blog, our RV Podcast and our RV Lifestyle YouTube Channel, we mention all sorts of RV-related products and gear that we use, So we created a special page that links to them. We update this all the time.  CLICK HERE to go to it directly.
---