In Episode 454 of the RV Podcast this week, we discuss finding missing hikers in National Parks. You'll be surprised at how many there are.
Other topics this week include:
A mystery gas sickens campers in a Colorado campground
Expert tips on how to properly take care of your RV awning
an ingenious and simple hack on how to easily make an RV bed
and the dismal stats that show RV shipments to dealers are down almost 50% so far this year, leading some manufacturers to be on extended shutdowns.
You can watch the video version from our RV Lifestyle YouTube Channel by clicking the player below.
If you prefer an audio-only podcast, you can hear us through your favorite podcast app or listen now through the player below.
Podcast: Play in new window | Download (Duration: 52:47 — 31.8MB) | Embed
Subscribe: Google Podcasts | Spotify | Stitcher | Email | TuneIn | RSS
SOCIAL MEDIA BUZZ – Wendy Bowyer
Wendy Bowyer reports on the hot issues most talked about this past week on our RV Lifestyle Facebook Group:
Do any of you like to pick up small souvenirs from your travels? Darlene asked the group what people collect from the states they visit because she was looking for ideas. And Wow! Did this question ever create the buzz – we're talking more than 750 responses.
Some suggestions included the ever-popular magnets for the frig and some – like Kimberly, Dawn and Kathy – showed a picture of their magnet displayed which was very fun to see!
Others collect postcards, Christmas tree ornaments, key chains, stickers, rocks, coffee cups, locally roasted coffee, pins, patches …. and of course the best one – memories.
Lee had quite the surprise last week. He shared a picture of a huge SNAKE snuggled into this shelf-looking space in his rig. Lee asked: "What's your next move?"
As you can imagine, many were terrified and said things like: burn it down or run or time to sell the camper.
But some people had very helpful advice, such as getting a wildlife abatement company to remove it. And apparently, there is such a thing as a snake removal tool and someone shared a picture. It looks like a long pole with a claw at the end.
Lee said he discovered the snake when he was trying to find a water leak, looked under his water heater, and there it was. Needless to say he was very surprised.
The snake is now gone, but I didn't catch how he got it out. But with nearly 600 comments, his post sure did get people talking.
Then finally, have you ever thought about dry camping at a Love's Truck Stop when you just need a place for a quick overnight? Lisa did just that last weekend for the first time. She got a Class C in March and shared a review of her experience dry camping at a Love's Truck Stop in Tennessee complete with pros, cons and a rating.
Some of Lisa's many pros included – it was free, she could dump and fill up with fresh water, and the showers were amazing – we're talking tiled, clean and gigantic! She shared a picture and WOW!
Some of Lisa's cons were road noise, a bit of a diesel smell in the air and the price of the amazing shower.
Overall she rated it a 9.5 out of 10. The information was super helpful information and many folks thanked her for the review!
That's it from me. I'm Wendy Bowyer and will see you next week with more highlights from the RVLifestyle Facebook group.
RV RECIPE OF THE WEEK – Jerrica Mah
Time now for the RV Recipe of the Week, brought to you by CampingFoodRecipes.com
Here's the editor of CampingFoodRecipes.com, outdoor enthusiast and lifelong foodie enthusiast Jerrica Mah:
Hey, CampingFoodies, Jerrica here with campingfoodrecipes.com. And I don't know about you, but what I struggle with most whenever planning a camping menu is figuring out the side dishes for the meals.
So today, I actually have an excellent side dish that goes with lunch or dinner. In fact, you can make it into a meal in itself, and I'll tell you how. But this recipe is a fresh summer squash casserole made with stuffing mix and cream of chicken soup.
If you're a vegetarian, you can actually swap out that cream of chicken soup for cream of mushroom soup, and you're good to go on that. But this dish is really easy to make. You do a little bit of cooking on the stove, then pop it in the oven, and you just end up with this really fresh, family favorite of a side dish that can go with anything.
You can even make it in advance. It freezes and refrigerates quite nicely, so you can heat it up once you get to wherever you're going. And as I mentioned, you can even make it into a one-dish meal by adding cooked chicken or cooked turkey to the casserole before you pop it in the oven.
Or you can do as I've done before and you just stop at the store, grab a rotisserie chicken, and serve that alongside with this dish. So it's a really easy go-to meal for every single camping trip that is definitely worth checking out at campingfoodrecipes.com.
And I don't want you to forget that you can submit your own favorite camping recipes through our website. We'd really love to see your family favorites, your camping favorites, your go-to make-ahead, freezer meals, anything that you like to take with you camping. Go ahead and share that on our site and we get to share it with our community so everyone can enjoy it too.
So that's it for me this week, but I will see you next week with our favorite camping food recipe of the week.
RV INTERVIEW OF THE WEEK – Missing Hikers in National Parks
Do you know how many people go missing from our National Parks?
The number will surprise you.
Our guest this week is Andrea Lankford, an author and former law enforcement ranger with the National Park Service. She is an expert in finding lost hikers.
During Andrea's 12 years as a law enforcement ranger with the National Park Service, she led rescue missions everywhere from Yosemite to the Grand Canyon, searching for lost hikers, flood victims, downed aircraft, suicidal subjects and more.
Andrea left the NPS frustrated, among other things, with its bureaucracy and has since become a nurse and an author.
She has written the book "Ranger Confidential: Living, Working, and Dying in the National Parks", and a new book called "Trail of the Lost: The relentless search to bring home the missing hikers of the Pacific Crest Trail" that is coming out Aug. 22.
During her time at the National Park Service Andrea saw it all. And she has some valuable advice for all of us who enjoy exploring the national parks.
Besides recounting the problem of missing hikers, she talks with us about:
– Is there such a thing as a typical way a visitor or hiker to the national parks gets lost?
– How long does a person need to be lost before a search team is called in?
– How do you find a lost person in such a vast place as Yosemite or Grand Canyon?
– Are most missing hikers found alive? Found at all?
– What can a park visitor do to decrease the likelihood of becoming lost?
– If you do get lost, what can you do to increase the likelihood of being found?
RV NEWS OF THE WEEK
Extreme weather conditions plagued much of the United States the Fourth of July weekend. A dangerous heat wave – the first of the season – hit California, Nevada and Arizona leaving temperatures in the triple digits in time for holiday celebrations.
Heat was noted as a possible cause of death for an Indiana woman camping at Canyonlands National Park (see story here).
Then in the midwest, northeast and mid-Atlantic, campers continued to deal with thick, hazy air making it hard to breathe when outside because of smoke from the Canadian wildfires.
The air quality was so bad, the Centers for Disease Control and Prevention had issued air quality alerts for 19 states over the weekend, with air in some places like Michigan, Chicago, parts of Wisconsin and New York at times being designated "unhealthy" to breathe. Click here to see a map showing current conditions by you.
To see our story on what to do in a variety of extreme weather conditions, click here.
We're not sure what is going on at Yellowstone National Park this travel season, but nearly every week we're hearing news of a tourist doing something foolish.
The latest is a woman who actually dipped her hand into a steaming hot spring then jumped back yelling "It's hot!". To do this the woman and a man beside her chose to get off the boardwalk, walk to the edge of the hot spring, kneel down and place her hand in it – the whole thing recorded by onlookers and then spread over social media.
Yellowstone has rules prohibiting people from touching, swimming or soaking in the hot springs because they are so hot they have KILLED people. In fact, the spring where this woman did this, Silex Spring, has an average temperature of 174.7 degrees Fahrenheit.
Last year we reported a shoe with a partly disintegrated human foot being found in a hot spring. We're not sure if the foot was ever identified.
Seventeen people were sickened by an unknown mysterious gas at a campground in Colorado's San Juan National Forest last week.
The sickened campers were at the Vallecito Campground within four campsites. They reported everything from wheezing to nausea to throat and eye irritation. Eight of the 17 required on-site medical help.
An Army veteran who was there described it as possibly tear gas or a riot or smoke irritant used to disperse rioters. But specialists came in and could find chemical agents in the air.
An investigation is underway as to what caused these symptoms. To read more, click here.
A bobcat attacked a man sleeping in a hammock at Connecticut's Selden Neck State Park last weekend. He and two other adults who were with him killed the animal after the attack.
The Connecticut state park is on an island near Lyme and the man and other adults were leading youth on a camping trip. None of the children were hurt.
But all three of the adults needed hospitalization. The children were evacuated and the dead bobcat was taken to a lab to be tested for rabies. To learn more click here.
RV Industry News from Rick Kessler of RV Business
For the latest in RV and Camping Industry news, we're joined by Rick Kessler, executive editor of the industry leading publications RVBusiness and Woodall's Campground Magazines.
Let's start with some numbers.
Each month, the RV Industry Association reports how many RVs were built by the OEMs and shipped to RV dealerships across North America.
For May, that total was 30,919 RVs, which is a decrease of almost 39% compared to the 50,529 RVs in last May. It's a similar story when looking at year to date figures, with RV shipments being down 49.7%.
Officials note that both the monthly and year-to-date declines are not unexpected, as the first half of last year were all record numbers. Also, the industry is trying to balance the current supply vs. demand. In fact, many RV manufacturers are on an extended shutdown as dealers are sitting tight with the inventory they have on hand.
Next up, the hot pace of RV dealership acquisitions is showing no signs of cooling down. First off, Optimum RV said it was buying two St. Louis area dealerships from Legacy RV. The acquisitions bring Optimum RV's total locations to 10, in Florida, Michigan, Pennsylvania, South Carolina and Texas.
But, in bigger news, Camping World, the nation's largest dealership with 198 locations, continued its impressive streak of acquisitions.
In June alone, Camping World has bought 12 dealerships in seven states.
At the same time, Camping World CEO Marcus Lemonis announced the dealership was launching a new business model in which certain locations would be exclusive to a specific RV brand.
Lemonis told us the reason behind this strategy is, #1, it allows Camping World to grow, and, #2, it also will better serve those RVers who own those brands.
Finally, we also reported on a number of new RV parks and campgrounds currently in development, including projects in Arizona, British Columbia, Kentucky, Minnesota, Oklahoma, Texas, Washington, Wyoming, and a 365-site park near Gettysburg, Pennsylvania. Also, Yogi Bear's Jellystone Parks announced it had nine new parks in development.
Campgrounds are still crowded, folks, but help is on the way!
And that's the latest industry news from RVBusiness and Woodall's Campground Magazines.
RV Tip of the Week from Brenda of Queen Bee RV
Time now for the RV Tip of the week from certified RV Inspector Brenda of Queen Bee RV.
Brenda's focus is on educating RVers on how to care for their RVs – especially women RVers – and she is a regular contributor to the podcast, sharing her expertise with our entire audience.
Here's Brenda.. The RV Queen Bee… with this week's RV Tip.
Taking Care of RV Awnings
Awnings are a great way to take shelter from both sun and precipitation no matter what time of year you are camping. Inspecting and maintaining them from season to season will extend their life and also keep them looking and smelling fresh. I have inspected many RVs that have stained, mildewed or worn and torn awnings, some that are beyond repair. Preventing them from getting to this place is really pretty simple.
First, wash your awning once or twice a year with the recommended product in your owner's manual that is appropriate for this use. Be sure to allow time for the awning to dry completely before storing it. And the same goes after it rains or snows. If you have to retract the awning before it's dry, extend it again upon arrival to complete the drying process which could take another 24-72 hours. A retracted awning can take weeks to dry if it were still wet or damp when it was rolled up.
Inspect the awning fabric for stains, tears, loose threads, pinholes, or excessive wear. I like to watch the awning extending and retracting to make sure it is rolling evenly. Once the awning is extended, I will also take a closer look at the fabric from the rooftop view and from the ground or on a ladder.
Most small holes can be repaired with a vinyl patch kit. If you see deterioration or tears, try using awning tape that you can find on the camping store websites or Amazon. This can extend the life and use of the current awning without having to replace it immediately.
You can avoid tears in the fabric or damage to the awning mechanical pieces when traveling by ensuring that the awning locking device is engaged prior to departure.
Pay close attention to the weather forecast to avoid that whole drying process after a rain. Or, if you leave the awning extended during a shower, you can lower one side of the awning to allow rain to drain off instead of pooling on top of the fabric which could also cause damage to the fabric or mechanical pieces should it become too heavy. Make note that heavy winds or unexpected wind gusts can wreak havoc on your awning. They can even rip the entire thing off the side of your RV.
Ladies, are you a female RV Traveler? Want to learn more about safety, troubleshooting problems and maintaining your own RV? Head to www.queenbeerv.com and click on "events" to view the locations of our nationwide women's RV workshop tour – we'll see you there!
App of the Week
Time now for the RV App of the Week segment, taken from the pages of NewTravelTech.com – our sister blog that celebrates the many ways technology enhances the travel experience.
This week's app is Accuweather
AccuWeather has ranked as the best weather app for many years, primarily because of its user-friendliness and MinuteCast forecasts. The MinuteCast forecasts for Minute by Minute precipitation updates and the WinterCast gives you advanced warnings of snowfall probabilities and accumulation. And recently, the Air Quality information has been important to check.
With air quality in much of the US the worst its ever been because of the smoke from uncontrolled Canadian wildfires, it's important for RVers to be aware of what they will experience as the head into new areas of the country.
The basic Accuweather app does the best job we've seen on showing air quality through detailed maps. It's free, but ad-supported. You can pay extra for a premimum edition to get rid of the ads. For us, the free version works just fine.
RV QUESTION OF THE WEEK
This week one of our followers, Patrick Roers of Scotsdale, AZ., sent us a video showing us an awesome hack he came up with on how to easily make your RV bed.
If you've struggled with getting the sheets on in an RV bed, you will be interested in this rather ingenious and simple hack to make the chore much easier.
The hack involved putting three lengths of PVC pipe under the mattress to act as rollers which allowed the heavy RV mattress to be "rolled" up and down the bed, making it much easier to make the bed.
Rick demonstrated it in a video he sent as seen on the video version of the podcast on our RV Lifestyle YouTube Channel
Where are you planning to go RVing next?
This bundle contains our ever-popular Michigan Upper Peninsula 7-Stop Adventure Guide PLUS the NEW LOWER Michigan Adventure Guide PLUS the US Side Tour of the Great Lakes! This ULTIMATE Bundle will help you keep enjoying Michigan and the Great Lakes for years!
---
---
---
---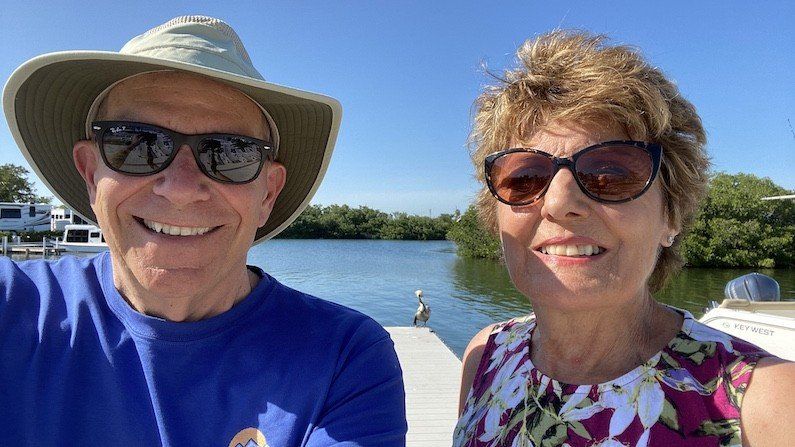 Curious about the gear, gadgets, accessories, and RV products Mike & Jennifer use and recommend?
On this RV Lifestyle Travel blog, our RV Podcast and our RV Lifestyle YouTube Channel, we mention all sorts of RV-related products and gear that we use, So we created a special page that links to them. We update this all the time.  CLICK HERE to go to it directly.
---