I love to find places that other people do not know about. (Or at least not a lot of other people.) I have outline some of the most interesting finds I could track down in Colorado. There is something for everyone, from rock climbers and history buffs to geology lovers!
The Best Hidden Gems in Colorado
The following is my guide to finding all of the beautiful and memorable places that the Centennial State has to offer! If after reading this post you'd like to read more about Colorado, we got you covered there, too.
What are some Cities to Visit?
Whether it is a tiny town or a big city, you are sure to find some hidden gems in these Colorado places.
Known as the ghost town where Stephen King had an overnight stay that inspired him to write his novel The Shining, this little city is big on spirit.
Whether you want to catch a glimpse of ghosts at the Stanley Hotel or see some gorgeous countryside, Estes Park will not disappoint! Keep an eye out for the wandering elk!
The Rocky Mountain National Park in Estes Park is one of the 10 National Park Adventures Perfect for Winter. We recommend visiting Hidden Valley here for some great sledding. You can rent sleds, have a picnic, and even shake off the cold in a warming room.
Located near the breathtaking Pikes Peak, this is one of the best places to take the family!
With over 60 different area attractions, Colorado Springs is the perfect place for everyone. Ride a train, visit a museum, go to the park or take the kids (or your grandma!) to the zoo.
If you love the outdoors, you can take a short hike or wander miles of trails. Or walk down the main street to find some delicious food to feed a range of palates.
If you're up for an RVing adventure, you can drive to the summit of Pikes Peak. You'll have a 14,150-foot view of the mountains and valley below.
The road up to Pike's Peak is very nice, but there are some hairpin curves with little or no shoulder or guardrails. Driving up isn't really a challenge, but the descent can be. There is a mandatory brake check and you'll want to use low gears to control your speed.
If you're wondering if you'd feel safe on the drive, you can check out these photos and video of climbing Pikes Peak.
---
---
In the Mood for Some Hot Springs to Soak In?
You can't talk about hidden gems in Colorado and not mention hot springs. If you love a nice soak in a natural spring after a day of adventuring, you will not want to miss these hot springs!
Located in the small town of Glenwood, Glenwood Springs has the world's largest hot springs pool. If you love soaking in natural hot tubs, this site is not to be missed!
This historic attraction offers guests three hot springs experiences to choose from.
First, Glenwood Hot Springs Resort offers you access to the largest hot springs pool in the world.
Second, located in close proximity to where the Colorado River flows the Iron Mountain Hot Springs, opened in 2015, features 16 different soaking pools as well as a family pool.
Finally, there is the Yampah Spa and Vapor Caves. This geothermal attraction is the only one of these natural wonders in all of North America! You can experience a natural (not man-made) geothermal steam bath. Sit in one of three underground chambers while mineral-rich steam envelops your body.
Visitors can find this hot springs spot nestled inside a gorgeous high mountain valley, about seven miles from the town of Steamboat Springs.
Featuring a spectacular mineral spring with 104-degree mineral water to wash away all of your aches and pains. Soak after adventuring, or all day long, while surrounded by the area's gorgeous pine forests!
This small Rocky Mountains town is located in Grand County, about 95 miles outside of the Denver area. While the hot springs are one of its main attractions, their natural beauty makes it a great place to relax and unwind.
In the winter, Colorado residents that ski and snowboard love to come and relax their tired toes after a day on the slopes.
While in town, take in the Pioneer Village Museum located in the Hot Sulphur Springs schoolhouse. Or, depending on the time of year, enjoy a hike in the Arapaho National Forest.
How About Some National Parks to Explore?
Colorado is home to some pretty spectacular national parks!
Located in Montezuma County in southwest Colorado, this national park was once home to Ancestral Puebloans. They thrived for over 700 years living on the mesas and in cliffs spread throughout the park.
Climb down ladders to visit some of the favorites spots including cliff Palace. Take in the gorgeous views at Sun Point Overlook, or look at rock carvings at the Petroglyph Point Trail.
If you love history, you will love visiting this national treasure. It's the largest archaeological site in the United States!
Great Sand Dunes National Park and Preserve can be found in southern Colorado. The park is open year-round.
People come from all over to visit its huge dunes, like Star Dune. Visitors also like to come and see Medano Creek, which in the right season created a beach at the base of the dunes.
You can't miss these gorgeous mountains located in northern Colorado. For all of you geography lovers, this mountain range full of forests and other alpine tundra spans the continental divide!
Advanced sportsmen will love rock climbing the Keyhole Route, which is a climb that crosses vertical facing rocks.
For a smaller adventure, enjoy hiking the trail around Bear Lake or viewing Long's Peak, the tallest mountain in the park.
Whatever adventure you choose, you'll understand what John Denver meant by his song Rocky Mountain High.
Want More Unique Hidden Gems in Colorado?
The following are a few other attractions you might like to see when traveling through the great state of Colorado.
If you like to see places that are off the beaten path, then take a side trip to see Bishop's Castle. It is one of Colorado's best hidden gems. This interesting attraction does attract a lot of visitors but has a unique and interesting history.
For almost 60 years, Jim Bishop has been constructing his dream. An impressive monument built from iron and stone, this castle is impressive.
Take a tour to see soaring towers and bridges with some of the best views around. And don't miss the Grand Ballroom and fire-breathing dragon.
The best part is, it is free of charge! Truly, click through to see it as you really need to see the images!
Located in Denver, this may be the most colorful churches in the world. Inspired by psychedelic art, the chapel headquarters were painted by contemporary artists.
The building was converted and opened in 2017 and houses a religious organization that uses cannabis as a holy sacrament. Church members claim that cannabis can help individuals elevate to a higher understanding of "self."
I won't comment one way or the other on their beliefs, but I will say the technicolored chapel is probably unlike any other you've seen.
Have You Been to Any of These Hidden Gems in Colorado?
Please share your experiences in the comments or introduce us to any other hidden gems in Colorado we haven't mentioned. Thank you!
We love Colorado so much we created a 7 Day Travel guide for you!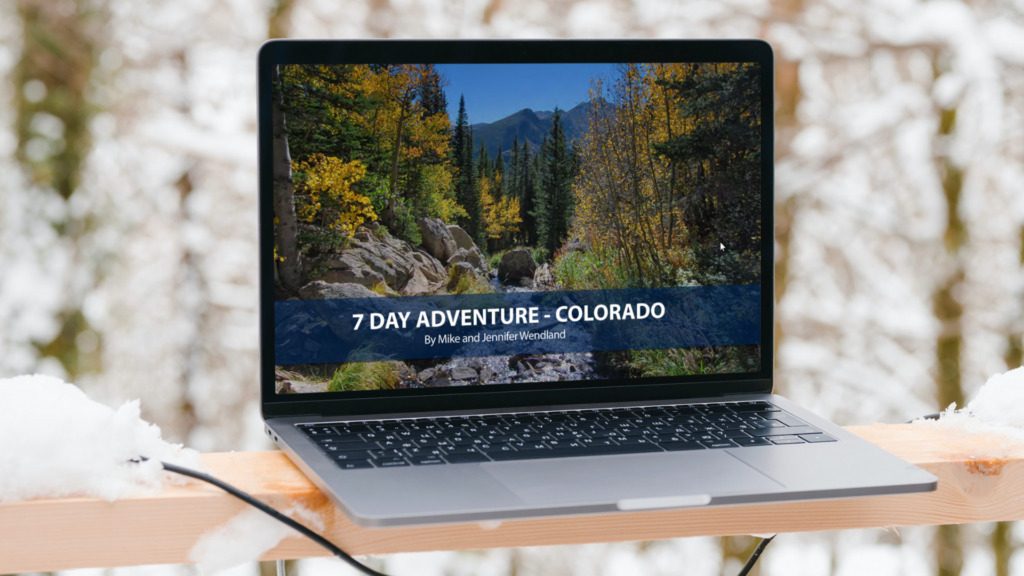 When Jennifer and I first went to Colorado, I felt like I finally understood what John Denver meant by his song: I've now been Rocky Mountain High.
And like Denver, exploring all that Colorado has to offer made me want to sing, too.
This is a fully designed and edited guide that you can download and start reading immediately on your phone, tablet, computer or e-reader.
---
---
---