It costs $899!
And that is one large stumbling block that, as nice as this unit may be, is awfully hard to get past.
The unit was introduced recently, and the company sent us a review unit. So over the past six weeks, we used the Garmin RV 1095 as we traveled 2,500 miles through seven states with our 32-foot Arcadia Fifth Wheel.
Here's a video overview of what we liked and didn't like, with some real examples of those pros and cons shown as we experienced them on the road.
It has a Monster 10″ screen
The 10" GPS navigator boasts a very bright, high-resolution edge-to-edge touchscreen display. It can be viewed in landscape or portrait mode, depending on where you mount it.
And for us, that in itself was quite a challenge.
We had no place on the dash of our Ford F-250 to mount the display. It wouldn't fit. It was just too big.
So we used the suction mount and fastened it to the lower middle of the inside windshield, powering it with a 12-volt cord plugged into the dashboard receptacle that we used to call the cigarette lighter.
That position was my only option and it was less than ideal. It did obscure my view of the road a little. Not enough to take it down but enough to make me uncomfortable until I got used to it. Jennifer never did and wouldn't drive with it in place.
We also noticed a lot of glare from the sun at times, though adjusting the brightness level on the screen helped.
Garmin RV 1095 Review: The features of the RV 1095
Size and price aside, the unit has just about every bell and whistle you can imagine for a dedicated GPS aimed at large RVs.
Routing designed with your specific RV in mind – After entering the height, length and width of your RV, the unit makes sure your route will pose no issues like narrow roads, too-low bridges or travel obstacles that would make it difficult for large RVs.
Road warnings – Alarms sound when you approach steep grades, sharp curves, railroad tracks and other road conditions not friendly to big rigs.
Birdseye aerial images – As you approach your destination, the nav screen splits and shows you an aerial view of your surroundings. This is really helpful when pulling into campgrounds.
What's ahead info – A panel display shows what towns and attractions are ahead at the various interstate exits, how many miles away they are, what time you will arrive, and if things like fuel and food are available.
Voice commands – You can speak to the unit and have it calculate routes and find things like interstate service stations and rest stops. We had some challenges with this in our test, but I believe that because we mounted the unit on the windshield, the microphone in the RV 1095 didn't pick up my voice as well as it would if it was mounted closer, like on the dash.
Hands Free Calling – The unit syncs with your smartphone to make calls without taking your hands off the wheel. You can also receive text messages on the RV 1095 screen.
Garmin RV 1095 Review: Comparing it to Apple and Google Maps
My standard navigation system for both our fifth wheel and our Class C motorhome is Apple Maps, brought up through my iPhone and Apple Car Play on the dashboard screen of my RVs.
As we tested the RV 1095, I programmed my iPhone to the same destinations set for the RV 1095.
I had some initial confusion when we set off for the first trip because each unit suggested a different route. The Garmin route was a few miles longer.
But we soon realized that's because the Garmin calculated my route based on the size of the Fifth Wheel we tow. It kept me off narrow roads while Apple Maps directed me the fastest way.
Both systems alerted me to accidents, traffic slowdowns, and road hazards, though Apple Maps was quicker to send out those warnings.
Why we can't recommend the RV 1095
The Garmin RV 1095 is a beautiful, full-featured, and impressive GPS nav system.
But for us, and I suspect most RVers, it's too big, and it costs way too much.
For those with a huge Class A diesel pusher that also tow a vehicle, maybe there's more of an appeal. And they are, in all fairness, the market Garmin is going after with the RV 1095.
I also think those big Class A's have more convenient spots in the dash where this unit could be mounted.
So maybe the size concerns aren't there in the big rigs.
But $899 for a dedicated GPS? Nope. Not me. Not even if I drove a million-dollar Class A.
There are smaller, less expensive alternatives
Garmin has smaller and less expensive alternatives
Another new model that is a couple of hundred dollars less expensive is the Garmin 895. It comes with all the features of the RV 1095 but with an 8-inch screen. It has a suggested price of $699.
That's still a bit too pricey for us.
I think a better choice is a model introduced last year, the Garmin RV 795, with a 7-inch screen and a more palatable price tag of $399. It doesn't have all the features of the RV 1095 and RV 895, but it still is RV-centric, offering custom routing for the size and weight of your RV or trailer.
Where to next?
Mike and Jennifer's Southern Utah RV Adventure Guide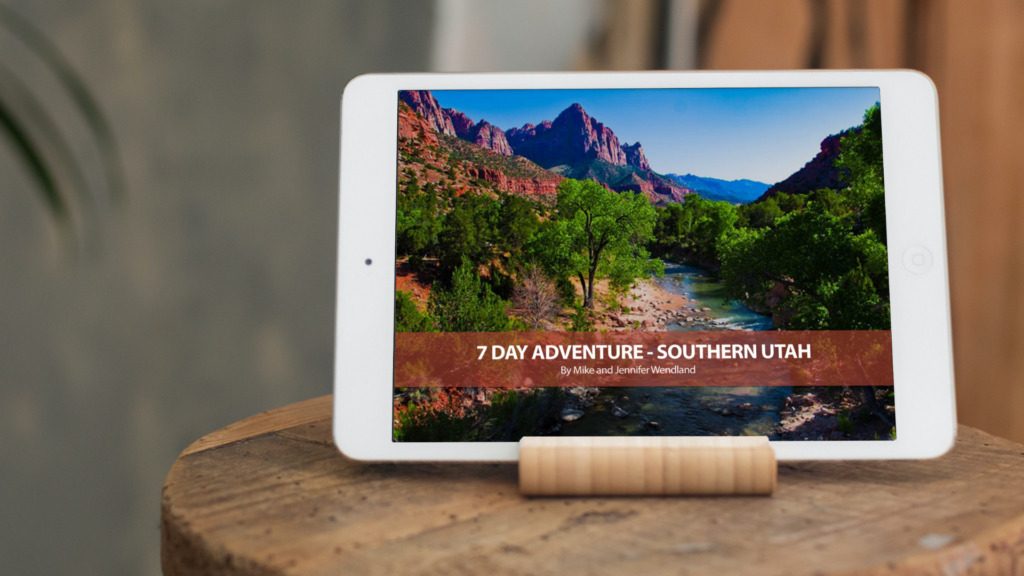 Utah, Utah, Utah. What more is there to be said? In very few places across the United States is there such a tremendous area with breathtaking vistas and diversity of terrain.
The sheer size of the National Parks, the canyons, the desert. Combined with the amount of history written in the red rocks that rise like towers jutting out of the ground and the delicate hoodoos washed away by erosion.
It is a place that, if you've never been, you need to go, at least once in your life.
This ebook is a seven day guided exploration of the State and National Parks in Southern Utah. We provide a suggested route and itinerary, links to multiple campgrounds and boondocking spots, and the best spots to see along the way. Don't plan your trip to Southern Utah without it!
You can hit everything in seven days, do a whirlwind weekend tour, or you can take your time and explore the area over a few weeks.
---
---
---
Get the Home Study Course today and worry about the road, not the repairs!
Every time you move your RV it's like driving through a hurricane during an earthquake. Parts break and many items need to be maintained, this program will show you how you can save time and money by gaining the confidence to take on the majority of the issues you'll come across. Don't get caught with your RV in the shop! Learn how you can maintain and repair your RV at your own pace and at the most convenient time for you! This course is produced by the National RV Training Academy.