It's been another devasting year for North American forests, with careless campfires too often being the cause of uncontrolled wildfires. What's the best way to have a campfire in the woods?
That's what we talk about in our RV Podcast interview of the week with a spokesperson for the intra-agency task force charged with fighting the catastrophic wildfires that have been so much in the news these days.
Also this week, we report on:
A terrible highway tragedy killed five people when a tire blew on their RV on I-91 in Pennsylvania, causing it to veer into an oncoming semi.
Expert tips on keeping your RV roof in good shape
Plus the RV news of the week, travel tips and your RV questions…all coming up on Episode 460 of the RV Podcast.
You can watch the video version from our RV Lifestyle YouTube Channel by clicking the player below.
If you prefer an audio-only podcast, you can hear us through your favorite podcast app or listen now through the player below.
Podcast: Play in new window | Download (Duration: 1:01:36 — 36.8MB) | Embed
Subscribe: Google Podcasts | Spotify | Stitcher | Email | TuneIn | RSS
Updates
The dog days of summer are here with us full swing across most of the nation. But fall is right around the corner. Be sure and make your fall travel reservations as soon as you can, as autumn has emerged as a very popular camping time.
I just looked at our calendar, and September and October are filled with RV shows, rallies, and fall camping getaways. And with two weeks left in August, we still have time for a nice getaway that we plan to take in just a couple of days.
Hershey – We're not going this year. Instead, we're doing the Elkhart Dealer Open House.
Our video on our new Montana High Country fifth wheel went live this weekend and we've had a great response. There were lots of questions,,, like what tow vehicle we use. It's the same as before, our 2021 Ford Heavy Duty F-250 diesel.
Others wanted to know if we still have our Class C Leisure Travel Vans Unity FX. Yes, we do, and we use it for shorter trips.
There were a couple of questions about what happened to the Arcadia 32-foot fifth wheel we had been using. We traded it in for the Montana High Country.
And more than a few wanted to know how Bo liked it. Just fine. He doesn't like riding in our Class C motorhome so when we're driving to new locations in the fifth wheel, he gets to ride in the truck. And he likes the extra room and windows.
Another question we have been getting a lot has to do with our property at the Woodlands in Tennessee and whether it is for sale. Yes, it is, but we're in no rush and probably should be more intentional about listing it for sale.
And although we have had a lot of interest, we insist that anyone we sell actually visit the property. We were amazed at how many wanted to buy sight unseen, just based on our videos. We think it needs an in-person inspection. We haven't been as aggressive as we should be in selling it, but if you are a serious buyer… use the contact form at the top of this page to reach us.
SOCIAL MEDIA BUZZ – Wendy Bowyer
Wendy Bowyer reports on the hot issues most talked about this past week on our RV Lifestyle Facebook Group:
Schools may be back in many places around the country, but that doesn't mean it isn't still hot and humid. Dealing with humid weather is what Kayleigh posted about last week. Kayleigh is new to RVing, living in a camper in Florida and asked, what do people do about controlling the humidity in their rigs?
So many good tips. Some suggested putting certain plants around that absorb moisture. Others suggested placing charcoal out – it also absorbs moisture.
Many recommended a product called Damp Rid which apparently works very well.
But by far the most repeated advice was to get a dehumidifier big enough for your space and run it 24/7.
Elsa wrote that she walked into her rig's bathroom and found a shedded snake skin. Can you imagine???? She snapped a picture, posted it to the group and asked what she should do.
At first many in the group were deeply concerned that Elsa had a rattlesnake in her rig and wanted her to get out immediately. (It was not a rattlesnake). Others suggested she get sticky glue traps and place them in cupboards and other places to catch the snake – didn't look like Elsa did that. But she did post several updates. First she searched and couldn't find him. Then she patched up the entries she could find big enough for a snake to slither in. She put down some substance – called Snake B Gon – that is supposed to get rid of snakes.
And in the end she thought she found him – outside. He was a black shiny snake and sounds like she hasn't seen him since.
Then finally, for everyone who struggles with their RV refrigerator and freezer keeping a constant temperature, I share with you Misshell's tip. Misshell says she puts a quarter on top of a cup of frozen water, and keeps it in her RV freezer. This way, if she is gone exploring for the day, comes back, she can look at this cup and know if at any time the temperature changed in her frig. If the water melted, and refroze, the quarter would be in the middle of the ice – or the bottom of the cup. But if it is exactly where she left it, she knows the food is safe to eat!
Many in the group said they follow a similar procedure. But others had never heard of the idea and thanked her for the tip.
RV RECIPE OF THE WEEK – Jerrica Mah
Time now for the RV Recipe of the Week, brought to you by CampingFoodRecipes.com
This week, I'm really excited because I am sharing one of YOUR favorite recipes that was submitted to our site. Lorraine submitted an easy taco soup recipe that is so good, and you can make it in several different ways.
You can make it on the stovetop, or you could even cook it over the campfire, or you can simmer it in your crockpot. So while you're out hiking or adventuring, it's cooking and building all of those flavors until you return to enjoy it.
It's a great flexible option, especially for those who don't want to be weighed down with a heavy meal. It's healthy and has everything you need. It contains meat, veggies, fiber, and plenty of flavor to satisfy your taste buds and give you the energy boost you need when you're camping.
For those of you who are vegetarian, don't be deterred because you can easily omit the meat and still have a great, well-balanced taco soup recipe to enjoy. It's also a fantastic option for lunch or dinner, or even as a side to the various pie iron sandwich recipes that we have on our site – you should definitely check out this recipe.
Lorraine, we're so thankful that you shared it, and we're excited to receive more submissions like yours from our camping community. So if you want to be like Lorraine, you can visit our website, click on "Submit a Recipe," and share your favorite recipe. That way, we can share it with many more people and enjoy exactly what you and your family enjoy on your camping trips.
Thank you for tuning in this week. I will be back next week with another camping food favorite, and I hope to see you then.
RV INTERVIEW OF THE WEEK
Each year about 87 percent of all wildfires nationally are started by humans. And many times those humans accidentally start a fire when camping. 
To help make sure we are doing everything we can to keep from being part of this troubling statistic, we have on our show today Jennifer Myslivy, a spokeswoman for the National Interagency Fire Center based in Boise, Idaho.
Some quotes:
"As of today, we got the numbers. There are 88 large wildfires burning in 12 states. So that would be Texas, Oklahoma, Alaska's got wildfires, and then our Western states. We do have some in New Mexico as well. So there's 88 large wildfires burning across 12 different states as of this morning."
"We have human-caused and lightning-caused wildfires. In our human-caused wildfires this year, we've had approximately 29,000 human-caused wildfires as of dates, that's beginning from January 1, that has burned over 861,000 acres. And we've had approximately 2,600 lightning-caused fires that's burned about 450,000 acres. And then human-caused we can break that down a little bit more with campfires, target shooting or shooting flares, roadside starts, debris burning. Campers do have some other causes like driving on dry grass or dragging chains or debris burning, different things you could happen with campers or camp people enjoying the outdoors."
"We encourage people to use existing campfire rings. But when boondocking, there's not very many campfire rings already existing on the metal rings. So one, we're asking folks, make sure it's in a proper area. Clear. Don't build a campfire with trees overhanging limbs because the sparks and the stuff will get up into the trees. Have it cleared of heavy brush, logs, debris, anything on the ground. Give yourself about a 10 feet radius of clear debris. Make sure there's no dry leaves on the grass, twigs, thread, dead branches."
"Dig a pit approximately one foot deep to keep the logs and brush down safely. Make a rock ring around it. Then when you're building your actual fire, have your logs, your twigs, your sticks, all within that rock ring."
"Make sure your campfire is manageable. Don't have a rip-roaring campfire because those sparks can travel. And so even with a 10 foot radius, that spark can travel outside of that and get into that brush. Make sure you keep your campfire manageable. Always have a bucket."
"Even if you let your campfire burn out, those ashes are still there and the wind picks up and they can whip those ashes out into the grass. And that's what a lot of times happens when people go to bed or they leave their campfire throughout the day. So you drown, stir, and feel. You drown the campfire with a bucket of water stir it, maybe use a little bit of dirt to kind of bring up those burned logs and things like that to get it up, to get some air to it. Stir again, use more water, and then feel the back of your hand. If it's too hot to touch, it's too hot to leave. So just continue that drown, stir and feel until it's completely out."
RV NEWS OF THE WEEK
There was a terribly really sad story out of Pennsylvania last week. An RV blew a tire on I-81, struck a truck, and all four people in the RV, their dog, and the truck driver died.
The family in the RV was towing a trailer, and the tractor trailer they hit was towing double trailers.
The RV was traveling south when it blew the front left tire, crossed the grassy median of the interstate and hit the tractor trailer, which was traveling north.
The four in the RV were the parents and their son and daughter. They were a family that enjoyed ATV racing headed to Tennessee for a race.
How to survive an RV tire blow out is a real concern for many of us. To see our tips click here.
The Biden administration created a new national monument last week on nearly one million acres in Arizona.
The land is near the Grand Canyon, and is on land sacred to Native Americans.
Indigenous nations and conservationists have requested this land be protected as a national monument for years. Ranchers and private business owners have opposed it.
The land holds uranium, which is crucial for nuclear power plants. Current uranium claims will be honored – but no new uranium claims can be approved now that it is a national monument.
Many tribes view the land as spiritually significant and are relieved they will be able to continue to hold sacred ceremonies and gather medicines and miscellaneous plants there without worry of it changing.
To learn more click here.
A 14-year-old boy from North Dakota fell more than 70 feet over the edge of the north rim of the Grand Canyon National Park last week.
Thankfully the teen did survive. His medical condition is stable at the time of this report.
While rescue teams could not use a helicopter to reach him, they were able to use ropes to scale down the cliff, attach him to a basket, scale back up the cliff, and get him to a pediatric trauma center in Las Vegas.
The teen was apparently trying to get out of the way so others at the site could take pictures before he fell.
National Park Service officials are using this story as a reminder to not cross over the safety barriers in national park, and to stay at least 10 feet from the edge of a cliff in places where the barriers do not exist.
Some campgrounds throughout the country are starting to sell out in anticipation for viewing the Oct. 14 annular solar eclipse.
An annular solar eclipse is when the moon passes between the sun and earth when it is at its farthest – or near farthest- point from earth.
This is a relatively rare event and it's happening this Oct. 14. The best viewing locations begin in southern Oregon, traveling in a southeast diagonal line through Nevada, Utah, Arizona, Colorado, New Mexico and Texas. (To see exact path click NASA site here).
Campgrounds in its full path are selling out and many are planning special activities. Mesa Verde National Park is one place planning special events (see story here).
If this is something that interests you, we suggest getting your reservation in its path soon.
RV INDUSTRY NEWS WITH RICK KESSLER
For the latest in RV and Camping Industry news, we're joined by Rick Kessler, executive editor of the industry leading publications RVBusiness and Woodall's Campground Magazines.
I just returned from San Diego, where the RV industry had gathered for the annual Aftermarket Conference.
One of the things they do each year is hand out a bunch of awards, including to the New Product of the Year.
The winner this year was the Safe-T-Rail from MORryde.
And if you haven't seen one yet, it's pretty slick.
The Safe-T Rail is an innovative handrail system that makes it safer to get into and out of towable RVs. A heavy-duty magnet and pin stores the Safe-T-Rail flat against the RV when not in use. Then, with a simple pull, the rail glides out, matching the angle to of the entry steps for a much smoother and more stable entry and exit.
In other news, the retail sales numbers came out for June – and they're not that bad.
Well, they're not as bad as what they have been, let's say.
There were just under 41,000 RVs sold by dealers in June. That's still a 21.5% decrease from last June, but it's an improvement over the last several months and certainly better than expected.
The bottom line? RV dealers are starting to see a pick-up in sales, and that has the whole industry starting to smile.
And last, the folks over at Jellystone Parks told us how they are expecting an especially busy camping season this fall.
Yogi Bear and Cindy Bear and their buddy Boo-Boo are planning a variety of activities at the company's parks that include everything from bobbing for apples to making scarecrows to competing to see who can create the scariest campsite.
RV Tip of the Week from Brenda of Queen Bee RV
Time now for the RV Tip of the week from certified RV Inspector Brenda of Queen Bee RV.
Brenda's focus is on educating RVers on how to care for their RVs – especially women RVers – and she is a regular contributor to the podcast, sharing her expertise with our entire audience.
Here's Brenda.. The RV Queen Bee… with this week's RV Tip.
RV Roof Maintenance Tips
Do you know one of the biggest enemies you have when it comes to protecting your RV investment? The answer: water intrusion. It's the silent killer when it comes to protecting the integrity of your RV roof and sidewalls. The UV rays from the sun, all kinds of weather conditions, low hanging branches and other factors can wreak havoc causing tears, soft spots, and leaks which are all very costly to repair.
Even a small tear or pinhole in the roof or sealant can cost you big bucks, so this week, let's talk about some maintenance ideas to protect your RV roof.
First, hire a professional if you do not feel confident or safe accessing your RV roof.  They have been trained to do this properly and safely, so hiring one is highly recommended. 
At least twice a year, have the roof of the RV cleaned, especially the sealant so you can take a closer look.
It is advisable to stay on your hands and knees if you are inspecting your own roof and sealant.  It allows you to take a safer and closer view of the roof material itself while checking for any soft spots.  You can also get up close with all of the sealant around those rooftop components and along the sidewalls, front, and rear caps.  You are looking for cracks, gaps, or missing sealant, tears in the roof membrane and anything that has been damaged by the weather or obstructions.
Note: if any sealant does need to be repaired, replaced or touched up, refer to your owner's manual for the manufacturer's recommendations for the type of sealant for your roof material.
Ongoing roof maintenance can keep money in your wallet, your rig out of the repair shop, and protect your investment.
App of the Week
Time now for the RV App of the Week segment, taken from the pages of NewTravelTech.com – our sister blog that celebrates the many ways technology enhances the travel experience.
This week's app is actually a suite of tools that make camping simple. Its called RV LIFE Pro, a suite of tools that make camping simple.
The following is a list of benefits available for RV LIFE Pro subscribers.
RV LIFE GPS App – Turns your phone into an RV Safe GPS. The app automatically syncs the trips you create in RV Trip Wizard for ease of navigation. Think Google Maps but with RV Specific routing based on the height, length and width of your RV. Works even when you are offline.
Maintain My RV – Website for tracking the maintenance of your RV.
RV Life Pro currently costs $65 per year if you purchase the annual membership. If you want to enjoy using all the RV Life Pro tools just add this coupon code: RVLIFESTYLE which gives you 25% off the price!
RV QUESTIONS OF THE WEEK
QUESTION: I  would like to know if my fresh water tank(30gal) should be left completely full or left completely empty between trips sitting in my driveway. I currently empty fresh water tank completely after several days of returning home, leave it sitting empty for a couple days then completely refill tank allowing to set no more than 10 days. Continuing this cycle until next trip. Also has anyone used new product from Clear2O call "Tank Fresh"? Which if I understand correctly is made for this very purpose. – Mike R
ANSWER: First, the product you mention is not meant for repeated use during the season. It's meant to "shock" the water tank, much like you dump in extra amounts of chlorine and cleaning chemicals into a pool at the start of the season. What you are doing is what you should keep doing. Don't let your fresh water tank sit unused and full for several days or weeks between trips. Empty it after you get home. In hot weather, fresh water can go bad very fast and develop a nasty taste. If that happens, we put a tiny amount of bleach in. A teaspoon for every 10 gallons. But you need to run a lot of water through to then get rid of the bleach taste.  There are other bleach-free products you can try as well, but only if you have a bad taste or at the start of the season. 
QUESTION: Is Boondocking possible with a 36 foot fifth wheel? Are sites accessible with that big of a rig? It seems like most Boondockers do use a class B or C camper. Unfortunately, we only have our fifth wheel. Thanks. – TERRY
ANSWER: As you have no have doubt realized, finding boondocking spots for RVs is not easy. Most national and state forests don't have big spots available, plus many access roads are narrow with limited space to turnaround. Many National Park campgrounds can't handle rigs bigger than 30 feet. Most fifth wheels end up in state parks and commercial parks. Boondocking is easiest with Class B vans and the smaller Class C motorhomes.
Where are you RVing next?
Whenever someone asks us, "Where is one of your favorite places in the US for RVing?" Our answer is unquestionably, in unison, "The UP of Michigan." The "UP" means Upper Peninsula, of course.
That's why we decided to write our first "7 Stop RV Adventure" to help you explore Michigan's Upper Peninsula.
This ebook is a seven-stop guided exploration of the Michigan UP. We provide a suggested route and itinerary, links to multiple campgrounds and boondocking spots, and the best spots to see along the way. Don't plan your trip to the Upper Peninsula without it!
---
---
---
---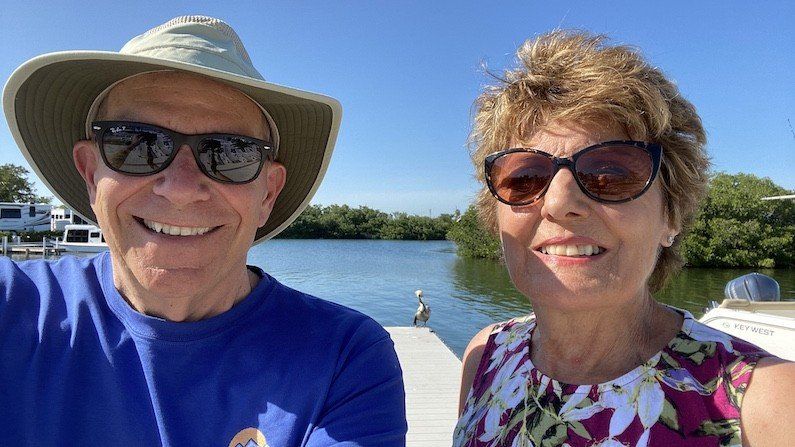 Curious about the gear, gadgets, accessories, and RV products Mike & Jennifer use and recommend?
On this RV Lifestyle Travel blog, our RV Podcast and our RV Lifestyle YouTube Channel, we mention all sorts of RV-related products and gear that we use, So we created a special page that links to them. We update this all the time.  CLICK HERE to go to it directly.
---