Looking for the best RV thermostat? Here are my top picks for analog, digital, programmable, and smart thermostats.
Are you in the market for a new RV thermostat? If you do not currently have one or are shopping for a new thermostat to replace your old one, you have come to the right place.
I have taken a look at the best options of thermostats designed specifically for your recreational vehicle. The following is my guide to different types of thermostats, and my top picks for each!
We use affiliate links and may receive a small commission on purchases. Thank you for your support.
How Does an RV Thermostat Work?
An RV thermostat works much the same way as a home thermostat.
An RV thermostat works with both the heating system and cooling systems of your RV to help regulate your rig's temperature level. The best thermostats can come in three different types: analog, digital and pre-programmable.
Typically, you install a single thermostat that can operate both the heating and air conditioning from a single device. You can adjust the temperature as needed, or program it to heat and cool at specific times of the day.
4 Types of RV Thermostats
Since RVs have different electrical systems and components than your standard house, it requires a specific type of thermostat. The wiring and voltage is likely different than what you would use as a typical residential thermostat.
Generally speaking, there are three main types of thermostats to choose from: analog, digital, and programmable.
1. Analog Thermostats
An analog RV thermostat is the most basic type to install. An analog model is not fancy, but usually pretty dependable. They are also budget-friendly!
Analog thermostats use heat-sensitive metal that bends when the temperature changes. That bend makes contact with a switch that turns on the heating or cooling mechanism, thereby providing temperature control.
This can be a great option since there is no electrical power needed to operate this type of wall thermostat.
2. Digital Thermostat
Another great choice is a digital RV thermostat. Digital models allow you to easily see your temperature setting at a single glance. They also allow you to change your preferred settings precisely.
Digital thermostats use electrical temperature sensors, which means they need electrical power to operate like other electronic devices. Usually, this power source is taken from the wires on the furnace.
3. Programmable RV Thermostats
Some consider this camper thermostat the best choice because you can choose the exact temperature range ahead of time. You can set your system to heat or cool at pre-determined times, and come back to a perfectly temperate rig after a long day of sightseeing.
You will also save money since your system will not be running when you are not there.
4. Smart Thermostat
This is the fourth type of thermostat worth a mention because it can take your pre-determined settings, while also monitoring external weather conditions. That can help save you electricity costs since it will work in the most efficient way possible.
You simply set your desired temperature, and it does the rest. The best part? Monitor and control your thermostat remotely from your phone using an app! That means you can bump up the heat (or A/C) when returning from a hike or outing.
Best RV Thermostats
I have found the top five best RV thermostats for you!
Analog Thermostat Top Picks
The following two thermostats are affordable and simple to install and use.
The Dometic RV thermostat features easy installation at an affordable price, making it the best option for an analog thermostat. This simple temperature gauge allows you to change your setting simply by adjusting a slider to your desired setting. It may not offer a lot of special features, but it can easily and affordably get the job done!
Another great analog choice is this one from Coleman. It controls the heating and cooling system easily and comes at a low price. The simple design is easy for anyone to use, and you do not have to worry about a complicated install or operation.
Many people even install this themselves because it comes with easy to understand color-coded wiring that you match up to the wiring in your rig!
Digital Thermostat Top Pick
This is my favorite choice when it comes to digital thermostats.
The Honeywell is my top choice when it comes to digital thermostats. This digital thermostat is flawless, featuring a backlit, easy-to-read, digital display.
Easily see your thermostat settings, as well as current indoor temperature.
Easily switch between the heating and cooling system with just the push of a button.
Finally, use the easy-access battery door to keep it operational.
Programmable Thermostat Top Pick
Check out my top choice for a programmable thermostat.
Are you ready to upgrade from an analog or digital thermostat to one that you can program to kick on or off when you are not in the RV? The Dometic Duo Therm Comfort Control 2 is the perfect pick!
It features easy-to-use button controls and an easy-to-read screen to allow you to set your temperature preferences in a simple way. You can also use its clock mode to easily see the time whenever you are in your rig.
Smart Thermostat Top Pick
The following is my choice if you are looking for a Smart Thermostat.
My final top pick is the Mirco-Air Easy Touch. This wireless is one of the best models on the market and features various features that offer you the best efficiency and technology.
Use the large display to set your preferences, or control the thermostat from your device. You can adjust your settings while on the go!
This advanced device does come at a steep price when compared to the affordability of analog thermostats.
Related Articles
Speaking of keeping your RV warm and cool, here are some other articles you might be interested in:
Mike and Jennifer's Southern Utah RV Adventure Guide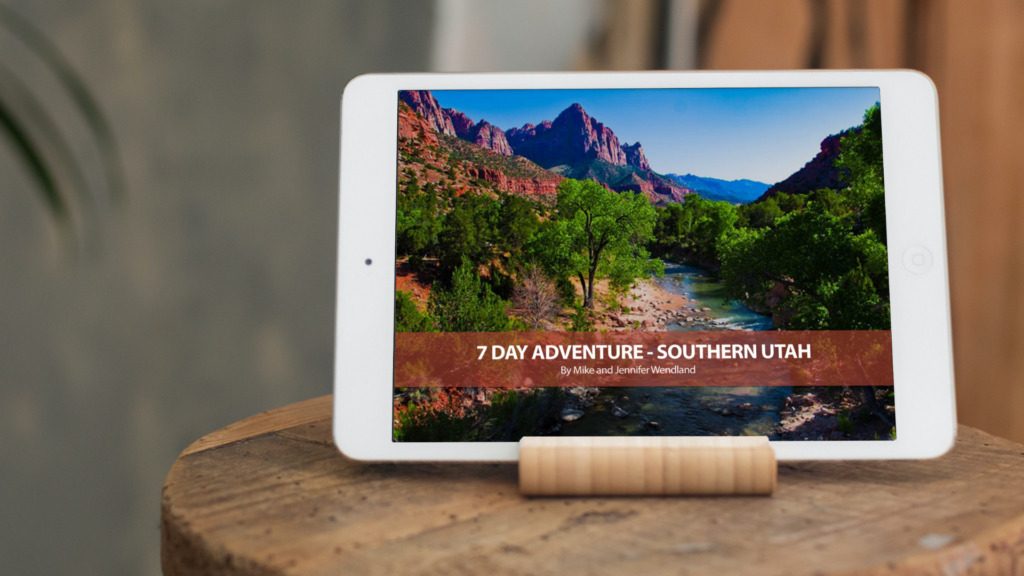 Utah, Utah, Utah. What more is there to be said? In very few places across the United States is there such a tremendous area with breathtaking vistas and diversity of terrain.
The sheer size of the National Parks, the canyons, the desert. Combined with the amount of history written in the red rocks that rise like towers jutting out of the ground and the delicate hoodoos washed away by erosion.
It is a place that, if you've never been, you need to go, at least once in your life.
This ebook is a seven day guided exploration of the State and National Parks in Southern Utah. We provide a suggested route and itinerary, links to multiple campgrounds and boondocking spots, and the best spots to see along the way. Don't plan your trip to Southern Utah without it!
You can hit everything in seven days, do a whirlwind weekend tour, or you can take your time and explore the area over a few weeks.
---