The best campgrounds in Zion National Park give you access to all the beauty this amazing park has to offer.
Are you thinking about visiting Utah in the near future? If so, you won't want to miss Zion National Park. There are miles of trails, and gorgeous views everywhere you look.
The best part is that there are many great options for camping, so you can visit everything easily from your home base.
From sheer sandstone cliffs to wading through rivers, Zion National Park has everything an adventure can want. The best way to see this gorgeous national park is to stay nearby in one of the amazing campgrounds.
The following outlines two major sites to check out in the park, as well as a list of the best campgrounds to make your home while visiting. From primitive camping to RV parks that offer many amenities, you are sure to find the best option for you!
Zion National Park
Zion gets its name from biblical roots. Early pioneers named it Zion for its spectacular and awe-inspiring views, which is like Zion, the Holy Place, in the Bible. Our trip to Zion National Park left us feeling that it is indeed a holy place.
Zion National Park is known for its huge, multi-colored sandstone cliffs. They soar above you when checking out its deep canyons. You will also be taken aback when gazing down mighty valleys, or hiking along the strong current of the Virgin River.
No matter what you decide to do in Zion National Park, you can be sure that you will see sheer cliffs, amazing views, and experience the best camping. The following are two of the best places to see while visiting the park: The Narrows and Kolob Canyons.
The Narrows
Located in Zion National Park, the narrowest section of Zion Canyon is 16 miles long and goes by the name The Narrows. Situated upstream of the main canyon, and on the North fork of the Virgin River, this stretch of the canyon offers incredible views from below.
The gorge features sandstone walls, a thousand feet tall in some spots. The canyon is only about 20 – 30 feet wide.
To hike this gorgeous spot, you'll have to trudge through the river itself, since there is no trail in some parts. You'll want to wear closed-toed shoes. I also suggest you bring along a hiking stick, as the slick, uneven rocks in the river can be hazardous to tread over.
Be sure to always check the weather, too. Flash flooding can occur in the late spring and summer when the canyon experiences its peak season.
Kolob Canyons
Kolob Canyons is a unique site to see in Zion National Park. They offer giant peaks of Navajo sandstone, red canyons, and scenic waterfalls.
Take a short drive up to Kolob Canyons Viewpoint for a spectacular observation point. Or enjoy a hike along a small ridge featuring breathtaking views of Kolob Canyons. This spot also offers picnic tables for a nice lunch, and pit toilets to use before you head out onto the trail.
Flush toilets are available at Kolob Canyons Visitor Center.
---
---
5 Best Campgrounds in Zion National Park
The following are the best campgrounds in and around Zion National Park!
Best Campgrounds in Zion National Park #1: Watchman Campground
This great spot is conveniently located a quarter-mile from the South Entrance of Zion National Park, making Watchman Campground very popular among visitors.
This 176-site campground allows you to make reservations and offers many amenities.
There is a shuttle service for easy access to the park, a visitors center, an amphitheater for various ranger programs, as well as three trailheads. It is also open year-round!
Best Campgrounds in Zion National Park #2: Lava Point Campground
This campground is first-come, first-served, and is great for boondockers or those looking for tent sites.
It's located approximately an hour and a half from Zion's South Entrance, not far from Springdale, Utah.
This primitive campground offers free camping, but you also get what you pay for. There is no water available at this six-site campground. That means you need to plan ahead to bring enough water for drinking and cooking before heading out to see Lava Point.
The campground does have pit toilets and quiet, primitive campsites to get away.
To access this campground, take a scenic drive down Kolob Terrace Road, which is located 25 miles north of the town of Virgin, Utah. Your vehicle must be less than 19 feet to be allowed on the Lava Point Campground road.
The campground sits at 7,890 feet, and is normally open June through October, but may open as early as May depending on the year. Check ahead of time with the park to get seasonal information.
Best Campgrounds in Zion National Park #3: South Campground
This is another first-come, first-served campground. It is open from about March 1 to the first Monday following Thanksgiving in November.
It is also conveniently located, about a one-half mile drive from the South Entrance of the park.
There are 177 campsites (including 3 wheelchair-accessible sites). There are no hookups in the campground, but there is a dump station and drinkable water for campers.
You can use a generator from 8-10 am and from 6-8 pm.
If you miss out on the other national park campgrounds, then try your luck just outside the park at Zion Canyon Campground. It features full hookups, which is great for RVers. No primitive camping here!
While it is a little more expensive, the campground provides shuttle buses to the park's south entrance, where you can catch the in-park free shuttle buses.
This pretty, manicured campground comes complete with paved parking pads, lawns, and fire rings. The RV park is located in the town of Virgin, Utah, which is about a 20-minute drive to the park.
It offers pull-through sites, full hookups, Wi-Fi, showers, tent sites, bathrooms, and pet areas. There is also a shuttle available for a small fee.
Have You Stayed at Any of the Best Zion National Park Campgrounds?
Please share your experiences in the comments below. Let us know if you have any other recommendations for the best campgrounds in Zion National Park.
Mike and Jennifer's Southern Utah RV Adventure Guide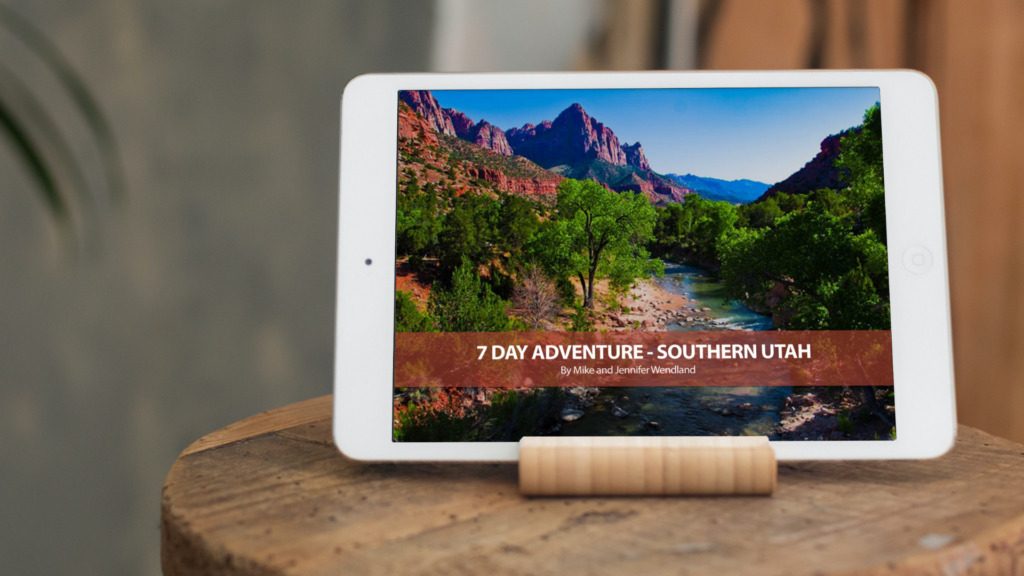 Utah, Utah, Utah. What more is there to be said? In very few places across the United States is there such a tremendous area with breathtaking vistas and diversity of terrain.
The sheer size of the National Parks, the canyons, the desert. Combined with the amount of history written in the red rocks that rise like towers jutting out of the ground and the delicate hoodoos washed away by erosion.
It is a place that, if you've never been, you need to go, at least once in your life.
This ebook is a seven day guided exploration of the State and National Parks in Southern Utah. We provide a suggested route and itinerary, links to multiple campgrounds and boondocking spots, and the best spots to see along the way. Don't plan your trip to Southern Utah without it!
You can hit everything in seven days, do a whirlwind weekend tour, or you can take your time and explore the area over a few weeks.
---
---
---