This week in Episode 448 of the RV podcast, we find out if you can really use AI to plan a camping trip, interviewing the CEO of a new RV travel planning app that relies almost entirely on AI.
Plus, we have lots RV News, RV tips, social media tidbits and answers to audience questions about the RV Lifestyle.
You can watch the video version from our RV Lifestyle YouTube Channel by clicking the player below.
If you prefer an audio-only podcast, you can hear us through your favorite podcast app or listen now through the player below.
Podcast: Play in new window | Download (Duration: 51:48 — 30.3MB) | Embed
Subscribe: Google Podcasts | Spotify | Stitcher | Email | TuneIn | RSS
RV SOCIAL MEDIA BUZZ – Wendy Bowyer
Wendy Bowyer reports on the hot issues most talked about this past week on our RV Lifestyle Facebook Group:
One post that REALLY got people talking – we're talking more than 1,000 responses – was from Mike who posted: "I noticed a lot of people are selling their homes to live in an RV. Why?"
For days people shared their thoughts, which included things like:
-It's an affordable way to travel
-You can go anywhere you want at any time
-RVing is a great way to simplify life and get back to the basics
And perhaps my favorite response was from Michelle who said she chose the RV Lifestyle because: "Life is short and this country is large and amazing."
Next I'd like to share a post from Nicole. Nicole is shopping for an RV and knows she wants one about 30 feet long. So Michelle asked the group what is better – a 30-foot class A or a 30-foot Class C. Boy, did her question get people talking!
Many in the Class A group said a Class A has more storage space, more inside living space, higher ceilings, and a larger front window making it easier to see out of when driving.
Those who preferred Class Cs said a Class C is easier to get in and out of, easier to get serviced at an auto dealer, and you could choose a gas-powered option instead of diesel, saving money on fuel.
But perhaps Remi had the best advice: Rent one of each and see which you like more.
Finally, I don't know what it is about bugs, but we had another bug post that really created a lot of buzz. Trish said: "Miller moths. Any Colorado folks know how to kill them in my camper? HUNDREDS of them!"
Then Trish shared a video of her RV bathroom with what looked like about 100 of these moths swarming in a very small space. Yuck!
And apparently, I was not alone in that thought. Terri said she thought the video was horrifying!
Many in the group were quick to offer help. Raymond suggested using a vacuum cleaner to suck them up. Others, like Joanna, suggested getting a large bowl of soapy water and shining a light on it so the moths fly into the water and get stuck.
If you are camping in Colorado right now, experts recommend you turn off your lights to keep them away because light attracts moths. And have heart – the swarming Miller moths shouldn't be around too much longer.
That's it from me this week. I am Wendy Bowyer, and I'll see you over at the RV Lifestyle Facebook group.
RV RECIPE OF THE WEEK – Jerrica Mah
Here's the editor of CampingFoodRecipes.com, outdoor enthusiast and lifelong foodie enthusiast Jerrica Mah:
I have two campfire treats ready for you for Memorial Day weekend.
The first one is the Patriot biscuit cups, which does require a special tool to make, but many campers already have this tool. It's called the Wolf'em stick, and it's similar to a marshmallow roasting stick, but it has this cup at the end that you wrap biscuit dough around. When you cook it over the fire, it makes these really tasty little cups that you can then fill with your favorite fillings.
We've made one for Memorial Day weekend with some red, white, and blue ingredients that are really tasty. You can check that out at CampingFoodRecipes.com.
But if you don't have this tool, don't worry because we also have the All-American s'mores. It's a really easy, fun twist on traditional s'mores. Kids especially like to make it because it involves sprinkles.
So, go ahead and check that out on our website, CampingFoodRecipes.com. There are also plenty of other recipes for Memorial Day weekend. We have burgers and special hot dog recipes, like hot dog sauce or Chicago-style hotdogs, leftover hamburger casserole, and all kinds of things ready to go for Memorial Day weekend.
Our team also wants to invite you to join us in honoring the National Moment of Silence. On Memorial Day, wherever you are at 3 pm local time, we pause and take a minute of silence to remember our soldiers who have fallen for our country and to show our gratitude for their sacrifice.
RV INTERVIEW OF THE WEEK
If you have been following the news this year, you have heard much about the debate around artificial intelligence – that is using a machine to do things humans do – be it writing, painting, or solving problems that require human reasoning. In this podcast, we will talk about a company using this new technology – bringing AI into the RV world.
Scott Lengel is the CEO of AdventureGenie, the first RV planning program powered by Artificial Intelligence. The program pulls on a database of more than 25,000 public and private campgrounds and pairs it with proprietary AI-based algorithms to take planning the most minute details of your next RV adventure to a new level.
AdventureGenie went live May 1.
The company was co-founded by Scott, a former Microsoft senior technology executive, and David Greenberg, AdventureGenie's chairman, a veteran CEO/investor. Both men are RVers: Scott and his wife Lisa camp in a Newmar Ventana and David and his wife Becky in a Newmar NewAire.
You can check out the company at AdventureGenie.com.
And if you decide you want to become a member and use the code RVLIFESTYLE60 at check out, you can get a 60% discount off the normal $99 a year subscription
RV NEWS OF THE WEEK
Planning to travel this Memorial Day? You aren't alone! AAA projects 42.3 million Americans will travel 50 miles or more from home this upcoming Memorial Day weekend. That's a 7 percent increase from last year.
AAA expects this weekend to be the third busiest since 2000. And since Memorial Day weekend is traditionally seen as the official kick off of summer, many see this as a sign of a busy travel season ahead.
Friday is expected to be the busiest day on the road, and AAA is saying if you must drive, do it in the morning or after 6 pm. The lightest travel days will be Saturday and Sunday.
For tips on how to get the best gas mileage with your rig, see our story here.
A 93-year-old woman and her grandson recently completed their quest to visit all 63 national parks, after stopping at the National Park of American Samoa in the South Pacific.
The duo started their mission in 2015. The grandson said his grandma had a huge craving to travel but had never had the means to do it.
They started with a simple tent camping trip together at the Great Smoky Mountains National Park. And from there it became a mission to visit all of the national parks.
Some say the grandma became so invigorated by the experiences, she started to even look younger. To read more of their story, click here or here.
To see our story on the 13 favorite national parks according to real RVers, click here.
Are you one of those people that mosquitoes seem to swarm, no matter what you do? Listen up! A new study in iScience shows the soap you use may attract the blood-sucking pests – or distract them.
Soaps with floral scents seem to attract mosquitoes. Coconut-scented soaps decreased mosquitoes.
The study was pretty interesting and you can read more here.
To see our recent story on the Best mosquito repellent device for camping, click here.
If you'e heading to Yellowstone National Park anytime soon, rangers want you to beware of the elk.
It is elk calving season, and that means elk are more aggressive, and may even run towards tourists and kick them, according to a news release.
Their advice for staying safe is to stay alert, peek around buildings or other blind spots to make sure an elk and her calf are not there. Also stay at least 25 feet away and remember the animal may attack at any time for no reason.
If you are heading to Yellowstone this summer, we also recommend checking out our 7 Day Adventure Guide here.
Jellystone Parks is celebrating Father's Day at its campground in some unique ways. Some parks are having: Try not to laugh at the Dad Joke contests, water wars games, chocolate pudding eating contests and a burger grilling competition to celebrate.
Camping is the way many families like to celebrate Father's Day, which this year is June 18. To help them celebrate Jellystone Parks also announced they are holding an all-you-can-eat pancake breakfast to best dad body contests.
The activities range by park, but they definitely sound fun. To see more click here.
To see a story we did not too long ago when we stayed at a Jellystone Park in Michigan, click here.
RV Tip of the Week from Brenda of Queen Bee RV
Time now for the RV Tip of the week from certified RV Inspector Brenda of Queen Bee RV.
Brenda's focus is on educating RVers on how to care for their RVs – especially women RVers – and she is a regular contributor to the podcast, sharing her expertise with our entire audience.
Here's Brenda.. The RV Queen Bee… with this week's RV Tip.
RV holding tanks dump day advice
If you are new to RVing and shudder at the thought of dump day, I've got some helpful info to take the fear out of this camping rite of passage – it's easier than you think!
Many RVs are manufactured with a separate gray tank and black tank. Some have multiple of each. Some RVs have a combination black and gray tank. The gray tanks collect the water from sinks, showers, the washing machine and dishwasher. The black tank collects the wastewater from the toilets.
While determining where to make campground reservations, some RVers choose to camp at places where each individual site has its own dedicated sewer pipe to allow the owners to dump at will throughout their stay. Other campgrounds might have what is called a dump station located somewhere within the park where RVers line up to dump their tanks, typically on their way out of the campground.
Basic accessories that you will need to maintain and operate your tanks are disposable gloves, a sewer hose, a sewer elbow attachment, and a sewer pipe adapter to adjust for varying sizes of dump station openings. Some RVers utilize a sidewinder type accessory in case the sewer hose is trying to work against gravity on its way to the sewer drain pipe.
It's important to know that keeping your tanks in good working condition involves not letting them dry out – both black and gray tanks. If the black tank does not have water in it, this could result in solids and toilet paper drying out and creating a blockage. Keep the black tank valve closed until dump day. Some RVers opt to keep the gray tank open so that it does not fill as quickly while taking showers and doing dishes.
However, according to tank cleaning specialists that I know, they advise to keep both tanks closed until dump day. The gray tank can get dried out and just as smelly, if not worse, than the black tank. You will simply have to dump the gray tank more often than your black.
Here is the order of procedure on dump day:
Connect the sewer hose on one end at the RV termination valve and the other end at the sewer drain pipe at the campsite or dump station. It's important to have tight connections on both ends, because gravity is going to cause the contents of your tanks to come rushing out with some surprising force! Open the black tank valve first and allow the contents to exit (this is when some RVers prefer having a clear elbow attachment), then close the black tank valve to next open the gray tank valve and allow all of the soapy water from the sinks and showers to clean out the sewer hose while it's dumping.
Close the termination valve, disconnect the sewer hose, and store. Some RVers will use the water hose at the dump station to give the sewer hose one more rinse before storing. If your RV is equipped with a black tank flush option, you can perform that any time.
Pro tip: don't walk away from the hose when using the black tank flush, especially if you leave your black tank valve closed during the process!
Proper maintenance of both black and gray tanks is essential to keep odor at bay and contents moving freely. If you let either tank dry out, solids, toilet paper, grease, and soap will build up on the walls or worse, create a clog that will interfere with proper operation.
So on that note, after dumping you will need to add several gallons of water back into both black and gray tanks. You can either fill jugs with water to send back down the sinks and toilet to accomplish this. Or, you can fill the toilet bowl and flush – repeat this three times for the black tank. Now it's time for the tank treatment of your choice. I prefer to use a probiotic to keep the good bacteria doing their job in the black tank. PS: you need to send treatment down into the gray tank, too!
App of the Week
Time now for the RV App of the Week segment, taken from the pages of NewTravelTech.com – our sister blog that celebrates the many ways technology enhances the travel experience.
This week's app is called Open Roads and it is a discount fuel program open to anyone who purchases diesel fuel, whether it be a diesel pickup truck, RV, or a semi-truck.
This membership program gives you access to discount diesel prices at specified locations such as Loves and Travel Centers of America.
Current members save an average of 30 to 40 cents per gallon off the pump price.
There are no signup fees or membership fees to join. There are no long-term contracts to sign and no hidden fees.
Right now, this is only applicable to those who have diesel engines and you have to pull up with the big trucks at the travel stations to use the card.
RV QUESTIONS OF THE WEEK
QUESTION:
We have sold our condo and are not finding the next sticks & bricks. We will be going full-time until then, in addition to Florida. It looks like the best thing is Anytime Mailbox to make mail seamless no matter where we are throughout the year. Any thoughts? I know you all use and recommend this service. – Rene' and Mike
ANSWER:
If you are away from your home longer than your local post office will hold your mail, consider using Anytime Mailbox! As you receive mail you can easily view and manage it from your mobile device or computer. No matter where you are in the world you will be notified via native app alerts, text messaging, or emails when mail arrives or a requested action has been completed.
Selectively choose from features such as Open & Scan, Forwarding, Check Deposit, and Shredding.
You'll have access to your mail 24/7. No more driving to your PO Box or waiting until you return from your trip. Learn more about it right here: How to Use Anytime Mailbox as a Virtual Mailbox
QUESTION:
What is the name of the table top grill you use? – Becky
ANSWER:
We use a Coleman in our Class C Leisure Travel Vans Unity FX and we use a Blackstone griddle with our Arcadia Fifth Wheel. We bought both at a Camping World store.
Both run off those small green propane tanks, though we good get an adapter and tap into the propane tanks on our RVs.
Where to next? Plan ahead!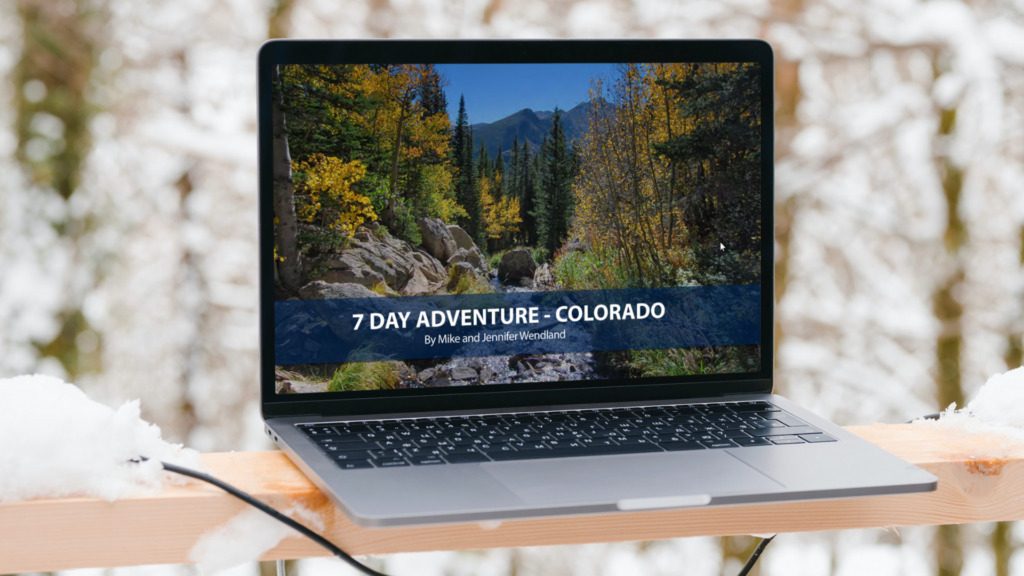 When Jennifer and I first went to Colorado, I felt like I finally understood what John Denver meant by his song: I've now been Rocky Mountain High.
And like Denver, exploring all that Colorado has to offer made me want to sing, too.
This is a fully designed and edited guide that you can download and start reading immediately on your phone, tablet, computer or e-reader.
---
---
---
---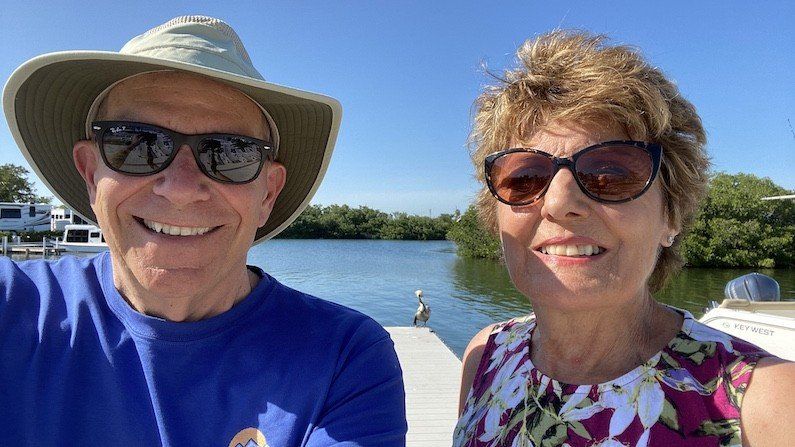 Curious about the gear, gadgets, accessories, and RV products Mike & Jennifer use and recommend?
On this RV Lifestyle Travel blog, our RV Podcast and our RV Lifestyle YouTube Channel, we mention all sorts of RV-related products and gear that we use, So we created a special page that links to them. We update this all the time.  CLICK HERE to go to it directly.
---