Our friends at Lectric eBike recently sent us one of their new foldable Lectric XP Trike models to test out and we had a lot of fun with it. But will it replace our regular two-wheeled eBikes? Keep reading to find out.
Jennifer and I have been riding electric bikes for years now and, like many other RVers, have found them fun and practical ways to get around the campground, run errands and explore.
We've owned several different models so when the folks at Lectric eBikes asked us if we'd like to try out their new foldable Trike XP model, we said, Sure, why not?
Click below to see our review video.
The Lectric XP Trike costs way less than most trike eBikes
While we've been very happy with our two-wheeled eBikes we realize a lot of folks, especially older riders, are interested in Trike models because of the stability they get with three wheels.
But Trike bikes are expensive. Most are in the $2,500 to $3,000 price range.
Not the Lectric XP Trike. It retails for $1,499.
It comes in one gigantic box but that says it can easily be assembled without tools.
In fact, the most time-consuming part of assembling the XP Trike is removing all the insulation and packing materials. Once they are removed and the bike is out of the box, all you have to do is put on the seat, mount the handlebars and unfold it.
Key Features of the Lectric XP Trike
Let's note some of the key features…like:
Metal fenders, front and back
Great cable management
A comfortable seat with adjustable back support and a shock-absorbing post to smooth out those bumpy roads
Hydraulic front and rear brakes with a parking brake feature
A nice bright headlight and corresponding rear tailights
48 volt, 14 amp hour lithium battery that can take you upto 60 miles on a charge
5 different levels of pedal assist and throttle
Front and rear baskets
Lots of accessories
So this Lectric XP has a lot going for it. But how does it ride? That is the key question.
How does the Lectric XP Trike Ride?
The first thing we need to say in answering that is…. It takes some getting used to.
A three-wheeled ebike handles much differently than a two-wheeled standard ebike. You need to be more intentional in your steering, turning more gradually, trying to go in as straight a line as possible.
And if you are going over a curb or obstacle, take it straight on, not at an angle.
This model is definitely not a speed demon. Its throttle speed is limited to 14 miles an hour, though on downhills and with aggressive pedaling, you can obviously go considerably faster. I've had it over 20 miles an hour. Really, it's plenty fast.
You don't think of a trike as off-road but, what the heck, I tried it. It was bumpy but Bo and I explored a woodchip trail through a forest and it performed just fine. Same across an uneven patch of mostly grass.
So I had a lot of fun with this bike.
Will this replace our standard eBikes?
As nice as this is, I don't think we'll give up our regular Lectric two-wheelers. First, the XP Trike is heavy. Weighing in just under 70 pounds.
And even when it is all folded up and made as small as possible, it is still big. It is too wide and tall to get in the pass-through storage of our fifth wheel. And it's too big to get in the main door as well.
It's way too heavy for one person to lift up and put in the bed of our pick up and I don't know of any rack that would hold the trike. There may be one but I think we'll pass on bringing it along on our camping trips.
But that's us.
For a lot of others, the stability, great price point, and storage capabilities of this trike may be just the ticket.

We recommend you go Lectric for your RV Lifestyle

You know we love our RAD Power bikes – and have featured them for years, but we recently tested out and LOVE our new Lectric foldable ebikes. Being able to fold them up allowed us to put them in our Wonder rear garage area for a recent RV Lifestyle Gathering. You can check out our experience with them right here on our YouTube Channel.
Are you planning for next year?
Do you want to hit Key West, the Everglades National Park, and all the other great things the Keys have to offer? Well, we have just the thing for you. Jennifer and I love traveling to the Keys, so we've created a complete 7-Day RV Adventure Guide: Florida Keys. This downloadable guide includes a suggested itinerary and a list of the best RV parks along the way.
We also have a 7-Day RV Adventure Guide to Florida's Atlantic Coast and Florida's Gulf Coast. If you're interested in all three, you should check out our Florida RV Travel Guide Bundle.
---
---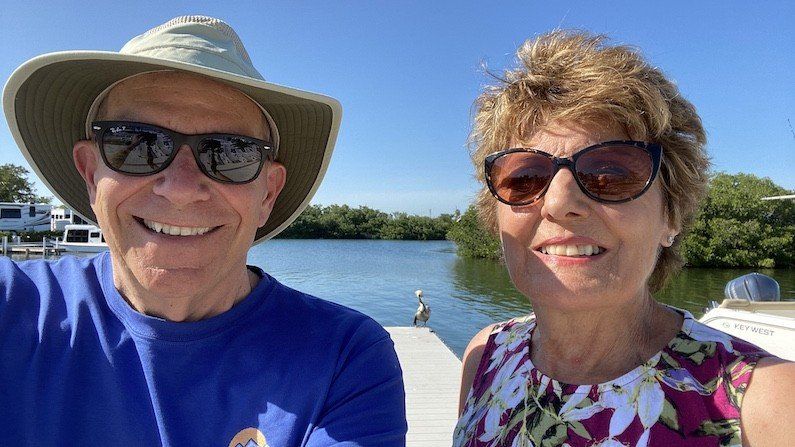 Curious about the gear, gadgets, accessories, and RV products Mike & Jennifer use and recommend?
On this RV Lifestyle Travel blog, our RV Podcast and our RV Lifestyle YouTube Channel, we mention all sorts of RV-related products and gear that we use, So we created a special page that links to them. We update this all the time.  CLICK HERE to go to it directly.
---