Meal planning for your summer camping trip? Savor the adventure with these delicious yet easy camping recipes…
One of the best parts about camping is the food! That is, of course, if you don't rely solely on boring hotdogs and baked beans.
Our sister site, CampingFoodRecipes.com, has all kinds of great camping food to cook in your RV, on the grill, or over the campfire. So, we're going to share some of the summer favorites with you today!
The following recipes are easy to make while taking your summer camping menu to the next level. You can meal prep quite a bit of the following in advance, so you're not stuck cooking at camp when you should be relaxing!
We use affiliate links and may receive a small commission on purchases at no added cost to you. Thank you for your support. You can read our full affiliate disclosure here.
How to Prepare Your RV for Summer & Long Trips
The summer travel season is upon us. Here are the things we did to prepare our RV (and us) for a series of back-to-back RV adventures that had us on the road through December. Let's go through our preventative maintenance list and then move on to meal planning…
15 Summer Camping Recipes
This list covers breakfast through dessert and several different cooking method options: campfire, grill, RV oven, and crockpot. Plus, we include several vegetarian options!
We hope you enjoy this delicious camping food as much as we do!
Mmm Mmm! Enjoy a sweet start to any camping day with French toast casserole. It's an easy recipe for a delicious breakfast with only a few minutes of prep the night before.
While many slowcooker french toast casserole recipes use brioche bread or white sandwich bread, our recipe lives up to its name by using French bread. It gives the perfect texture!
Many campers rely on the just-add-water pancake mix you buy at the grocery store. But as convenient as that mix is, the pancakes are only "okay."
Why settle for okay when you can easily make your own pancake dry mix at home to take on your summer camping trip? Stock a few wet ingredients in your RV fridge, and you're all set to have scrumpdillyicious pancakes!
Attention parents and PB&J lovers! Enjoy the convenience of Smuckers Uncrustables without the big price tag!
Make your own frozen PB&J sandwiches in advance for a fraction of the cost. This recipe introduces a cheap, lightweight sandwich tool to cut and seal sandwiches. Pop them in your freezer for your next camping trip, and you've got lunch ready to go!
Elevate the classic grilled cheese camper style! Use a pie iron to grill this sandwich over the campfire or even on your grill.
With this recipe, you can make a cafe-worthy grilled cheese and tomato sandwich wherever you camp. It really just comes down to the cheese you use and a dash of basil!
If you're looking for a healthier alternative to a simple burger recipe, then this turkey burger recipe is the way to go. Make the patties in advance to make cook time even easier!
The recipe includes some quick tips to keep the homemade turkey patties from falling apart on the grill. Plus, it explains how to get a JUICY turkey burger rather than a dry wannabe.
Drag that boring hot dog through the garden with this Chicago-style hot dog recipe. Enjoy the refreshing crunch of pickles and fresh tomatoes with every savory bite.
If Chicago style isn't your thing, you can also try New York-Style or this Coney Dog Hot Dog Sauce.
And if YOU are the cook on your camping adventures – we created this for you…
Official CampingFoodRecipes MERCH!
This large fruit salad can feed a crowd or a few people for a few days. It covers pretty much every color of the rainbow, and the sweet fruit dip is simply delicious!
This fruit salad is a great healthy side dish for any of the above recipes, including as a topping for pancakes or French toast casserole.
Foil packets are a favorite among campers for good reason! They make camp cooking so easy while capturing all the flavor in every bite.
These shrimp & asparagus foil packets are low-carb, keto-friendly, and high in flavor. Simply put, they're nutritious and delicious! They make a meal in themselves or the perfect "surf" for any surf-and-turf meal.
This easy squash casserole recipe uses cream of chicken soup, stuffing mix, and fresh summer squash to make the perfect side dish for lunch or dinner. Or, add cooked chicken to make a one-dish meal.
If you're a vegetarian, simply swap the cream of chicken soup for cream of mushroom, and you're good to go!
Don't let those leftover hamburgers go to waste! Save them to make this yummy hamburger casserole the next day.
The recipe works with patties or leftover ground beef (or turkey!). It's made with tater tots and cheese, so you know the whole family will love it.
A FAMILY FAVORITE! These loaded campfire nachos are easy to make and fun to eat. It all comes down to layering the ingredients so every chip is loaded with toppings.
Grab a cold drink and eat these nachos directly from the pan. What a great way to enjoy the evening around the campfire!
Speaking of nachos, you should also check out this easy taco soup recipe. You can cook it quickly on the stovetop or let it simmer in the crockpot.
It's an excellent healthy option that contains meat, veggies, fiber, and plenty of flavor. You can easily make it vegetarian by omitting the meat.
Make s'mores even MORE FUN to make with this patriotic twist. Kids absolutely LOVE making them and, of course, eating them.
The recipe includes a video showing how easy it is to add the red, white, and blue flair to this camping staple.
The patriot biscuit cup is another campfire treat with American Flair. It's perfect for 4th of July or any day you're proud to be an American.
You roast these biscuit cups over the campfire with a special tool called a Wolf'em Stick. You can fill the cups with whatever toppings you like, but this recipe makes a sweet, red, white, and blue treat.
This pizookie-style cookie cooks over the campfire in a cast iron skillet. You can make the dough in advance and either freeze or refrigerate it for your camping trip.
Once it's done, top the cookie with ice cream, whipped cream, or any other topping you desire. Then pass out spoons around the campfire and dig in!
Submit Your Favorite Camping Recipe
Do you have a favorite camping recipe you'd like to share with our RV community? We'd love to see it! Submit a recipe on our sister site and you can see it featured for all to enjoy!
Mike and Jennifer's Southern Utah RV Adventure Guide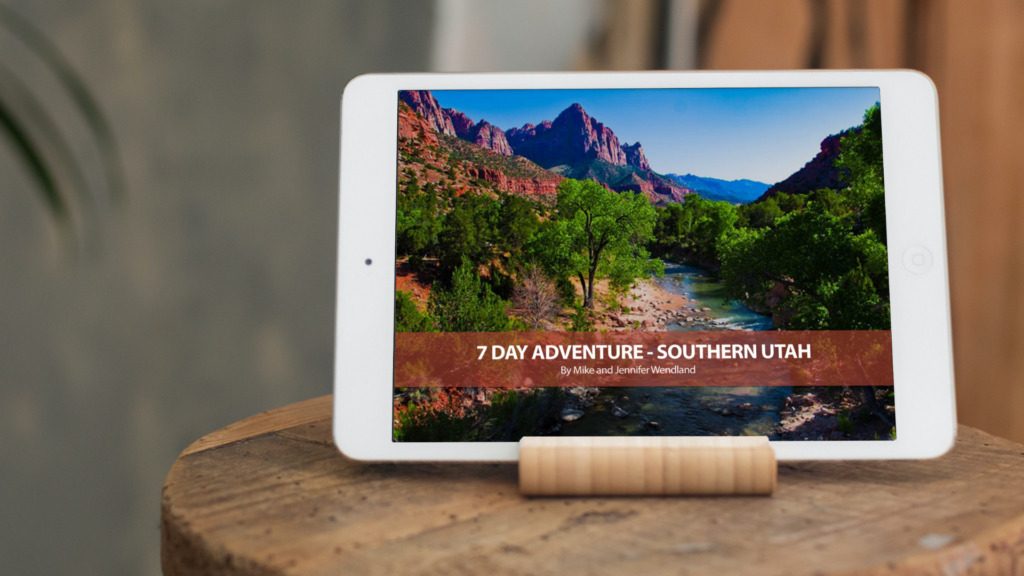 Utah, Utah, Utah. What more is there to be said? In very few places across the United States is there such a tremendous area with breathtaking vistas and diversity of terrain.
The sheer size of the National Parks, the canyons, the desert. Combined with the amount of history written in the red rocks that rise like towers jutting out of the ground and the delicate hoodoos washed away by erosion.
It is a place that, if you've never been, you need to go, at least once in your life.
This ebook is a seven day guided exploration of the State and National Parks in Southern Utah. We provide a suggested route and itinerary, links to multiple campgrounds and boondocking spots, and the best spots to see along the way. Don't plan your trip to Southern Utah without it!
You can hit everything in seven days, do a whirlwind weekend tour, or you can take your time and explore the area over a few weeks.
---
---
---
Official RV Lifestyle QUICK Links to ALL our eBooks
You can see ALL our eBooks here, or use the following Quick Links to go straight to what you need!
● Arizona
●    Colorado 
And MANY of these are BUNDLED together:
New England Bundle
Coastal Maine, Adirondacks
Ultimate Michigan and Great Lakes Bundle – 3 ebooks –
Upper Peninsula, Lower Peninsula, and the Great Lakes Tour
Michigan Bundle
Upper Peninsula, Lower Peninsula
The Great Lakes Adventure Guide Bundle
The Great Lake Shoreline Tour & JUST the Upper Peninsula Guide
Florida Adventure Guide Bundle
Gulf Coast, Atlantic Coast, Keys
Southwest Adventure Guide Bundle
Arizona, Colorado, Southern Utah)
Ultimate 7-Day RV Adventure Guide Bundle
Collection 1- our first 10 ebooks (does NOT contain Great Lakes Shoreline or Natchez Trace)
We also have a nice collection of ebooks that will help you navigate the RV Lifestyle.
Like these:
The Beginner's Guide to Boondocking
The Ultimate Guide to Cheap or FREE RV Camping Sites
Boondocking and Free RV Camping EBOOK Bundle
The Beginner's Guide to Boondocking ebook and Ultimate Guide to Free Camping Sites
And ONE PRINT book 🙂 and yes, before you ask, we have plans for MANY more print books.
The Complete Guide to Boondocking – PRINT VERSION
This is the same as the ebook titled The Beginner's Guide to Boondocking but in print.
And while you are exploring all our ebooks – check out the hoodies, T-shirts, Stickers, and mugs in our MERCH Store! You can get to it directly by just going here – SHOP!