We've made it easy for you by compiling our favorite sink organization items into one RV kitchen shopping list…
If there is one chore that I don't like, it's doing the dishes. After making a meal and feeling full and tired, the last thing I want to do is complete another chore.
That's why we like to have an excellent sink set-up in our rig. We want to be ready to clean up after mealtime in a breeze.
Since we've had a small campervan, we've learned to keep our sink area tidy and compact. That way, we can quickly move around and get done what I need to.
Having the proper setup also means that I always have everything we need at our fingertips.
Complete Sink Set Up for Your RV
The following items are our top picks for a complete sink setup for your RV kitchen!
If you'd like to see even more RV kitchen options, Jennifer and I have compiled a complete kitchen gadget shopping list for your convenience. Or, you can click on the individual links below. This gadget shopping list also has loads of other things for your kitchen – including travel wine glasses, ice makers, InstaPot (a favorite with RVers), and a lot more.
When it's time to wash dishes, you want to make your life as easy as possible. Having the perfect dish rack and drainboard can do just that.
The best thing about this dish drainer is that it folds flat to store. It can easily slide under my sink when not in use. Then when I want to open it, I just pop it up.
This set is only 14.4" x 12.4" x 2.1" inches when collapsed. It can easily stow in an RV cabinet.
It also comes with a silverware organizer. As I clean the dishes, I separate the silverware by type so I can quickly put it away when it's dry.
This product is also made with environmentally friendly materials.
The SimpleHouseware under sink organizer comes with two expandable tiers. This is perfect for any size RV! You can expand the shelf from 15 to 25 inches.
The shelf comes with three large steel panels and four small panels to store your items on. You can also easily organize your items to find them readily.
Put your smaller items on top and bulkier items like chemical bottles on the bottom. But, keep in mind you may need to secure items before you head out on the road.
The other great thing about this shelf is that the top rack can be made to fit around your sink piping. This is a nice feature because every rig setup is slightly different.
I love this kitchen gadget! These kitchen hooks can be hung anywhere you want, and they are easy to install.
You can use the self-adhesive tape to hang them or the enclosed screw to fasten them to your wall.
These little "hooks" are deceiving. They look like a silver ring with a black cross in the middle. But they can firmly hold a towel in place by inserting it into the cross.
The best thing about these hooks is that they are space-saving, which is much needed in the tight confines of an RV. They're low profile since they don't have an actual hook protruding.
The manufacturer covers them with a warranty, which is nice, too.
This is an excellent choice for those of you who don't want a dish drainer and prefer to use a dish mat. It is made from silicone, so you can balance your dishes without worrying about them falling off the counter.
However, you can also use this mat in conjunction with a dish drainer that you already have (or the one listed above!). It will give you some room to spare for awkward items to balance on the side.
The mat is extra large, measuring 22' x 18'.
You can choose from four different color mats to match your style. Choose from beige, black, gray, and red.
This mat can also be used for dual purposes. When not using it for dishes, you can use it as a food prep mat for cooking. Or use it as a fridge liner or under sink mat if needed.
It is heat safe so you can set hot pans on it. That gives you a little extra cooking space without ruining your countertop!
(Speaking of which, you might want to check out our 3 Best RV Cookware Sets for Camping.)
One thing you might never have considered for your sink setup is a good mat. We are not talking about a cutesy rug, although it does come in different colors and styles.
We are talking about an anti-fatigue mat. After a long day of hiking, your legs (and you) might be exhausted. This mat has mercy on your tired body when cleaning up your dinner.
The Gorilla Grip mat is ¾" thick and offers cushy support. It helps to relieve pressure on your joints and provides ergonomic support to keep you as comfortable as possible.
It's made from durable and stain-resistant materials, which come in handy in dusty environments in nature.
Here is another handy sink gadget. This roll-up drying rack is perfect for those that need a space-saving design.
Made from stainless steel, this rack rolls up when stored. It can then be opened and used as a dish rack and an over-the-sink countertop attachment.
Expand it to cover your sink as an additional place to stash hot pans while cooking dinner. Then wash your dishes and let them drain dry.
What's Your RV Kitchen Sink Set Up?
Do you have any of the above kitchen gadgets? What about others that you recommend? If so, please share your feedback and suggestions in the comments below.
And don't forget to check out our full list of RV kitchen gadgets here. There's everything from pots and pans to icemakers and wine gizmos.
Now, are you ready to put your RV kitchen to good use? Get ready to cook up a storm on this 7-day guided RV tour…
New ebook from Mike and Jennifer Wendland – the Natchez Trace
The Natchez Trace Parkway will capture your imagination, soothe your jangled travel nerves, open your mind and inspire you with the history that unfolded along its 444 miles.
Each of the 7 Days of the ebook has:
Suggested Mileposts to explore
Places to Eat in each area of the 7 sections
Campground descriptions and links
Links to all the special places and information
Links to videos that show more in detail
and a lot of highlighted information for each section
PLEASE NOTE: This is NOT a printed, hard copy guide.
Whether you want to follow the footsteps of explorers, discover natural beauty, or visit historic sites, the Trace has something to grab your attention and leave you eager to see what's at the next milepost.
You can see why this is one of our favorite US routes to explore. We've traveled it a half dozen times!
---
Mike and Jennifer's Southern Utah RV Adventure Guide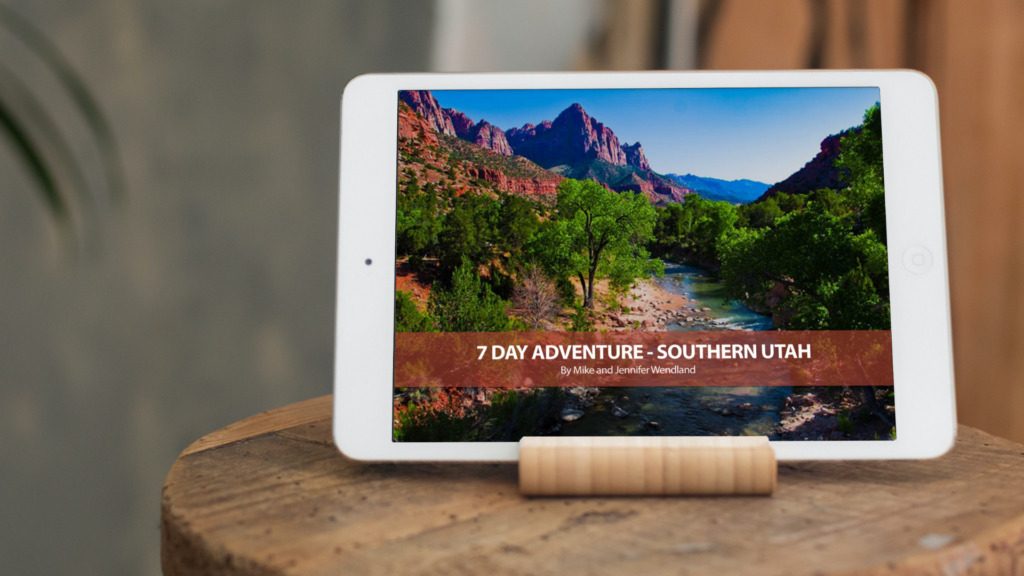 Utah, Utah, Utah. What more is there to be said? In very few places across the United States is there such a tremendous area with breathtaking vistas and diversity of terrain.
The sheer size of the National Parks, the canyons, the desert. Combined with the amount of history written in the red rocks that rise like towers jutting out of the ground and the delicate hoodoos washed away by erosion.
It is a place that, if you've never been, you need to go, at least once in your life.
This ebook is a seven day guided exploration of the State and National Parks in Southern Utah. We provide a suggested route and itinerary, links to multiple campgrounds and boondocking spots, and the best spots to see along the way. Don't plan your trip to Southern Utah without it!
You can hit everything in seven days, do a whirlwind weekend tour, or you can take your time and explore the area over a few weeks.
---