Here's a list of the best hikes in the Southwest or where to find them, including Arizona, New Mexico, Utah, and Colorado
The Southwest is home to some amazing national parks and state parks with plenty of hikes to enjoy. From white dunes that look like snow to preserved dinosaur fossils, the southwest has incredible landscapes you can't see anywhere else in the world.
From more than one exciting slot canyon to unique rock formations, there are miles of trails that allow you to see it from the inside out. I'm going to list both destinations and specific trails that are known for the best hikes in the Southwest.
Let's start our list with Utah, then work around to Colorado, Utah, and New Mexico.
The Best Hikes in Southern Utah
I gotta say, when Jennifer and I went to Utah for the first time, I was a bit dumbfounded by its beauty. I didn't expect such a range of incredible sights from canyons to huge rock formations… and dinosaurs!
Talk about a great place! You won't want to miss this popular hike if you like backpacking.
The canyon walls and sandstone arches offer magical views, but this is no easy hike. A lot of people backpack this area for two to three days. But it is worth it!
Along the way, you'll see waterfalls, towering rock formations, winding river bottoms, sandstone arches, and other amazing views and natural wonders.
In the gulch, you can view the 160-foot tall Stevens Arch that has a span of 225 feet! Then walk through the Jacob Hamilton Arch that has eroded over a river.
Many portions of this area require you to walk through ankle-deep water. Be sure to have your hiking sandals handy!
This area straddles two states: Arizona and Utah, and there's a great hike from the Utah side. This deep canyon has many things and areas to check out. The best part is that there are great day hikes, or you can spend a little more time and backpack the area.
This hidden gem features amazing sights and slot canyons. The slot canyons have zebra-like patterns and stripes formed in the sandstone. And then when the sun shines on them, they glow in brilliant colors of orange and red.
One excellent, challenging hike to check out is a 3.5 loop to see Peek-a-boo gulch and Spooky Canyon. Look for the entrance off Hole-in-the-Rock Road at about the 26-mile mark.
If you are claustrophobic, you should skip this one. Some parts of the path are only wide enough for one person. It is a tight squeeze, and you may have to wait that way while waiting for the other hikers n your group to pass through.
Always be aware of the weather conditions before hiking into a slot canyon, as rain can fill a canyon quickly. You can always pop by the visitor center to find out the area's weather forecast.
If you were hoping this was a "haunting" place based on the name, you should add the 5 Most Haunted Places in Utah to your itinerary.
Dinosaur National Monument
Dinosaur National Monument is an archeologist and explorer's dream! This monument encompasses more than 210,000 acres. It is located near the Uinta Mountains, on the border between Utah and Colorado.
Here you can see the remains of dinosaurs fossilized in the rock. In addition, view Petroglyphs left by our ancestors that once inhabited the area!
Other Utah Hikes You Won't Want to Miss
When in the area, you will also want to check out these other areas with some of the state's best trails. If you want an easy trail or moderate hike, you can indeed find one here:
Bryce Canyon
Zion National Park
Golden Cathedral / Grand Staircase, Escalante National Monument
The Needles, Canyonlands National Park
Mike and Jennifer's Southern Utah RV Adventure Guide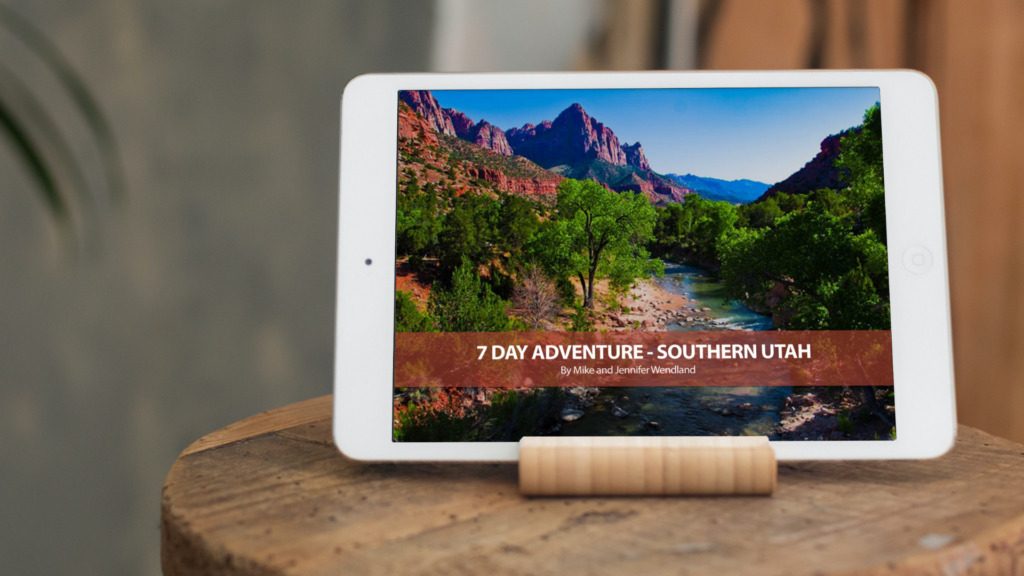 Utah, Utah, Utah. What more is there to be said? In very few places across the United States is there such a tremendous area with breathtaking vistas and diversity of terrain.
The sheer size of the National Parks, the canyons, the desert. Combined with the amount of history written in the red rocks that rise like towers jutting out of the ground and the delicate hoodoos washed away by erosion.
It is a place that, if you've never been, you need to go, at least once in your life.
This ebook is a seven day guided exploration of the State and National Parks in Southern Utah. We provide a suggested route and itinerary, links to multiple campgrounds and boondocking spots, and the best spots to see along the way. Don't plan your trip to Southern Utah without it!
You can hit everything in seven days, do a whirlwind weekend tour, or you can take your time and explore the area over a few weeks.
---
The Best Hikes in Arizona
There are actually quite a few great hikes in Arizona, despite the sometimes tortuous heat. The one I detail below is not for a beginner hiker but is marvelous for an avid hiker looking for a challenge. I also include other hikes to check out for all hiking levels.
The Grand Canyon is a huge park with many different hiking options. I wanted to include this particular hike because of the fantastic sites you will encounter along the hike. However, be aware that this is no easy day hike.
The North Kaibab trail is located in the North Rim area of the park, which is notoriously less crowded than the South Rim. It is hiked as an out-and-back trail, totaling 28 miles. Yep, that's longer than a marathon!
You can view the Supai Tunnel along this hike, a natural sandstone structure that you hike through. Then, you hike by the 100-foot-tall Ribbon Falls!
This trail is rugged and steep in parts. Overall, it has a 3,000-foot elevation change, and most people like to complete it in 3 to 4 days.
Clearly, that hike isn't accessible for everybody, including myself. There are more achievable hikes of different levels of difficulty at the following places…
Paria Canyon – Vermilion Cliffs Wilderness Area
I wrote about hiking in this area in the Southwest Utah section. But this park is also located in Arizona. If you are traveling through the state and have a chance to visit Paria Canyon, do it!
Other Hikes in Arizona You Won't Want to Miss
These destinations also have hikes worth checking out when traveling through Arizona:
Bright Angel Trail, Grand Canyon National Park
Cathedral Rock
Chiricahua National Monument
Gila River Area
Antelope Canyon
The Best Hikes in Colorado
I think whenever somebody thinks of hiking, Colorado pops into their mind. In truth, there are so many amazing hikes that it's actually better to list the destinations than the hiking trails themselves. Because once you get to any of the following destinations, you'll have plenty of great hikes to choose from.
Rocky Mountain National Park
I could not write about hiking in Colorado without including their most enormous landscape: The Rocky Mountains!
The Rocky Mountains are so picturesque that songs and candy companies are named after them. During the winter, people travel from all over to ski these mountains. But during the warmer months, the Rocky Mountain National Park is home to some of the area's best hiking trails.
Late spring and summer is the perfect time to visit this area. Just be sure to check weather reports to ensure that there are no late spring storms on the radar.
2 More Places with the Best Colorado Hikes
There are so many excellent hiking areas in Colorado. But there are two more destinations that you don't want to miss. Again, these offer plenty of hiking trails that will deliver stunning views.
Garden of the Gods
Mesa Verde National Park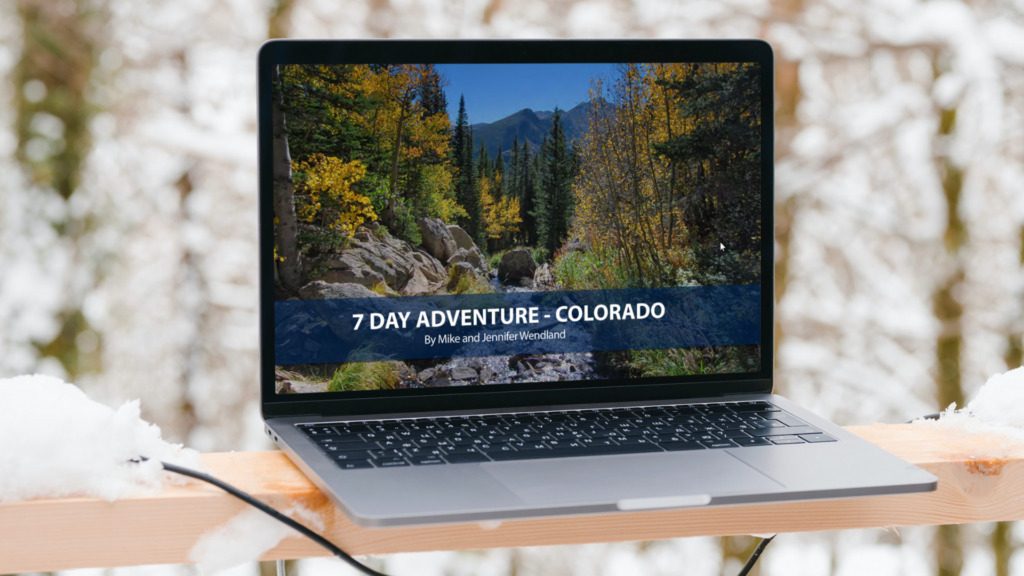 When Jennifer and I first went to Colorado, I felt like I finally understood what John Denver meant by his song: I've now been Rocky Mountain High.
And like Denver, exploring all that Colorado has to offer made me want to sing, too.
This is a fully designed and edited guide that you can download and start reading immediately on your phone, tablet, computer or e-reader.
---
The Best Hikes in New Mexico
New Mexico is an exciting area, with lots to see and do. And I am not even talking about the aliens!
The Gila Loop Trail is a 22.5 moderately trafficked hike in the Gila National Forest. The hike itself is rated difficult because of the terrain. If you are considering doing this make sure you read through all the experiences listed on that alltrails link above!
It follows a river and is best to use from March until October. Of course, many people take 2-3 days to complete this hike, or some just hike a portion and turn back.
But if you want to do a lot less hiking but still see a lot, you'll like this next option…
Do you like sledding or snowboarding? What about on sand when it is warm enough outside to melt an ice cube? If neither of those appeals to you, then the sheer uniqueness of this area will.
This national park, surrounded by the White Sands Missile Range, is a 145,000 square acre park composed of white dunes made from gypsum crystals. The crystals give the sand a white gleam, unlike most other dunes you have seen.
The dunes are so light they look similar to snow. Visitors bring snowboards and sleds to "ride the dunes." But do not worry; you can rent a dish or sled from the visitor center if you do not have one in your RV! A lot of the hiking is trudging back up the dune to slide down again!
Other Hikes in New Mexico You Won't Want to Miss
These other hikes are also worth checking out when traveling through New Mexico:
McCauley Hot Springs
Tent Rocks Trail, Kasha-Katuwe Tent Rocks National Monument
Your Vote on the Best Hikes in the Southwest
Please share your experiences hiking the Southwest in the comments below. Let us know where you recommend going, and where you'd avoid. Thanks!
---
Looking for exciting RV trip ideas and travel suggestions?
We've written a library of RV Travel books that lay out guided RV explorations of scenic areas of the US that we''ve explored and think would make an excellent RV trip for you.
In each location, we provide a suggested route and itinerary (7 stops in each guide, one for each day of a week trip!) as well as links to multiple campgrounds and boondocking spots, local tips, and interesting things to do at each location.
You can hit everything in seven days, do a whirlwind weekend tour, or you can take your time and explore the area over a 2+ week period.
Planning an RV trip can be very time-consuming so that's why we've done the research for you! Just take our guides and use them. We're sure you'll have an RV trip for the ages! Instant download. CLICK HERE for information on our RV Travel Guides
---
---