We've found another development where RVers can truly settle down: Paradise Landing RV Ownership lives up to the name, as each mega lot is lakefront property, directly on the shore of this pristine recreational lake in Mid-Tennessee.
Kentucky Lake in Tennessee? Yup. It's called Kentucky Lake because it resulted from the partial damming of the Tennessee River in central Kentucky. It is huge, with a shoreline of 184 miles running from Kentucky all the way south through almost the entire width of Tennessee.
Here's a video we just did during our stay here.
The lake is gorgeous. Jennifer and I have been camped here all week, right on the waterfront. The Tennessee River here is part of what s known as the Great Loop, meaning it connects with the Great Lakes to the north and the Mississippi and other rivers to the Gulf of Mexico.
You can get anywhere pretty much anywhere in the world from here by boat!
Right out front is great boating, spectacular fishing, swimming, and beautiful scenery.
The Paradise Landing RV ownership lots are huge
At most RV campgrounds, a typical RV campsite will measure maybe 14 feet wide by 40 feet or so.
Here at Paradise Landing, the properties start at $59,000 for a lot that measures 60 feet by 320 feet – that's 34 times the size of a typical RV Lot.
If you buy a double lot, you get 120 feet by 320 feet – almost 70 times the size of a typical lot.
They have a few multilot packages available at higher prices (you can get more info from their website at RVLakefrontLand.com).
Enjoying the seclusion in Nashville's Big Back Yard
The seclusion and peacefulness of this place is just what we needed. We sat on the lakeshore every evening at sunset, watching the fish jump and listening to the birds softly singing as they nestled down for the night.
Sunrises were no less seductive. I got up at first light and had my coffee watching the landscape go from gray to golden and then green as the forest took shape on the island across from our campspot, with the blue water reflecting each sunray like diamonds.
But what is so amazing about this is that we were just west of Nashville, an easy drive for all the entertainment, nightlife, fine dining, and music that can be found there.
They call this part of Tennessee Nashville's Big Back Yard and it is surrounded by charming small towns, great places to hike and numerous wineries. We took in the Amber Falls Winery in Hampshire, TN, where the owners offered us samples of their award-winning vintages, all made on the premises.
The historic Natchez Trace is right nearby, too, offering lots to see and explore.
In the village of Linden, we dined in the Commodore Hotel & Cafe, a beautifully restored old hotel where hosts Mike and Kathy Dumont greeted us with true Southern Hospitality. The Commodore brings in Nashville songwriters and musicians for weekend entertainment.
What Paradise Landing RV Ownership is like
The RV properties have full utilities available – central water, septic, and electricity can be tapped into from the well-maintained access road at the back of each property. Super high-speed fiber optic cable is also available.
There is a gated, private entrance for peace of mind and security. And there is free boat and RV storage available too when you want to go away for long periods of time.
These properties are 100% pure ownership. There is no HOA, it's your land you can use your way and property taxes run about $300 a year. You can rent it out if you desire as a way to earn extra money when you are traveling.
If you make Tennessee your permanent domicile, as some of the Paradise Landing owners we met have done, there is no state income tax in Tennessee.
There is also a community gathering place, with lots of picnic tables, covered structures, a free boat launch, and a community dock, though most of those who own here seem to have installed their own docks, right outside their door on their own property.
Many people have also put in gardens. The climate here is temperate, with long springs and summers, glorious autumns, and relatively short winters. Some have constructed their own boardwalks and long patios. One guy even put in a jacuzzi right on the lakeshore.
The residents say Paradise Landing RV Ownership is remarkable
Of all the Paradise Landing fulltime residents Mike and Trudy say they are living the dream on their Kentucky Lakefront lot.
"I paid $59,900 for this property," said Mike, looking out at the water. "Anywhere else, this would have been $200,000. I looked. Believe me, this was a real buy. Look at that view we have. Everyday. We've been here since last fall, except for a vacation trip in the spring. But this is what we dreamed about."
Trudy, who has a lush garden, loves to fish and feeds the friendly hummingbirds that show up to the feeder on her Fifth Wheel, says she and Mike left their home on the west coast and settled at Paradise Landing with no regrets.
"We knew a good deal when we saw it," she said. "Living here is so relaxing. So beautiful."
Want more info?
Jennifer and I planned to stay for only a couple of days. But the developers who invited us down graciously let us stay almost the whole week. That's how much we liked it!
On June 25, 2022, the developers will be selling off most of the remaining lots on a first-come, first-serve basis. You can get more info and make an appointment at https://RVLakefrontLand.com
---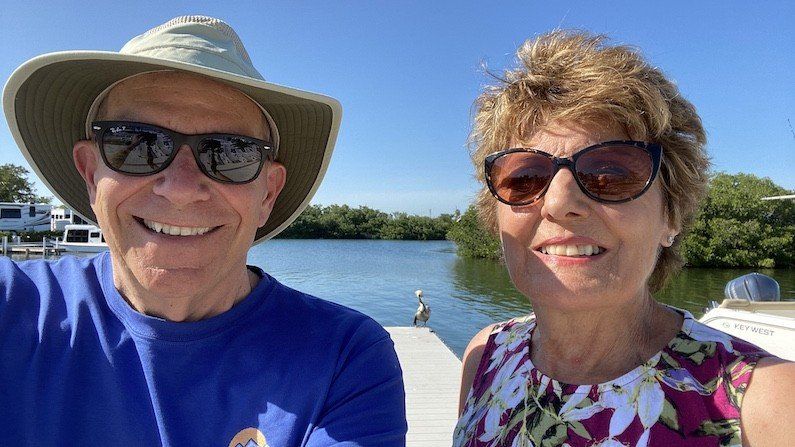 Curious about the gear, gadgets, accessories, and RV products Mike & Jennifer use and recommend?
On this RV Lifestyle Travel blog, our RV Podcast and our RV Lifestyle YouTube Channel, we mention all sorts of RV-related products and gear that we use, So we created a special page that links to them. We update this all the time.  CLICK HERE to go to it directly.
---
---
---