"Dark Sky Parks" are the best places to stargaze, and here's where you can find them.
Darker skies mean plenty of opportunities to truly marvel at the beauty of the universe — if you're in the right spot.
They're called "dark sky" parks and they're free from light pollution.
In short, you'll see the universe in a whole new way and come to truly appreciate its vastness.
Best Dark Sky Parks in the U.S.
If you're wondering where to start, MarketWatch recently published "Six places in the U.S. that have epic starry skies."
They are:
1. Flagstaff, Ariz.
Flagstaff was the first city to ever receive the dark sky designation in 2001. Of course, the area offers tons of great outdoor activities locally and regionally at places such as Sedona and the Grand Canyon.
The city is also home to the Lowell Observatory and the U.S. Naval Observatory Flagstaff Station. Flagstaff is a prime example of being able to protect dark skies while supporting economic development. They enacted the first outdoor lighting ordinance in 1958 and still regulate it today.
2. Borrego Springs, Calif.
California's only International Dark-Sky Community is located in this desert oasis town in San Diego County.
It's located 88 miles northeast of San Diego, surrounded by the 600,000-acre Anza-Borrego Desert State Park. The community hosts a variety of astronomy events throughout the year.
3. Torrey, Utah
Utah has nine dark sky parks, plus the town of Torrey, a dark sky community.
Torrey is best known for its proximity to Capitol Reef National Park, which was deemed a Dark Sky Park in 2015. Residents took the lead to earn the Dark Sky classification by taking measures to secure long-term protection of their starry nights.
The community raised funds to retrofit the town-owned improved their outdoor lighting ordinance. They also ran an outreach and education campaign to further their efforts. And all their efforts paid off as they received the Dark Sky designation in 2018.
4. Headlands International Dark Sky Park in Emmet County, Mich.
Among other things, Headlands boasts 550 acres of woodlands and more than two miles of undeveloped Lake Michigan at the northern tip of the state's lower peninsula.
Artificial lighting is incredibly scarce in this area, leading to incredible views of Orion and the Milky Way. The park hosts many special events, from storytelling to starry cruises to astrophotography nights.
In 2017, the park opened the Waterfront Event Center and Observatory, which earned them the prestigious Pure Michigan Award.
5. Staunton River State Park in Virginia
Staunton River State Park is filled with forests and meadows along the Dan and Stanton rivers. This state park has replaced all lights with approved dark sky fixtures.
To make the most of the experience, you can stay overnight in historic cabins built in the 1930s by the Civilian Conservation Corps. You can look up at the same sky as the generations of people who have stayed in those cabins before you.
Bonus: Chaco Culture National Historical Park near Albuquerque, N.M.
Albuquerque, New Mexico, also offers gorgeous stargazing opportunities. You can explore the ruins of Chaco Canyon by day and take in the splendor of the universe by night.
Dark Sky Parks vs. Dark Sky Reserves
Fans of the RV lifestyle might remember when our podcast featured John Barentine, program director, International Dark-Sky Association, and Chrystal White, leader, Colorado Plateau Dark Sky Cooperative.
Barentine received his Ph.D. in astronomy from the University of Texas at Austin in 2013. He is the author of The Lost Constellations and Uncharted Constellations.
"The Dark Sky Places program that I manage designates both protected areas like parks as well as municipalities — places like cities and towns — on the basis of the work that they do to preserve what dark skies they have and to promote that through their communications to residents or visitors.
"It's not just about whether or not you have a dark sky…but it's also about how you're being proactive to try and keep it," Barentine said.
Barentine explained the difference between dark sky parks and dark sky reserves.
Parks are pretty self-explanatory.
Reserves are a bit more complicated and typically involve large areas of public spaces "but there may be settlements inside those areas." So far, there aren't any dark sky reserves in the U.S., he said.
Why Dark Skies are Important
Barentine added that dark skies aren't just important for stargazing.
"It touches on our lives in ways we might not immediately think of," he said. "Those include things like public safety, crime, and security, our energy independence, the impacts on wildlife — there's something in this for everybody really."
White's group trains star guides to lead stargazing trips and hosts education and outreach events in schools, parks, and planetariums.
She said dark skies help us connect with our past.
"We definitely don't want to lose that draw to the night sky that our ancestors had," White said. "It definitely connects us. And if you've ever been under a clear night sky there's nothing quite like it.
"It connects us to the whole universe itself," she said.
We couldn't agree more.
Want More Stars?
If you're interested in taking pictures of the Milky Way but sure to check out the RV Lifestyle episode where I discussed it here.
And those who are interested in astronomy, in general, may want to check out "Guide to the Stars: Astronomy with RV-Ready Telescopes" and the RVLifestyle Off the Beaten Path report on the McDonald Observatory in west Texas.
Tune in to episode #249 of the podcast in which we interview an RVing couple who took early retirement so they could travel around with a telescope to visit national parks and teach about dark skies.
Of course, we're always looking for new locations to feature on the RVLifestyle so if you have any suggestions, please leave them in the comments below!
Mike and Jennifer's Southern Utah RV Adventure Guide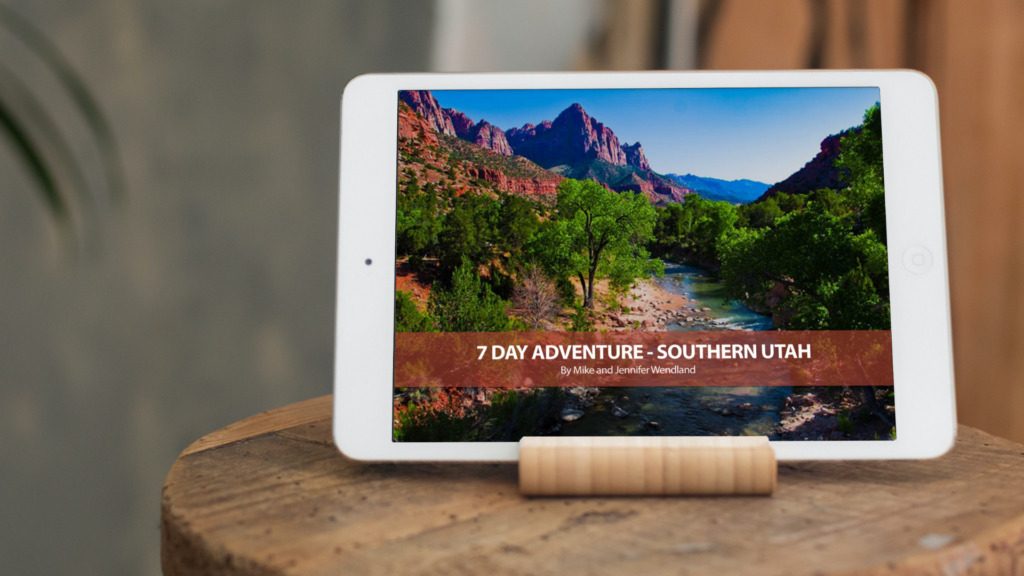 Utah, Utah, Utah. What more is there to be said? In very few places across the United States is there such a tremendous area with breathtaking vistas and diversity of terrain.
The sheer size of the National Parks, the canyons, the desert. Combined with the amount of history written in the red rocks that rise like towers jutting out of the ground and the delicate hoodoos washed away by erosion.
It is a place that, if you've never been, you need to go, at least once in your life.
This ebook is a seven day guided exploration of the State and National Parks in Southern Utah. We provide a suggested route and itinerary, links to multiple campgrounds and boondocking spots, and the best spots to see along the way. Don't plan your trip to Southern Utah without it!
You can hit everything in seven days, do a whirlwind weekend tour, or you can take your time and explore the area over a few weeks.
---